Airsoft is a sport that is growing in popularity around the world. It is a competitive team sport where players eliminate opponents by hitting them with spherical plastic pellets fired from airsoft guns. 
One of the most important pieces of equipment in airsoft is the action camera. These cameras are used to capture all the excitement and action of the game so that it can be shared with others or used for training purposes.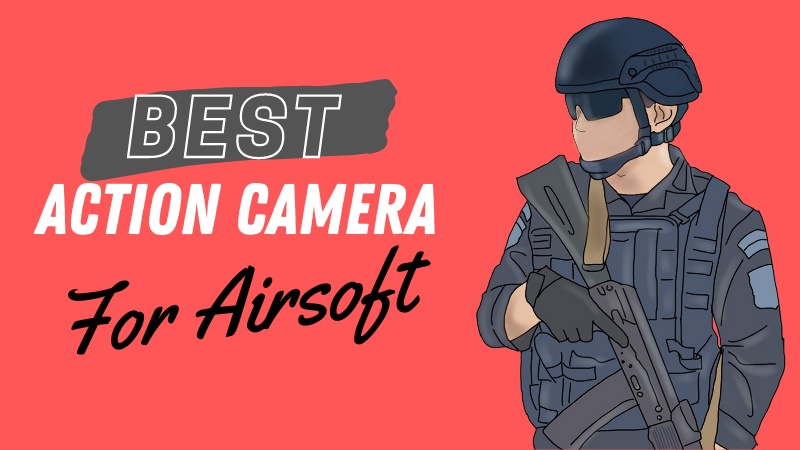 There are many different action cameras on the market and it can be hard to know which one is the best for airsoft. In this article, we will help you choose the best action camera for airsoft by considering the important features and what different cameras have to offer.
Five Best Action Camera For Airsoft – Reviews
1. RunCam Scope Cam 2
The RunCam Scope Cam 2 is a great airsoft gun camera that records high-definition video. The upgraded lens provides a distinctly clearer video definition than the previous generation, and the easy-to-use buttons make it hassle-free to record. 
The instant-on record switch kickstarts the camera in seconds, so you'll never miss a shot. The IP64 waterproof and anodized aluminum body of the Scope Cam safeguards the device from severe weather, such as blowing rain and blowing dust.
The only downside is that it's slightly more expensive than other brands in the same category. However, the quality of the video and the ease of use make it worth the extra cost.
2. ABLEBRO Shotgun Camera
The ABLEBRO Shotgun Camera is one of the best cameras you can buy for airsoft gun use. It's also great for other outdoor activities like hiking, riding, trail running, hunting, skiing, and even fishing. The camera is small and lightweight, making it easy to install on most guns. It also has a built-in vibrating motor to remind you of the working status and a high-sensitivity microphone for clear sound. 
With a high-sensitivity microphone, your sound will be crystal clear. The ABLEBRO Shotgun Camera is capable of shooting 1080p at 30fps with a 120-degree wide-angle lens. The only downside is that it doesn't have zoom capability.
3. Black Box Mobius Pro Mini
Black Box Mobius Pro mini camera is extremely sophisticated, yet versatile enough to be used for a variety of outdoor activities, like airsoft gun sports and adventure. With stunning HD video quality, the Black Box Mobius Pro Mini Action Camera is a great way to capture all your outdoor fun without having to carry a heavy and bulky camera.
One of the best features of the Black Box Mobius Pro Mini Action Camera is its small size. At only about the size of a quarter, this camera is extremely portable and can be taken anywhere. Whether you're hiking, biking, or kayaking, this camera will be there to capture all the action. The Black Box Mobius Pro Mini Action Camera is also very easy to use. Just point and shoot, and you'll be able to capture amazing video and photos.
The Black Box Mobius Pro Mini Action Camera is a great choice for anyone looking for a high quality, affordable action camera. It can record 1080P Full HD video at 30 FPS, and 720P HD video at 60 FPS, making it perfect for fast-paced action recording. The Wide Dynamic Range feature is also great for low-light recording.
4. TACTACAM 5.0 Hunting Action Camera
As an aspiring airsoft content creator, you need to invest in the best camera for airsoft gun available in the market. The TACTACAM 5.0 is an ultra-high-quality camera that guarantees superb recording quality. It is also equipped with new stabilization technology which allows you to capture crystal clear footage smoothly. Although it is a bit pricey, we believe that it is worth the investment if you are serious about becoming a successful airsoft content creator.
The TACTACAM 5.0 is an advanced camera that brings objects and textures to life with its ultra-high resolution. With TACTACAM 5.0, you're able to shoot everything in 4K, which is a great feature for an airsoft gun camera. 
One great aspect of this camera is its 8x zoom. It permits you to capture excellent detail in full action video at moderate to great distances. We love the advanced features of this camera, including the 4K resolution and the 8x zoom. 
We also love the advanced image stabilization and the 1-touch operation. The only drawback of this camera is its high cost. It is more costly compared to most airsoft gun cameras on the market.
5. RunCam 2 FPV Camera
For all airsoft enthusiasts, the RunCam 2 is a more robust airsoft gun camera that is designed with quality in mind. The construction is beautiful and exquisite, and it protects the lens better against glare and stray light. The original RunCam was virtually indestructible. But the updated RunCam 2 possesses advanced electronics to provide better strength.
The RunCam 2 was designed with an ergonomic structure that makes it simple to operate. One button is all it requires to start recording. The camera is also equipped with a LED light ring that makes it easier to see from any angle. With the new door, the bottom memory card is protected against popping out in a collision. And with a larger battery, the camera can shoot up to 1.5 hours in full HD at 30fps and 1 hour at 60fps.
How To Choose The Best Camera For Airsoft
Airsoft is a sport that is growing in popularity, and with that popularity comes a need for better and more specific equipment. When it comes to choosing an action camera for airsoft, there are a few things that you need to take into consideration. 
The first is what you want to use the camera for. If you just want to document your game play to share with friends, then you won't need anything too fancy. However, if you want to use the footage for analysis or to improve your skills, then you'll need a camera that can capture high quality video. 
The second thing to consider is the price. There are a lot of different action cameras on the market, and they range in price from around $100 to over $1000. It's important to find one that fits your budget, but also offers the features and quality that you need. 
The third thing to consider is the mounting options. Some action cameras come with a lot of different mounting options, while others are more limited. You need to decide how you want to mount the camera, and then find a camera that offers that option. 
Finally, you need to decide what features are important to you. Some action cameras come with a lot of bells and whistles, while others are more basic. It's important to decide what features you need, and then find a camera that offers those features.
Conclusion
If you're thinking pro gaming a strong desire to capture footage, then not think twice about purchasing a action camera.  As the quality of hardware continues to increase over time, the price tag of such devices has become more affordable.  
If you're looking to make friends on the field, an action camera can be an economical option to make. My recommendation is that you purchase one that best fits your budget, is durable, and has all the features mentioned above.