Fishing can become much exciting if you can capture cool footage of yourself catching big fish and share them on social media.
Whether you want to prep for that big summer trip, record your adventures or shoot underwater excursions, you'll need a tough and portable camera for the job. Besides with the best camera for fishing videos you can cherish every exciting moment of catching that big fish!
In this article, we'll discuss about 10 of the best action cameras on the market. In addition, you'll also find a helpful buying guide to help you make a more informed decision.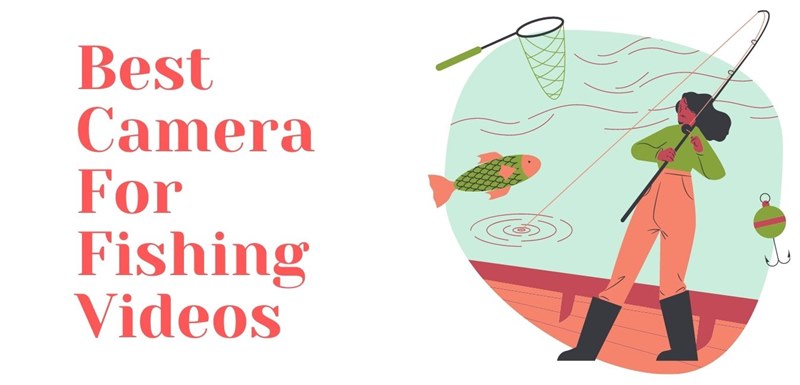 Quick View Of Our Top Picks:
Our Top Pick- 10 Best Camera For Fishing Videos
1. GoPro Hero7 Black Camera
Hero7 Black is one of the models in GoPro's history that clearly represented a big leap forward.
While some may be disappointed to know that this model is merely the GoPro HERO6 with a new software upgrade, Hero7 comes with a boosting frame rate and more pixels.
The new software upgrade that we mentioned has a stabilization feature called HyperSmooth that anticipates your movements and corrects the camera shake, resulting in incredibly smooth footage.
It is basically a tough, lightweight and waterproof camera that is also capable of capturing 4K video at a frame rate of up to 60 frames per second. Talk about real smooth, eh? This is till one of the best EIS system you can find on any action camera.
Another new feature called TimeWarp combines the idea of regular frame-by-frame time-lapse shooting to create handheld, moving timelapse. In other words, you have the freedom to move the camera and create timelapse video at the same time!
Add to that, the local tone mapping and noise reduction which are just a few of the tools HERO7 Black uses to optimize your shots.
Hero7 is waterproof down to 33ft (10m) without any additional casing. However, you have the option to expand that to 30 meters with the waterproof housing. This alone makes it the perfect camera for all kinds of crazy fishing adventures.
In addition, the HERO7 Black also offers 12 different voice commands. Stay in the moment with voice control. This feature lets you operate your camera with ease from a distance. You can get the best photos automatically in this way.
Pros
Crisp photo quality
Smoothest 4k video
Voice command
Anticipate the movements
Timelapse video without tripod
Cons
Unresponsive screen sometimes
2. AKASO EK7000 Pro Action Camera
The AKASO EK7000 Pro is the perfect choice for both amateur and professional photographers. Allow your moments to be as clear as possible at all times. Shooting and recording in 4k and 16mp HD with a life-like quality.
While it costs less than popular brands like GoPro, AKASO has received positive feedback from many customers.
The camera weighs 59 grams, is waterproof up to 40 meters, and has a 16-megapixel sensor. It has a battery life of between 1 and 3 hours.
AKASO EK7000 Pro action camera captures every moment in crisp detail and unparalleled clarity with 4K/25fps, 2.7K/30fps, 1080P/60fps, and 16 MP photos.
Easy to change settings, switch shooting modes, preview and playback footage on the ultra-clear and bright 2 inch IPS touch screen.
EIS (Electronic Image Stabilization) is built-in and provides smooth and steady video. When shooting fast-moving objects, the AKASO EK7000 Pro sports camera gives a superior experience for the user.
With its upgraded waterproof case, this underwater camera can dive up to 131 feet, allowing you to capture all the details of your adventures in stunning detail. Swimming, surfing, diving, snorkeling are all ideal water sports.
This action camera allows you to choose between super wide, wide, medium, and narrow view angles. Low-angle shots are easier to land. With a high-angle lens, you'll be able to take in more.
Pros
4k video
Wi-Fi controller
Inexpensive
Detect a fast-moving o0bjects
Cons
No voice control or voice command option
Insufficiency of social features
3. Sony a6400 Mirrorless Camera
The new Sony a6400 is a welcome addition to Sony's already impressive a6000 series line-up of cameras. With its mirrorless micro 4/3 design and impressive features, the a6400 is an excellent camera for both photography and videography.
Mirrorless cameras are known for being compact. But this camera isn't so small that it sacrifices usability for compactness.
In case of accidental water spray or drizzle, it is weather-sealed but not waterproof. A manual option is available for people who are familiar with manual settings. There is an auto mode available for those who are less interested in the technical aspects of photography.
An LCD screen that can be flipped up in bright sunlight makes the camera ideal for taking pictures of yourself and your catch on the water without having to try 100 times and risk the fish's health.
Fishing and other fast-action scenarios make this a great starter camera with high-end capabilities. I'll list a few video and photo features that stand out in this article:
A 24-megapixel sensor captures breathtaking images. A new animal eye-autofocus feature makes this product ideal for nature photography. You can use interval mode to capture time-lapses of various lengths.
When you're casting or getting fish to drip on your hand or clothing, 11fps continuous shooting is perfect for capturing crisp action shots.
Pros
Excellent Dynamic Range
There is no crop factor in 4k at 24-fps
Autofocus tracking in real-time
Cons
No camera stabilization
Need to purchase an extra lens that provides an optical steady shot
4. Canon EOS 80D Digital SLR Camera
Canon's 80D full-frame DSLR has been around for a few years, but it still holds its own in the camera world. Although the Canon EOS 80D is larger and less compact than other DSLRs. Its build quality is superior and it is weather-sealed.
It is also more ergonomic for people with larger hands. The size of your camera can have a significant impact on your shooting experience.
With its fully articulating LCD screen, the 80D revels in the photo department. You can see your screen in even the most awkward situations. So you don't miss a shot. 
Simple operation is the focus of the 80D's large size and intuitive interface. In its price range, it has the best dynamic range of any APS-C camera. And it's a solid choice for an introductory DSLR. A few video and photo features that stand out include.
The camera sensor has 24 megapixels. Pictures are of excellent quality. A 7-frame-per-second camera, this one is capable of shooting. Canon offers EF-mount lenses for its cameras. While at 1080p, the frame rate is 60fps.
Pros
Great for shooting in flat profiles
Best dynamic range
EF-mount lens
Perfect for webcam
Cons
5. GoPro Hero5 Session Camera
GoPro has discontinued this product, so why is it still listed? For its convenience, small size, and durability. If you don't want to carry a larger one, you can opt for this one. Still, it's a good choice for us.
Smaller size than its predecessor makes mounting this camera in any position simple.  Moreover, it has a noise reduction feature that allows for a clear shot when taking pictures or fishing videos. If you accidentally delete a beautiful shot, you can retrieve it by logging into the GoPro cloud-based subscription service.
This camera gives 4K video and photos with a resolution of 10MP. It has a single shutter button. It will give you advanced stabilization. This camera's features include Wi-fi and Bluetooth.
The camera weighs only 59 grams and is waterproof to a depth of 40 feet with a case. It has a 10MP sensor and is capable of recording 4K video at 30 frames per second.
Pros
Offers amazing footage
A wide-angle focus lens
Easy to control with one button
Voice control
Waterproof up to 33ft
Cons
No option for removable battery
6. YI 4k Action Camera
YI 4K Action and Sports Camera is a popular choice when it comes to the best action camera for bass fishing. Ultra HD resolution at 30 frames per second is possible with this 4K action camera. Its LCD touchscreen is also protected by a glass covering to prevent scratches. Ambarella chip and Sony Image sensor ensure the highest quality video.
Screen size 2.2″ LCD built into the device. 4K video and 12 MP are both available on this device. It comes with a rechargeable battery of 1400mAh. The camera has three-axis image stabilization. It comes with a fast Wi-fi connection.
Its weight is only 94g. It gives 4k video up to 3ofps and 12 video resolution. Its battery lasts for 2 hours. The super-reliable Wi-Fi allows you to live-stream with no problems.
Pros
Provides high-quality photos and videos
Touchscreen display of the highest quality
Up to 132 feet of waterproof
Easily live-stream with no trouble
Cons
Unsatisfactory sound quality
7. GoPro Hero6 Black Camera
In addition, the camera's new GP1 processing engine enables you to shoot 4k video at 60 frames per second in super high quality. Image stabilization and low-light performance have been improved. Down to a depth of 10 meters, it's waterproof.
You can edit and transfer your footage automatically with the camera's 2-inch touchscreen. The app has been updated and included quick stories and voice commands.
This camera is lightweight, waterproof, and capable of capturing 4K video at 60 frames per second. Stills resolution is 12MP, and the battery life is 1-3 hours.
The image stabilization has improved for better image quality. The 60 frames per second are the frame rate for a 4k video. Voice commands edit and transfers the footage automatically through the use of voice commands.  
Pros
Better image quality
Voice command option
Lightweight and waterproof
Good at low-light performance
Cons
High price
No option for live-streaming
8. Olympus TG-5 Camera
The Olympus TG-5 is waterproof and shockproof and comes at a great price. There's a built-in F2-4.9 / 25-100mm equivalent lens, GPS, a compass, and an LED light on the compact body.
Due to its plastic body, it is more resistant to being dropped and dented than full metal bodies. It is also lightweight and pocketable, making it ideal for family fishing trips.
As a point-and-shoot camera with no interchangeable lenses, this camera does have some drawbacks. However, it also has some features that allow you to be more creative than just taking pictures of your personal best brook trout.
Pros
12 megapixels of resolution
Excellent Macro capability
Can shoot RAW, which is rare in a point-and-shoot camera at this price point
Cons
Expensive
No option for crop factor in 4K videos at 25/30fps
9. Pentax K-1 Mark II
Featuring a 36MP, weather-sealed sensor, the Pentax K-1 Mark II is built to last. According to its press release, the K-1 II is a refinement of its predecessor rather than a replacement. It gains a new hand-held Pixel Shift mode, as well as improvements to its AF Detection system.
At this price point, the K-1 II faces stiff competition from other full-frame models. Many of which have better specifications than the K-1 II overall. If you're a landscape or adventure photographer, it's difficult to find a full-frame camera with as many useful and unique features.
As a result, its weather-sealed body is a testament to Pentax's reputation for producing high-end cameras with exceptional build quality. You can pick up the camera by the LCD screen and shake it around without causing any damage to it, thanks to its magnesium alloy body. It has a thick, textured rubber handgrip that provides a secure grip.
Most of the body is covered with dials, buttons, and switches. For exposure adjustments, the K-1 Mark II has three dials rather than two.  This is a revelation that has hindered Canon and Nikon. Using the adjacent selection dial, you can customize the front and rear dials for each exposure mode.
Pros
36.2MP full-frame CMOS sensor
5-axis sensor image stabilization
AF Tracking algorithm
Extensive weather-sealing
Pixel Shift mode
Cons
Low-speed
Small image buffer
New to Pentax technology
10. Canon EOS 5D Mark III
In a body based on the EOS 7D, the Canon 5D Mark III has a 22MP full-frame sensor and a 61-point autofocus system. If you look at it from a "glass half empty" perspective, the Nikon D800, which was announced around the same time, is a far superior camera. A 5D Mark II owner's dream camera could finally arrive.
A completely new model, the Mark III has every major system upgraded and updated to the latest standards. Because of its control layout, extensive customizability, and 63-zone metering sensor, it can be compared to the Canon 7D in some ways. 
There are some improvements and tweaks made in response to customer feedback, including dual card slots for CF and SD cards, an exposure mode dial that locks, and a depth of field preview button that can be reprogrammed to access a number of other functions.
Pros
Superb video image quality and photo
Fast and powerful
AF system
Great frame coverage
Rugged and weather-sealed body
Cons
Limited dynamic range
No AF illuminator
Heavy-handed noise suppression
How To Choose The Best Camera For Fishing Videos?
Footage Quality
No one wants a camera that is incapable of capturing high-quality footage that is out of focus while in use. Be aware that the higher the resolution, the better the images and video you'll get, whether you're looking for fishing or hunting action cameras.
Answering this question depends on your goals and aspirations. As a blogger who wants to make commercial videos, we recommend investing in a camera with a resolution of at least 4k. Others with 720p and 1080p are for everyday use only.
Waterproof
Choose a waterproof or submersible action camera when choosing the best fishing action camera. In addition, you should look for a device that does not have a casing to reduce weight when fishing.
Easy To Use Button
No matter where the camera is mounted, the buttons need to be large and easy to press. You should select a device that is easy to operate.
Control Via Touch  Screen
Instead of a small screen with lots of buttons, you'll have a larger screen. The touch screen allows you to control things like video angle in real-time, as well as make adjustments to improve the quality of your images.
Our preference is for a large touchscreen display. A camera with a large touch screen will, however, cost more than one without. The effort is worth it in some cases, however, as you'll see.
Hands-Free Use
When fishing from a kayak, it's important to maintain your balance. Fishing and taking photos will occupy your hands at the same time as you hold the fishing rod. When there is no camera with hands-free shooting capability, what can you do?
Undoubtedly, you'll need them. The camera is usually mounted on a tripod and a single button is pressed to record all events.
Frequently Asked Questions (FAQ)
Q1. Is It Necessary For A Fishing Camera To Be Waterproof?
In reality, it depends on the situation.
Your fishing gear doesn't need to be waterproof if you're only going to take photos of your fishing activities, rather than going underwater. As mentioned above, you can opt for a DSLR or a mirrorless camera.Being prepared at all times is beneficial.
A properly weather-sealed umbrella is a minimum requirement. As a precaution in case of accidental water splashes or worse, if it rains.
Contrary to popular belief, underwater cameras are recommended if you plan to take photos of fish. It's also possible to purchase an underwater case if you already own a DSLR, mirrorless camera, or point-and-shoot camera. You'll save hundreds, if not thousands, of dollars in this manner.
Q2. Can You Use An Action Camera To Go Fishing?
The answer is yes. Yet, action cameras can be extremely powerful despite their small size. With the right ones from reputable brands, you're sure to have a great time.
As far as versatility is concerned, these products are truly outstanding. If you only want to take pictures of the fish trophy, you can use it on the ground.
Plus, most of these are waterproof, so you can even use them underwater sometimes even without casing. The underwater world can be explored in this way, which is fantastic.
Action cameras are very convenient, and some are even small enough to fit into a pocket. So you don't have to carry around a lot of bulky gear in order to capture a moment in time.
Q3. How To Get Good "Fish Trophy" Photos?
A fishing adventure that results in a successful catch is a triumph. There are not many opportunities to catch fish large and rare ones. So this type of hobby requires a lot of patience. As a result, it is perfectly normal to want to take photos of your fish trophy as a way to preserve the memory of that special occasion.
The truth is that tripods help photographers get better shots. As a bonus, it reduces motion blur and camera shake, which are common when holding a camera with your hands. The image will be crystal clear with this equipment and the proper positioning as well.
If you can, use manual settings when taking outdoor photos whenever possible. ISO, shutter speed and other important elements can be set to your personal preference with most DSLR cameras. It is possible to adjust their levels in accordance with the location.
When you choose manual mode, you don't have to worry about having photos that are too bright or too contrast. It does take some getting used to your gear, however.
Others want to photograph fish while they are lying flat on the person who caught them. If you want to make your photos look more interesting, you can do better than this.
As the fish is lifted, the photographer's line of sight is brought into line with it. Of course, there are still other factors to consider when composing a composition.
To make your catch appear larger than it is, holds it farther away from your body and closer to the camera. Those watching will think you just caught a trophy fish.
You may need a tripod for your fishing videos. Check this article on Best Hunting Tripod
Conclusion
This will allow you to capture all of your favorite fishing moments. That's why you should choose what is perfect for your fishing videos. You can use one of those cameras that I mentioned above.
These cameras' high resolution allows for smooth videos and crystal-clear photos, among other benefits. There is also a simple on/off switch and record button. It also has a number of fantastic features that can be of great assistance to you. Best of luck with your journey.