When it comes to precision photography one gear that everybody recommends with the camera is a stable tripod and head. There is nothing else more important to a camera than a place to be stable for the perfect picture quality.
Although many of today's cameras come with impressive image stabilizations and measurements, there always come occasions when you need a precise tripod head. It is where comes a gear head. The best geared tripod head will always present you with the most precise and perfect hot every time.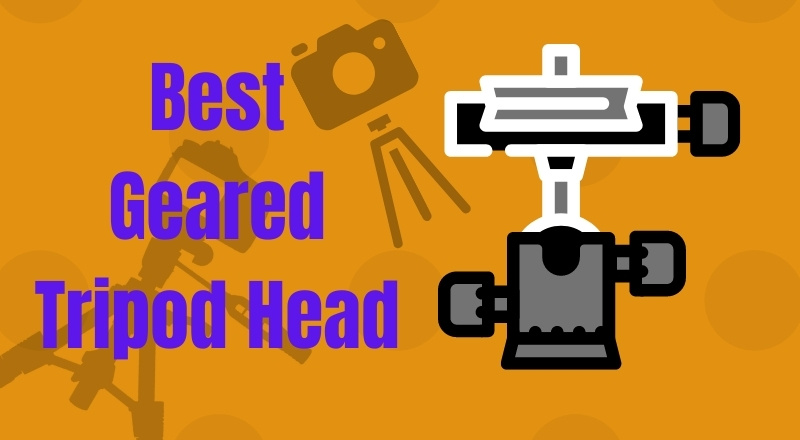 After days of research and studying expert opinions, we've handpicked only six of the best gear headed tripod heads in this article. You can pick anyone from here and you'll have no regrets.
What is a geared head and why is it useful?
While photographing you'll often come across situations requiring extra precision positioning. In such situations, the most important tool that you need for the camera is a geared-headed tripod.
So what is a geared head?
In short, it is the other name for precision. A geared head is such a tool that can be precisely adjusted through gears for the perfect shot. This is done through gears using three knobs that you can control independently. With them, you can move the camera in pan, tilt, and yaw positions.
Why is a geared head useful?
While doing architecture photography it becomes imperative that your camera lens remains perfectly leveled with the ground. If it skews just a little either on the vertical or the horizontal plane it becomes a defect.
A geared tripod head becomes most useful when used for precise shots with very minor adjustments are needed. The thing that separates a geared head from conventional ball-headed tripods is that you can change the position independently and incrementally along the geared tracts on three planes.
On the other hand, traditional ball/pan/tilt heads can only be leveled and locked down. Besides, there aren't that precise and tend to drift or shift slightly out of alignment even while being locked. You don't have this problem with geared heads.
6 Best Geared Tripod Head Reviews
1. Benro GD3WH 3-Way Geared Head
When you need absolute precision while taking shots with your DSLR, nothing can beat Benro's GD3WH tripod head. This three-way geared head is the perfect photographers' tool for any type of shot be it landscaping, architecture, or macro.
You can minutely fine-tune every angle of your photo and appreciate everything through the lens. Attain the best composition you want and bring all frames to perfection with this Benro geared head.
Made with magnesium alloy, this geared head feels premium quality even with such a low price. It has an almost identical weight to Manfrotto's XPRO geared head. This head weighs 1.9 pounds and has a payload capacity of up to 6 kg or 13.2 lbs. This is really something to get amused. You can fit anything over it!
Benro GD3WH offers you, in terms of movement, +90/-30 degrees both horizontally and vertically. There are three spirit levels at three different positions as well so that your camera stays on the level.
When you first look at the item you'll find it very light and notice an Arca-style quick release plate. Its handy outer ring can be raised to tighten the camera. There is also a rounded locking knob that secures the camera tightly on the head.
You'll also notice a tilt knob on the top and a pan rotation knob in the middle. Around the corner, you'll find the front and back tilt knob, all of which are gear-driven and give you precise control of the camera.
With this gear-head tripod head, you'll experience no brushing or bumping against the knobs while changing the camera position or composition. Absolute precision is guaranteed with this gear head for all professional photographers. It will help you bring the ultimate stable shot for any kind of photography.
Highlighted Features
Very precise and small incremental changes
Independent movement in all three ways
High payload capacity despite being very light itself
Perfect shot at three spirit levels
2. Manfrotto 400 Studio Geared Head
One of the most heavy-duty and dependable geared head tripods is the Manfrotto 400. It offers precise geared movement in three directions and can be a professional add-on to your photography kit.
Able to deliver extremely smooth shots, the Manfrotto 400 is designed for good portability. It can also handle heavy loads up to 22.1 pounds that you can attach to any studio stands or tripods. But make sure the support system features a 3/8" screw mount.
This head will provide you with a 360° of rotation with forwarding and backward tilt of 90° and 30° respectively. There is also a 7.5° left and right tilt. The knob for the forward and backward tilt is located at the rear and the rotation knob is on the head's base.
The good thing is that each of the three can be moved independently with control knobs. As a result, a precisely positioned device is ensured all the way through.
Its lightweight aluminum construction has rotating handles for pan and tilt movements with separate handles for side-to-side leveling as well.
Three quick release plates are measuring 13, 23, or 42 mm tall are designed to be selected based on a height that doesn't interfere with the rear control knob.
Besides, each knob is also rubberized for easy grip and promotes fast positioning. It is overall a heavyweight item on the list weighing 5.73 pounds and can accommodate a load up to 22 lbs. This geared tripod head will protect your camera with good security and control resulting in the highest quality photos.
Highlighted Features
Compatible with most tripods and support systems
Forward and backward, left and right tilt functions independently
Rubberized easy-grip knob for tilt movements
Built-in bubble level
3. Manfrotto 410 Junior Geared Tripod Head
If you're a professional photographer you must have some indispensable kits that aid your specific work. One of those is a stable tripod with a high-quality head. Especially for landscape works, this is a must.
One of the most affordable tripod heads on our list is this Manfrotto geared tripod head. In addition, it is also the lightest option available if you're looking to carry it around in many places.
When you need precision in your studio, Astro, macro, and architectural photographic styles, this geared head is the way to go. Once you use it there's no way you're going to move out of it.
With this tripod head you can fine-tune all three axes of your camera's positions; pan tilt and side tilt. You don't have to unlock the positions the has already been set.
Because even when the adjustment knob is locked, you can have small movements in the axes. With only some minor twists you can make these movements with ease. There is also a clutch system present in this head that makes all the big movements possible.
As for the build quality, it is simply great. The camera is attached via a 410PL quick release plate. You can rotate the camera panoramically up to 360-degrees and the lateral tilt is between -90 to +30 degrees. As for the front tilt it is 90-degrees downward.
All in all, the Manfrotto 410 Junior Geared Tripod Head is a classical head that can become one of the most important kits for your photography.
Highlighted Features
Accuracy improvement with inbuilt leveling bubbles
Precise and easy adjustments with micrometric knobs
Safe use with quick-release plate
There is snap-lock control for fast movements
Incremental geared movements for additional precision
4. Arca Swiss D4 Geared Tripod Head
If there is only a tripod geared head to consider to use as the best one, the Arca Swiss D4 can be that one. This tripod makes it so easy to take pictures that you'd forget to go back to cheaper options.
This black Arca Swiss D4 geared head has been wonderfully designed to finely and accurately compose an image with your camera. Its precise adjustments appeal to landscaping, architectural, portrait, and macro photographers.
The Arca Swiss tripod head's build quality is top-notch with all of the parts perfectly machined with anodized aluminum. Weighing 2.2 lbs. and 4.3" in height, this gear is known to handle up to 75 lbs. which is beyond incredible. Besides, a photographer will probably never need to put 75 lbs. worth of equipment on it.
It comes with six manual control knobs each can be independently adjusted. The controls are asymmetrically placed which means one side knob controls the notch while the other side controls the roll.
You'll also notice two tear-shaped drop knobs on two sides for controlling tension. These two knobs control the head tension and allow you to move the head freely in any direction in 360º.
Other knobs also let you have free movements and come in handy for composing at odd angles. All of the knobs' rubbery coating allows you to adjust them without any fuss as well.
The Arca Swiss plate is very firm and there is no chance that the camera will be in danger. Besides, there are multiple bubble levels built into the head as well.
Highlighted Features
Excellent stiffness of the geared head
Able to withstand 70 lbs. worth of weight
Build quality is top-notch
Rubberized grips for easy handling in cold weather
Panning knobs that independently allow for 360º rotation
5. Manfrotto MHXPRO-3WG Geared Head
This 3-way tripod head has been designed for precision adjustments. Made up of matte black Technopolymer, it is relatively lighter in weight than many other competitors. There are also rubber coating knobs on it for an extra smooth grip.
The Manfrotto MHXPRO weighs only 750-gram which is actually very light and it doesn't even sacrifice the payload to a single bit. Even if the tripod is big, the weight of the head itself lessens the fatigue of carrying for a longer period. It doesn't add almost anything to your overall carrying weight.
It has a load capacity of 8.8 lbs. which means cameras can fit on it. Just make sure the support system features a 3/8″-16 mount. You can control the camera movement with three large knobs each of which is coated with the rubberized material we mentioned before.
Each of the knobs also accompanies a spring clamp lock. This one works like brakes in a motorcycle which gives you the option to move the knob faster or slower. As such you can ger precise adjustments through the knobs.
As for the mounting mechanism, the MHXPRO features a quick-release one that has been specifically made for Manfrotto plates. However, there is no option for side-mounting plates on this geared head which we'd have liked more.
This three-way geared head also features an integrated RC2 quick-release cam lock that can be removed just by pulling the spring-loaded lever. This also allows the plate to be quickly attached.
The pan knob also allows 360-degree movement with seamless motion. You'll not notice any clicks there. The lateral tilt will allow for 20° to the right and a solid 90° to the left. And the vertical tilt allows 20° upward tilt and 90° down, just like the lateral.
Highlighted Features
Adjust the micrometric knob and frame-shoot precisely
Very lightweight and can carry a heavy load
3 leveling bubbles make precise framing and composition
Ergonomic design gives maximum comfort
6. Manfrotto 405 Digital PRO Geared Head
While doing photography, especially birding or even landscaping, stability is extremely important. This Manfrotto 405 geared head will allow your camera solid stability and tight security while mounting or dismounting.
Manfrotto 405 is a great solution to all your photography needs. This tripod head is very large and quite heavy as well. Both its size and weight make it able to hold on to heavy cameras with ease.
This tripod head weighs 1.6 kg or 3.53 lbs. which means it is much heavier than any other tripod head on our list. It is not for those that like to travel, but its load capacity is massive 7.5 kg or 16.53 lbs. This is quite impressive indeed.
It comes with three large knobs which help you make precise adjustments. Unlike a ball head, it will not lean on the heavy side as soon as you loosen it. The individual knobs hold the camera to control all the movements.
You don't even need to tighten or lock anything as this tripod head is always in a locked state. Once you're done, simply releasing the knob works like a charm for making adjustments.
As for the quick release plate, it is very large just like the tripod head, and features two different screws. As such you can pretty much mount any camera or lens on it.
On the other hand, mounting the plate will need a screwdriver as holding a little screw with bare hands isn't easy.
You can rotate the head 360-degrees and tilt 90° forwards or 30° backward. It also moves 90° sideways for portrait orientation. Every three movements function independently.
All in all, when you're in control of this tripod head you can worry less about damaging your equipment.
Highlighted Features
Massive 16 lbs. load capacity
There are snap-lock controls for fast movements
The quick-release plate features 2 different sized screwdriver
Very heavy and extremely stable
Final words
There you have it! We've reviewed in short the perfect features you need for the best geared tripod heads on this article. Hopefully, you've been able to decide one from here. Happy shooting!