A good tripod is an important piece of equipment for any photographer, whether amateur or professional. But for those who enjoy the outdoors and like to take their photography with them on camping and hiking trips, a good tripod can be hard to find.
There are many factors to consider when choosing a tripod for your outdoor photography adventures, including weight, portability, and stability.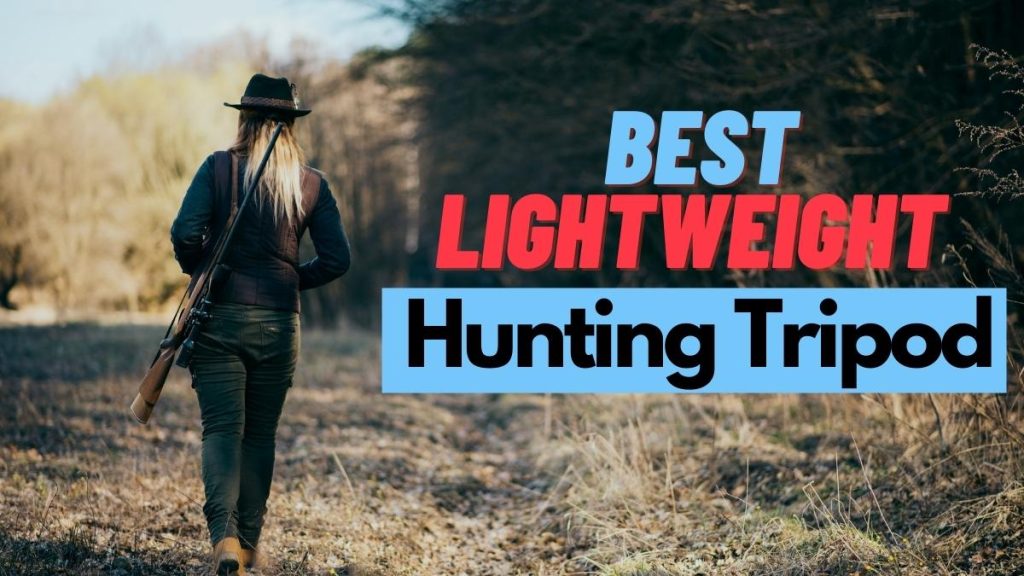 In this article, we'll take a look at the best lightweight hunting tripods on the market, perfect for any photographer who likes to hit the trails.
Quick List of Our Top Picks:
9 Best Lightweight Tripod For Hunting: Reviews
As the market is flooded with options these days, it can be difficult to sort through them all to find the one that best tripod for hunting. Let's have a look at some of our favorite picks.
1. SIRUI T-OS Series Lightweight Tripod
We'll start with the Sirui T024SK tripod with the VA5 fluid video head. There is no doubt that the VA5 head is silky smooth and packed with many features. With a little extra height, carbon fiber legs, a spring-loaded pan head, and a sturdy center post, the Sirui T024SK is an excellent choice.
When compared to its weight, this tripod's height is truly impressive. However, when the tripod is fully extended it becomes less stable. So you need to proceed with caution.
Sirui's T024SK tripod is so long that it even allows you to shoot while standing, which is also a nice bonus.
Its folded height is also longer than those of the other models in the group. So, to prevent branches from snagging the handle, the spring-loaded head must be loosened and moved to a side so that it does not hang out of your pack and catch on branches.
In addition, since it is the only one with a spring-loaded head, larger optics (like a big spotter) won't clang down if you forget to tighten the head when you take your hand off of it.
The small base of the legs is one thing to think twice about this tripod. Because of this small thing you might feel it a little bit less stable. You can, however, widen the legs for extra stability.
Pros
The head is very fluid and smooth.
It is remarkably stable at full height.
The adjustment of the height of the center post is effortless and sturdy.
It is less likely that a wider rubber foot will dig into soft dirt.
There is a spring-loaded mechanism.
The plate is made of high-quality material.
The maximal height is 57.75 inches (146.685cm).
The maximum load capacity of 14 pounds.
Cons
When the plate is released in a bad spot, it is difficult to turn it.
To collapse the tripod, you must move the handle.
The cost of additional quick-release plates is high.
2. Vortex GT Optics Pro Tripod
A very reliable tripod system, the Vortex Optics Pro GT Tripod allows for both vertical and horizontal adjustments. For added durability and resistance to wear, the legs have been anodized for a beautiful finish.
The legs of the central column have a balance hook at the bottom. The Vortex Pro GT is made of aluminum, just like the Vanguard Alta that we just discussed. This tripod allows the user to save money when purchasing the product.
Extended and collapsed lengths of the Pro GT are 67 inches long and 24.6 inches long. Respectively the three-way pan and tilt head allow for a full range of motion with a four-pound overall weight.
Rubber is used on the Pro GT's feet to help maintain stability on slippery surfaces. The quick-release lever, on the other hand, is made of plastic and is not of the highest quality.
Pros
The tripod's balance hook keeps it stable and allows it to hold more weight than it otherwise would.
It is resistant to wear and corrosion.
Stability is improved with rubber feet.
It's made of aluminum.
Cons
The quality of the lever is not the best.
3. Vanguard Alta 2330 2-Way Tripod
A majority of the Vanguard Alta 233AO Tripod's components are made of aluminum. The overall package is significantly lighter than its competitors, and it's also significantly cheaper at under $100.
An ultra-smooth pan head is used in conjunction with stable legs in this Alta 233AO pan head. With the extension cranked up to 56 inches, it weighs in at just over four pounds.
Legs extend using a flip-lock locking system, which some consider inferior to a twist-lock locking system. Related Post: Best Camera For Hunting Videos
Pros
Lightweight Tripod.
Aluminum material.
Inexpensive and under $100.
Cons
Legs are flip-lock are less reliable than twist-lock technology.
4. ZOMEI 62″ Lightweight Camera Tripod
It's a good choice if you want a mid-range tripod with a lot of flexibility in how it's used. As soon as you see the Zomei collapsed, you'll notice how compact it is.
At just under four pounds, it's also very lightweight, making it a good option to stash in your pack while out hunting in the woods. Only the head and legs need to be folded back 180 degrees to achieve this small size.
Z818 has a class-leading weight limit of 33 pounds despite its lighter weight and smaller size. This is more than enough weight to support a rifle or any type of spotting scope.
It is possible to mount the Z818 using either the standard tripod configuration, where three legs are placed on the ground or by inverting the tripod's center post, which allows the optics to be mounted underneath the tripod legs.
Despite the fact that the latter mode isn't necessary for hunting, it's still a good option for taking pictures.
You can't see if they're locked before you put weight on the tripod. This is the only downside to the Z818, according to the manufacturer. You should still be aware of this and be cautious. Although this contributes to a more streamlined design, it is still a concern.
Pros
This product is both compact and lightweight.
There are a number of mounting options.
This class has impressive weight limits of 33 pounds.
Cons
It's impossible to tell if a twist-lock is locked before you put weight on it.
5. Manfrotto MK190X3-2W Hunting Tripod
Hunting lovers will find it to be among the best tripods if weight and size aren't a concern. As a result, this is one of the heaviest tripods currently available on the market.
Due to the use of a film head, the MK190X3's motion will be much smoother than that of its competitors. You can use it to scan a large area or track the movements of an animal.
The adjustment knobs situated on the tripod's side allow you to modify the head's smoothness to your desire.
This rifle's total collapsed length is only 27.2 inches, which makes it a little difficult to carry in a hunting pack. Because of its size and weight, it's not suitable for everyone. The MK190ZX3-2W has a full extension of 66 inches.
Pros
Motion that is more fluid than that of competitors.
Outstanding in every way.
Easy to use in a large area.
Cons
One of the heaviest tripods.
A large tripod.
6. Orion 5378 Paragon Tripod
As a stable tripod, the Orion 5378 Paragon HD-42 Tripod is a good choice. When collapsed, the 5378 weighs seven and a half pounds and measures 28 inches long.
In contrast, it is very stable when set up and, at 72 inches when fully extended, is ideal for individuals who are taller.
Aside from the lever that releases the mounting shoe, which is made of plastic and is somewhat flimsy, the tripod itself is well-made and constructed from high-quality materials.
With the Orion, you can move smoothly and fluidly while using a camera or a spotting scope and scanning the terrain in front of you, thanks to its pinion head and geared rack. Read more on how to use a spotting scope for shooting The elevator post can be raised or lowered with the help of the fold-out crank on the side.
Pros
The movement is flexible.
High-quality products.
Excellent value.
When set up, it's very stable.
This is a great choice for people who are taller than the average.
Cons
Larger and heavier than average.
Cheap plastic lever.
7. SLIK 522 Carbon Fiber Tripod
This tripod is a good option for backcountry hunting, weighing in at under 3 pounds. Although it's not cheap, the Benro S2 tripod head is smooth and easy to use. 
The Benro S2 could use more tension adjustment, however. Although the tension screw has been completely removed, the S2 remains stiff and difficult to manage.
If you're using heavier optics, this works great, but not so well if you're using binos. Even though this wasn't a big problem, it would be nice if it could be adjusted.
Compact and lightweight, the Slik 522 tripod extends high enough to be used while standing. It's a pleasure to deploy the legs, and the twist knobs are of the highest quality. To me, my favorite of all of them was the twist knobs and leg configuration.
Pros
Folded length of 18 inches.
The leg sections are now smoother and more easily compacted.
The rubber grip on the legs appeared to last longer than the foam pieces of SIRUI.
Inexpensive quick-release plates.
High-quality tripod.
Cons
When used, the 5th leg section has a very small diameter and is unstable.
Connector for extending the center post-SLIK is a bit more difficult to use and less durable than the Sirui.
Rather smooth, but not quite on par with the SIRUI's smoothness.
Side handle with a large diameter.
During use, the Benro S2 head would not stay attached to the tripod.
Rubber feet with a narrow profile that are prone to digging into the dirt.
8. Field Optics Microlite Carbon Fiber Tripod
In terms of size and weight, the Field Optics Micro Lite Tripod is the smallest. If you compare it to the Slik 522 or Suiri T024, the difference is only a few inches. The Field Optics Micro-Lite is the smallest and most compact of these tripods.
Also, it's a very attractive hunting tripod. Space and weight are the most important factors in choosing a hunting tripod for backcountry hunting.
In comparison to the Slik 522 / Benro S2, the Field Optics Micro-Lite and Field Optics heads are only slightly less expensive and slightly lighter. Both the Slik and Suiri offer extra stability and height, which is worth a few extra ounces.
Neither the twist lock legs nor the two-section center post flexed to my liking. The plastic threads combined with the aluminum nut appeared to provide extra flex in the joint.
However, I noticed more leg flex in these tripods less than in the other chairs I tested when the legs had to be extended.
Pros
It is the lightest tripod on the list.
It is extremely compact.
It's a nice-looking design.
Cons
The flexibility of the joints.
Aluminum nut with plastic threads.
The level of stability is not as strong as it could be.
9. Field Optic ProMax Carbon Fiber Tripod
Full-size hunting tripod, the Field Optics Research Pro Max Carbon tripod offers extra height and stability. There are a variety of attachments available from Field Optics Research for this setup, including trekking poles, a gun bipod with an extra attachment. It is possible to purchase this tripod and then add additional attachments at a later date.
If you're looking for ultralight trekking poles, I'd recommend something like the S&S Archery CL trekking poles, which have detachable legs that weigh only 12.7 ounces each.  Because they are trekking poles only, they do not offer the same versatility, but they weigh only 6.2 ounces each.
Pros
Enhanced stability at higher altitudes.
Very adaptable in its approach.
62.7 inches taller.
More stability at higher elevations.
More stability at higher elevations.
The tripod is very good-looking.
Cons
Twist locks aren't as smooth as other types of locking mechanisms.
The joints of the trekking poles are too flexible.
Buying Guide For A Hunting tripod
When buying a tripod, check out these features. A good tripod has these features.
1. Tripod Material
When it comes to choosing the best tripod material, there are a lot of pros and cons to consider. Assuming all other factors are equal, a carbon tripod will provide you with weight savings and increased durability over an aluminum tripod.
When you're glassing, your hands won't freeze on the carbon tripod legs because carbon is warmer to the touch. You'll be less likely to hear your bow release or other metal object start beating against a carbon tripod. Most people know that carbon tripods are more expensive. More to see best tripod under $100.
2. Tripod Head
The tripod's head, which is designed to hold the camera, telescope, binoculars, or spotting scope, is often overlooked. The tripod head must have a wide range of motion, as well as the strength to support the weight of your scope or camera, among other requirements.
There are two kinds of hunting tripod heads:
Ball Head Tripod
A ball head is exactly what its name implies. In most cases, a clamp is used to secure a ball in place. A ball head offers greater maneuverability. Once that clamp is unlocked, your optics will be able to move quickly in any direction they choose. Unfortunately, they are less stable and don't hold as much weight as a good pan head tripod does. Ball heads, on the other hand, tend to be less expensive.
Pan Head Tripod
Hunting tripods with pan heads are probably the most popular with big game hunters because they allow you to grid search an area methodically. This can be done with a ball head, but it is much more challenging. Even with heavier optics, pan heads are more stable.
Another difference between pan heads and ball heads is that pan heads typically have a handle to move the head, whereas ball heads require you to grab your optics to move it when viewing.
3. Tripod Height
In large part, what you can and can't do with your tripod depends on its height. Then there's the matter of a tripod that's too short for you.
Taller tripods are preferable for outdoor use. When standing up to survey the land in front of you, follow the movement of a game animal, or even take a shot, you'll be able to use it as a tripod.
For outdoor use, taller tripods are preferable. With the tripod feature, it can be used when you're standing up to survey the land before you, to track a game animal's movements, or even to take pictures. Just remember that the taller your tripod, the more flimsy it is likely to be. Next, we'll discuss the importance of a stable tripod.
4. Tripod Weight
In this category, there are two factors to consider: the tripod's weight and its weight-bearing capacity. To ensure that you can comfortably carry your tripod over long distances in your backpack. Make sure that it is light enough for you to comfortably carry.
In addition to your camera or spotting scope, keep in mind that you'll be carrying a lot of other gear while traveling over rough terrain. Lastly, your tripod should be able to support a spotting scope or camera. Twenty to thirty pounds at a time is a reasonable expectation for your tripod.
5. Tripod Stability
An unstable tripod will be a waste of money. It should be able to withstand a gust of wind even when fully extended, as long as it is set up on an even surface.
If you remove the rubber feet from a tripod's base you'll find spikes. When shooting on grass or other soft surfaces, these may provide a better grip than rubber feet.
6. Tripod Durability
An expensive hunting tripod should last a lifetime if it's made from high-quality materials and is properly maintained.
When your tripod is being transported by car or backpack and bumped into by you or someone else it must be resistant to water, rain, or humidity as well as dirt and debris. It must also be able to handle being bumped into occasionally by you or someone else.
For example, an anti-rust and corrosion-resistant finish such as anodized carbon should be applied to the tripod in addition to high-quality materials.
Final Verdict
For your next hunting trip, you can choose from any of the nine tripods we've discussed today. You'll be fine even if you don't choose one of the nine tripods we've discussed today. Just make sure that you look for a tripod that has each of the qualities we've discussed.