If you're an avid photographer I'm sure you've come across times when the view in front was so majestic that even a wide-angle lens couldn't capture all of it.
In those situations, there is no way other than to try a panoramic photo with the best panoramic tripod head to properly contemplate what's in front.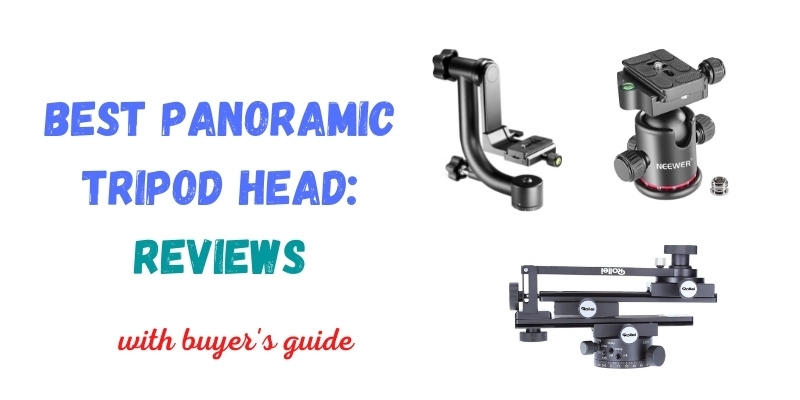 Panoramic tripod heads are the key ingredient for capturing beautiful widest angles shots when simple lenses aren't enough. Using such a tripod head you'll get a consistent image without overlaps which makes the final edit a breeze.
All About Panoramic Tripod Heads
A panoramic tripod head is mounted onto a tripod so that you can place the camera above the rotary axis of its head and take panoramic shots. A panoramic shot is taken when a sequence of images is shot around the entrance pupil of a lens.
A tripod head places the camera on the axis of rotation and keeps the point of view of the camera stationary. So, the primary function of a panoramic tripod is to precisely set a point for the camera to rotate around its axis and eliminate any parallax error.
So, how to use a panoramic tripod head?
When you fix the camera onto the tripod head you have to rotate it at a fixed angular increment to take an image at each point. Later all these images are assembled or stitched together using the software. This software assembles all the pictures turning them into a single seamless panoramic image.
Types of Panoramic Tripod Head
There are three types of panoramic heads:
Cylindric panoramic tripod head – with these tripods you can tilt your camera's body in all axis of the nodal point. It has two stages that slide at 90-degrees to realize mono range panorama.
Spherical panoramic tripod head – it also has two slides but unlike cylindrical one of them is placed on a tiltable arm. That's why you can shoot multirange panoramas.
Motorized panoramic tripod head – these are the latest categories of panoramic heads where tilting and rotation are motorized to shoot gigapixel panoramas automatically.
What is a 3-Way Head Tripod?
Pan and tilt tripod heads are also known as 3-way tripod heads. These heads offer your cameras extra precision over a ball head. Most of the traditional tripod heads are like these.
3-way tripod heads are used to position the head one axis at a time. This head separates horizontal, vertical, and panning motions into three axes. As such, you get more subtle control over the camera.
Three-way tripod heads are quite bulky and so are not very suitable for heavy travel. But they do provide precise movements and ease of use. These traditional tripod heads are mostly used for more geared studio use or landscape photography.
Best Panoramic Tripod Head Reviews
Now let's have a look at our top picks for the best panoramic tripod head reviews to help you make your decision easy.
1. Neewer Panoramic Gimbal Tripod Head
We kick off our first review with Neewer's professional gimbal tripod head. Neewer is a global brand having its business across three continents. Their product ranges within photography, video, and music equipment.
This tripod head has a rigged design with sturdy construction. Made of durable carbon fiber which is light and tough at the same time, this tripod head weighs only 3.04 pounds. However, it can handle almost ten times its weight at 30 pounds!
Such a durable and tough design makes this tripod head a perfect option for traveling photo enthusiasts with large telephoto lenses.
Neewer professional features and high adjustability level with a 360-degree view. This is great for capturing sporting events, running animals, or flying birds. The rotatable ball it has makes it convenient to meet this need.
Its horizontal adjustment allows your precise positioning of the lens by finding the center of gravity of the whole camera system. Additionally, the large knob it has is very convenient as well giving accurate calibrating scales.
When it comes to setting the tripod up it is very easy. Not only that, you can repeat the same setting for most other lenses and cameras as well.
Neewer Professional Panoramic Gimbal Tripod Head also includes a non-skid quick release plate of ¼-inches with Bubble Level.
Highlighted Features
Sturdy design with carbon fiber construction
Quite an accurate calibration scale
Features an anti-skid quick release plate
Can handle ten times its weight
2. Neewer Pro Metal Tripod Ball Head
Our second review is another tripod head from Neewer itself. Being such a global leader as it is, there is no avoiding Neewer when it comes to photography equipment.
This metal ball-headed tripod head isn't the most advanced or sophisticated panoramic head on our list, but certainly, it can offer your great value for the money. The amount of value you get for its price tag is simply impressive.
Made of solid metal construction, the Neewer Pro is a durable and tough tripod head that can handle a payload of up to 17.6 lbs. which is more than enough for some serious camera setups. The tripod head itself weighs a little less than a pound.
If you're an advanced or pro-level photographer you'll get surprised how well it delivers compared to the money. For one, it has not one but three adjustment knobs with a quick-release plate. And what's more! The vertical and horizontal spirit levels are so much accurate for the perfect shooting setup.
You can easily set your camera at different angles with 1 panning knob and 2 locking knobs. These knobs can be controlled accurately with a band scale quickly.
The head also feels quite strong for its meagre price. It is not plastic made that you find in the market but made of solid metal. This metalhead is pretty much unbeaten on our list to be accurate.
Highlighted Features
The most value for the money
Excellent pro-level payload capacity
Solid construction with unbeaten metal head
Accurate 360-degree rotation base
3. Annsm Tripod Gimbal Head
One of the greatest aluminum alloy-built panorama tripod heads comes from Annsm. This pano tripod head is the perfect tool for capturing fast-moving objects like flying birds or racing cars.
Its strong aluminum alloy construction is durable and great to look at. With a loading ability of up to 40 lbs. it can work well with any type of heavy-duty camera, camcorder, or telephoto lenses.
Annsm gimbal tripod head's 360-degree calibrated scale allows rotation for tilt arm and panning base with repeatable positioning lenses. This lets you obtain different shooting angles for different videos or photography like a panorama.
Unlike our previous model, this one features an arca-swiss standard quick release plate with bubble level and a non-skid rubber design. This can be adjustable horizontally to find the center of gravity of the camera lens system.
This tripod head has four large knob screws which makes it super compatible with any camera. Besides, the tightening or loosening adjustments are done with a large knob screw which is a plus.
As you can see, 40 lbs. ability shows that it was specially designed for weighty telephoto lenses. This great set of characteristics make this tripod one of the toughest one for stunning panorama pictures.
Highlighted Features
Well-built aluminum alloy construction
Specifically built for heavyweight lenses.
Arca-swiss standard release plate
Four large knobs for adjustments
4. Rollei Panoramic Head 200 Mark II
When you want to achieve a vibration-free panorama 360-degree shot the best bet is to look out for Rollei Panoramic Head Mark II. Its entry isn't far off from any of our other items, its pared-down head is the ideal item for shooting a spherical and multi-layered panorama.
It features the essential adjustments with a compact and collapsible design. Weighing only over two and a half pounds, this panoramic head has a payload capacity of up to 6.6 lbs. which is quite good for a full-frame DSLR camera setup.
This tripod head features an ARCA Swiss base plate and linking this horizontal base plate is the vertical arm. You can rotate the arm by loosening the clamp under the bracket. You can now swing your camera anywhere you like to soot any type of panoramic image you like.
The tall and vertical arms allow you enough room to rotate a longer lens and the build quality isn't compromised either. The construction is precisely machined with no slack between the parts. You won't feel its knobs are going to give away or break anytime soon.
Rollei's panoramic head's pan base has some selectable click stops. At 15, 24, 60, and 90-degree increments you notice the lock positively stopping. The upper vertical pan motion is as good as well. Its precise click stops every 15 degrees apart making it much easier to use.
Highlighted Features
Compact, foldable, and travel friendly
Quality build and precisely machined
ARCA swiss base plate for better adjustment
5. K&F Concept Professional Tripod Ball Head
Our final pick from the list of best panoramic tripods is one from K&F. Although not a very reputable brand in and of itself, this product of theirs has gained sufficient reputation for it to be included in our list.
Weighing only half a pound this metal tripod ball head has a maximum loading capacity of 22 lbs. which is so many times more than its weight. This is truly astounding, to say the least.
Its metallic sturdy construction, therefore, can easily hold any 400mm lens without any difficulty. The tripod head is overall durable, tough, and solid.
When put on the tripod legs it is quite easy to set up. Besides, putting on and off the camera from it is also simple.
One of the best things about this tripod head is that you don't need to push the ball out of position if you need to lock the panning motion, unlike most other ball head tripod heads.
Its 360-degree panoramic head features two twist locks so that you can set your camera at different angles easily. Besides, the removable plate with bubble level has a quick release system and is very compatible with all other plates. The bubble level in both horizontal and vertical positions enhances the perception of position as well.
K&F Concept will ensure you a trouble-free panning due to low center of gravity and CNC machining. That's why it is also extremely stable. In addition, the security slot also protects your camera all the time quite well. Read More: Best tripod for 600mm lens.
Highlighted Features
Has a sturdy metallic construction
Extremely lightweight with high wielding power
Very stable with extra security for camera
Two twist locks for different angle settings
The ball doesn't need pushing to lock
Things to Consider Before Buying a 360° Panoramic Tripod Head
It can sometimes be challenging to get the exact panoramic tripod head you want. So, knowing what to look for helps out a lot.
Brand
It always pays well to pick a well-branded product. When companies make good quality products, they tend to make a name for themselves. And so those products last longer than their competitors. Although branded tripod heads might cost you a little bit more, it is worth it.
Working Mechanism
Before buying thoroughly check the working mechanism of the product. If you feel comfortable with that then you may take it. Sometimes, due to complicated working mechanisms, people tend to mishandle the product, which reduces its longevity.
Compactness
If you're a traveling photographer, go for a compact tripod head so that you can fold it and carry it around easily.
Extra Features
Some functions are common for all panorama tripod heads. If you're going to invest then invest in something truly great by checking the extra features it comes with. Look for more features that are important to you.
Old Customer Reviews
One of the best ways to know whether an online product is truly good is to check its customer reviews. You can avoid great disappointments if you check old customer reviews properly.
Final Words
There you go! Our top choices for the best panoramic tripod have come to an end. We only included those items that matched our high standards in terms of construction, features, ease of use, etc.
We hope you've found what you're looking for. Happy shooting!