Aiming for the best point-and-shoot camera under $300 is no easy feat. These cameras are much harder to find because the market is much smaller. Here are some of the best options we could come up with. With one of these point-and-shoot cameras, you can easily take amazing photos.
Each year, smartphone cameras improve. But if you don't want to spend loads of money on a smartphone, you can easily find the best point-and-shoot camera for less than $300.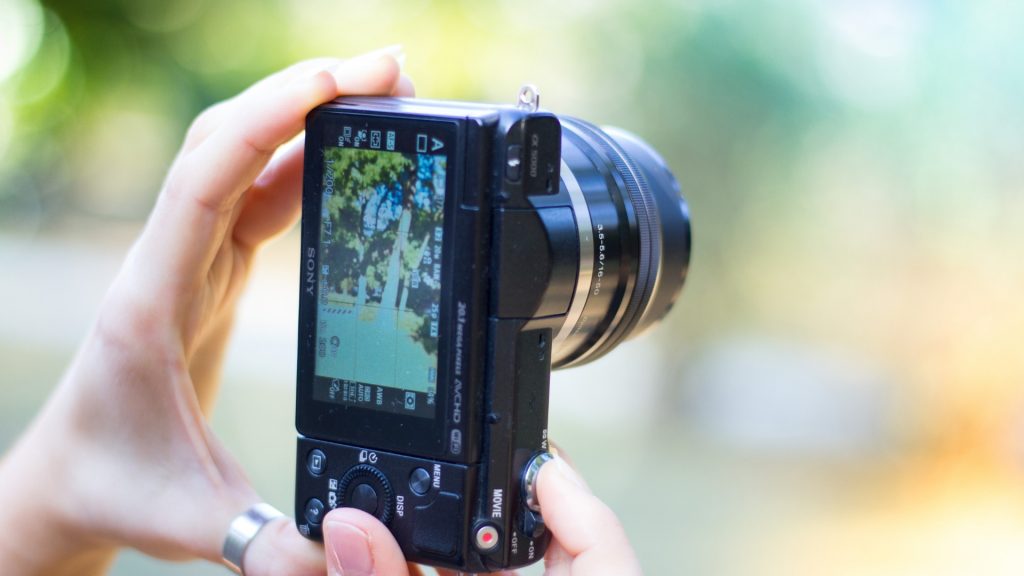 More than ever before, modern cameras are smaller and easier to carry around. They have excellent image stabilization, wireless connectivity, and a larger zoom range for distant photography, among other advantages.
Quick List Of Our Top Picks:
Best Point And Shoot Camera Under $300: Reviews
1. Canon PowerShot ELPH 190 Point And Shoot Camera
Canon's Power Shot digital cameras are among the best in the business. Some of the most popular point-and-shoot cameras on the market cost between $100 and $500. And they are highly sought after due to their simplicity and excellent picture quality.
 If you choose to purchase the ELPH 190 with a 16 GB memory card, you will have access to an optical image stabilization system. This will allow you to take stunning photos with the greatest amount of flexibility possible. Cameras at this price point have never been more technologically advanced than Canon's Power Shot Camera.
Related Post on How To Reset Canon Camera To Factory Settings?
The rest of the features will surprise you. Image quality is breathtaking thanks to the 20-megapixel CCD sensor, which works in conjunction with the DIGIC 4+ image processing chip. This means crisp images, vibrant colors, and incredible detail.
The camera also has smart technology and different scene modes. There's even a help button that makes it easier to learn how to use the camera's features. 
Pros
Stabilization of active images
Clarity of blur
Wi-Fi and integrated sharing
Shooting from a Distance
Massive 20MP Sensor
Cons
There is no 1080p video capture.
Buy an Extra memory card
2. Sony Cyber-Shot DSCW610 Digital Camera
While it's difficult to say which of the two cameras is better, the Sony Cyber-shot and Canon Power Shot are in direct competition. Only 14.1 megapixels and 4x optical zoom are available on this particular Sony Cyber-Shot model, and it's only available in black and silver.
A few key technological improvements, such as the 2.7″ LCD display and sweep panorama mode, make up for some of its shortcomings. In addition, the camera has a self-portrait timer, which makes it easy to take group photos.
Further, the camera has face detection technology, so you'll get the most flattering pictures of you and your family – and you won't miss a single smile. Thanks to the smile shutter technology, which captures everyone's smile at the exact same time. For some, this is a technological requirement in any point-and-shoot camera.
Pros
Face Detection and Smiling Shutter
Rechargeable battery with high capacity
Fits into a pocket
Automatic Mode with intelligent Control
Good Low-Light photos  and Proper Flash
Cons
Functionality at a minimum
No SD card
3. Nikon COOLPIX B500 Point And Shoot Camera
Another great point-and-shoot cameras are the Nikon COOLPIX series. The B500, in particular, is well worth the money spent. With a 40x optical zoom lens built into the body, this camera is incredibly affordable.
B500 is the way to go if you want a point-and-shoot camera that feels a little heavier duty, similar to a more expensive DSLR. With an amazing flash, all the dials you would expect from a professional camera, and a comfortable grip, this camera is a pleasure to hold.
In addition, it's one of the few cameras in this price range that can record video in full 1080p and has Bluetooth connectivity as well. 
However, the best part is yet to come! With a 3″ tilting LCD display, taking selfies is a breeze. Thanks to the tilting LCD, you can shoot from a wider variety of angles and with greater versatility. You can easily learn all the features of this camera, even if you have never used one before.
With the easy automatic mode, you can point and shoot. However, with the advanced manual mode, you can get a little more technical with the camera. Aspiring photographers on a budget should consider the COOLPIX B500.
After buying a Nikon camera you will need a good tripod for sure. Here you find a few best tripods for Nikon cameras.
Pros
A huge number of pro features
Video quality 1080p
LCD tilting for more angles & selfies
Easy & convenient to learn
Optical zoom 40x & dynamic fine zoom 80x
Cons
Some focus to consider
No improvement of mobile software
4. Panasonic Lumix ZS50 Digital Camera
In spite of its high price, the Panasonic Lumix ZS50 Digital Camera is still a far cry from $300. It's also incredibly smart, which is another plus. Also, it has a 30x optical zoom, a glare-free eye viewfinder, enhanced nighttime sharpness, quick autofocusing, and ten frames per second burst shooting. It's also a great travel camera.
On your next vacation, this is one of the best units to take. Despite the fact that it only has 12.1 megapixels. So your pictures will still be amazing.
These 12.1-megapixel photos have rich colors, superb detail, and lifelike quality that you can't get from a smartphone because of the amount of technology packed into this tiny camera body. Image stabilization technology minimizes blur and ensures perfect pictures every time.
Pros
Videos in full HD
Great for macro photography
A camera that is ridiculously small
A high-speed shooting camera
Stunning at night
Cons
The excessive variety of modes
Require a Panasonic cable for charging
5. Samsung WB350F 16.3MP Digital Camera
WB350F digital camera is Samsung's entry into the camera market, and it's one of their most affordable models. With Wi-Fi, a 3″ hybrid touch display, and a 16.3-megapixel CMOS sensor, this is a great piece of technology.
As a result, it's small enough to fit in a pocket, and the automatic sharing feature allows you to save photos in real-time.
Samsung is a trusted brand, despite the fact that it is not a household name when it comes to cameras. In terms of price and features, this is a great option. When you connect it to your smartphone, you can even control the camera from a distance. If you want technology, Samsung is the way to go.
Pros
Smart social media upload enables instant sharing of content via social media.
Optical Zoom magnification of 21x
Samsung connectivity to other devices
A wide range of colors
Sensor resolution of 16.3MP
Cons
Micro SD card
Light glare on the screen
6. Kodak PIXPRO 15X Optical Zoom Camera
Because of its DSLR-like appearance, Kodak PIXPRO Friendly Zoom FZ152 is on our list of the best point-and-shoot cameras under $300.
16MP is not the largest sensor available for a point-and-shoot, but it's more than enough for a point-and-shoot. As a matter of fact, how you use your camera is more important than its sensor size. Because of its weight, it feels well balanced and solidly constructed for a camera at this price point.
In addition, it comes with a large number of automatic scene selections that cover a wide range of common scenarios. Most inexpensive compact cameras aren't aimed at advanced photographers who want complete manual control.
It has a 15X optical zoom, so you can get up close to the action with the PIXPRO. Landscapes and group shots are no problem with the wide-angle 24mm lens. You can take this camera on vacation, hiking, or on a family day out. Also, it would make a good first camera for a teenager, and seniors will enjoy using it.
Pros
Zooming in at 15x optically
Image stabilization using optical technology
Display: a 3-inch LCD
HDR (High Dynamic Range) mode
Cons
Full HD/4k video unavailable
No extra or advanced features
7. Kodak PIXPRO AZ421 16MP Astro Zoom
Many Astrophotographers and wildlife photographers consider the Kodak PIXPRO AZ421 Astro Zoom to be the best point-and-shoot camera under $300. Other bridge cameras at this price point are much more expensive.
However, the Astro Zoom in its current budget-friendly form is more than competitive.
It's well-built, has a 3″ LCD screen that's easy to view, and a 42X optical zoom that lets you get up close to your subject. A 16MP sensor may be a bit of a disappointment, but the camera's image quality is still excellent. Cameras at this price point don't usually have image stabilization.
A 24mm wide-angle focal length is available when the lens is fully retracted. This makes the lens ideal for group shots and landscape photography.
The aspect ratio can also be selected post-image capture, in-camera. This is useful for social media sites that require specific image dimensions for their images. 
Beginners will have no trouble using the AZ421 right out of the box.
Pros
Even at higher zoom levels, the image quality is exceptional.
Optical zoom of 42X
Useful image dimensions
Face recognition
Cons
Full HD/4k video unavailable
Support memory card with a maximum capacity of 32GB
8. Panasonic Lumix DMC-ZS70K 4K Camera
The Panasonic Lumix DMC-ZS70K is the best point-and-shoot camera under $300 that is easy for beginners to pick up and use. But it still has enough advanced features to satisfy experienced photographers.
Most of its competitors do not offer as many advanced features as the ZS70K. Included in the list are 4K (UHD) video and a touch screen, as well as image stabilization and the ability to shoot in RAW as opposed to JPEG.
Many competitors lack 4K video, which the ZS70K offers. Both photo and video shooting are made easy with this versatile camera. With the mechanical shutter, it can shoot 10 frames per second.
Face detection focusing, built-in Wi-Fi, and a 24-720mm equivalent zoom length to a 35mm camera round out this compact's features.
Macro photographers will also appreciate the focus stacking feature of this camera. At the top of our price range, it's the best digital camera under $300 currently available, in our opinion.
Pros
Sensor with a resolution of 20 MP
A video in Ultra High Definition (4K)
Easy shooting for both photo and video
Beginner's Camera
Cons
A relatively low maximum ISO sensitivity
9. Minolta MN12Z-R Wi-Fi Digital Camera
The Minolta MN12Z-R is next on our list of the best point-and-shoot cameras under $300. More flexibility than you can imagine is provided by this colorful compact's 26 auto-scene modes.
People who do not want to hassle with settings can simply select a mode and shoot. Because it's user-friendly for beginners. It'd make a great little compact camera to take on vacation.
Wi-Fi connectivity is available, but Full HD/4K video recording is not. In addition to the 20MP sensor, the MN12-ZR offers a 12X optical zoom for capturing close-up shots.
Pros
Stabilization of optical images
26 auto scene mode
User's Friendly
Cons
There is no fully manual mode
Not great in Dark
10. DJI OSMO 4K Point And Shoot Action Camera
Perhaps you're wondering why an action cam, such as the DJI OSMO Action, makes the list of the best point and shoot cameras under $300. This is due to the fact that it is a point-and-shoot camera that comes out of the box!
There are two image formats available: RAW and JPEG. And it can record 4K videos. It is water-resistant to 11 meters/36 feet, and it is built to withstand the knocks and bumps that an action camera is confined to.
Adventure-seeking photographers will find it a great companion for climbing or hiking. In inclement weather, you can even submerge it underwater.
A 120-second electronic shutter can be set to 1/8000 of a second, allowing you to capture long-exposure shots or freeze action. In addition to Face-Oriented Exposure, the camera has a handy burst mode for capturing action sequences.
There is also a handy drawer function on the OSMO Action. A 145-degree wide fisheye lens distorts still images. Therefore, OSMO Action has software built-in to correct this warp. This is a fantastic little camera that can go virtually anywhere and capture images that a traditional camera cannot. 
Pros
RAW or JPEG file format
Dewarp images include
Waterproof to a depth of 11 meters/36 feet
Cons
11. Olympus TG-6 Waterproof P&S Camera
Because of its unique waterproof features, I had to include the Olympus TG-6 in this list of the most affordable point-and-shoot cameras available. Without a doubt, this is the toughest camera you can buy at this price. It is primarily designed to produce crystal-clear images, even in the most adverse conditions. 
An advanced Action Track Sensor and 12 MP BSI CMOS Sensor work together to capture high-quality photos and videos. Modern Olympus cameras benefit from sensor-shift image stabilization.
In addition, the lens' anti-fog glass ensures razor-sharp images even in the most adverse conditions. Video recording in Ultra High Definition 4K at 30fps is also possible with the advanced sensor.
Waterproof to a depth of 15m, shockproof, crush- and freeze-proof, and dustproof, this camera is built to last. It also has a GPS, altimeter, thermometer, and accelerometer built-in as well as built-in Wi-Fi for easy file sharing.
Pros
Waterproof Camera
12 MP BSI CMOS sensor
Freeze-proof and dustproof
GPS, thermometer, accelerometer  system
Cons
Recording maximum time 29 minutes
12. Fujifilm FinePix XP140 Waterproof Camera
The Fujifilm FinePix XP140 is a camera that you may want to add to your collection if you are constantly taking pictures outdoors. Despite its lack of beauty, the camera is waterproof (up to 25 meters), freezeproof (down to -10 degrees Fahrenheit), and shockproof (up to 1.8m).
Because of this, it's the perfect camera to take on mountain hiking or snorkeling expeditions. In low light, the 16.4-megapixel back-illuminated CMOS sensor produces very good images. 
Pros
Average 28-140mm equivalent with 5x optical zoom
15 frames per second for 4K-video
Bluetooth and Wi-Fi are already built-in.
Cons
Not so beautiful in my perspective
Our Recommendation
Choosing the best point-and-shoot camera under $300 is becoming increasingly difficult. Mirrorless cameras and smartphones are taking over, but you still have some great options.
For those interested in astronomy and wildlife, the Kodak PIXPRO AZ421 Astro Zoom may be the better choice. Photographers looking for something a little different may be interested in the DJI OSMO Action. As soon as you've decided on a budget, start looking for options within that range that are appropriate for the type of photography you'll be doing.
Frequently Asked Questions
What is camera's image stabilization?
Blur reduction is a must-have feature in a camera. As a general rule, cameras have a few different types of image stabilization. On the other hand, point-and-shoot cameras often feature optimized image stabilization (OIS). It prevents blurring caused by handshaking.
Review article on Best Tripod Under $100
Do you need a extra camera viewfinder?
The viewfinder on a camera is extremely helpful, especially when adjusting settings manually. Although not all point and shoot cameras come with one, there are a few exceptions. But if you're in a pinch, you can find a few that do.
Conclusion
In your search for the best point-and-shoot camera under $300, you'll find a number of models that are quite similar. You don't have to worry about a lot of cameras brand. Point-and-shoot cameras are typically equipped with optical zoom, have similar megapixel counts, and are simple to use.
As a result, you're probably wondering how to determine which option is the most suitable. As with everything else in life, the price is usually the deciding factor. In general, the more expensive your digital point and shoot camera, the better it will perform and the more features it will offer. For those interested in photography-enhancing functions, there are a few key ones to keep in mind.
As an example, 4K video capacity is becoming increasingly common. When it comes to a new digital camera, 4K means the difference between normal videos and amazing home movies. Think about the continuous shooting as well. There are more action shots and fewer missed opportunities with 10fps or higher. 
Last but not least, you should consider the build quality. Before making any purchases, we always recommend reading verified customer reviews. Point and shoot cameras under $300 shouldn't feel flimsy. Cameras tend to be more durable and robust when they come from a reputable brand.