For photography-loving people looking for something more than their mobile can offer, the Nikon D3500 is the best option. With an astounding look, 24 MegaPixel camera, and long battery life, it is the perfect camera for an entry-level DSLR.
But no matter how great a DSLR is, the one thing that helps them take better shots is a great tripod. It doesn't matter whether you want to capture the night sky, have a shot at some wild animals or just take a panorama photo, a tripod will make them happen, perfectly!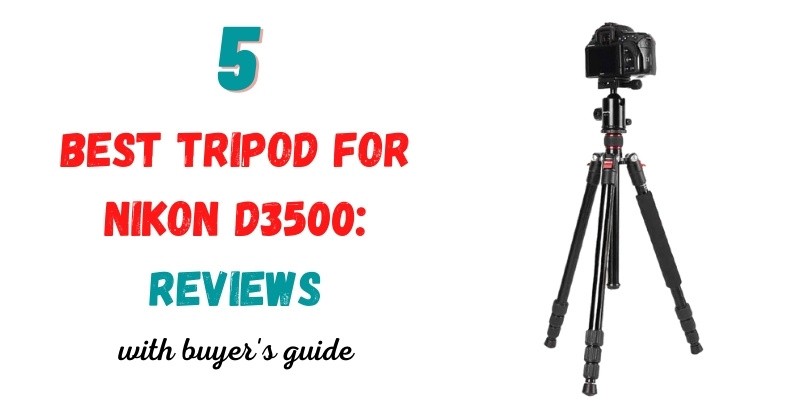 If you are looking for the best tripod for Nikon D3500 then this article is the best place to begin your search. I've put together the five best tripods that might interest you.
1. Vanguard Alta Pro 263AB Camera Tripod
If you're always struggling to capture the perfect shot, Vanguard's Alta Pro 263AB can be the best thing for you. This Aluminum tripod kit offers you're the most amazing value that can appeal to both novice and professionals alike.
With sturdy construction and affordable pricing, this tripod is the key got set up a video shoot. Its body, especially the center column and the legs, is made of aluminum.
The lever locks and feet are constructed of ABS plastic and rubber cover for anti-hock. These are twist locks which makes the tripod easier to operate as well. All of these make the Vanguard last for a long time!
In addition, this tripod has a ball head that can rotate in a full circle of 360-degrees. The 26 mm 3-sections alloy legs lock has three angles of 25, 50, and 80 degrees. This adds further to the item's versatility. Here you can learn about how to remove the ball head.
Alta Pro weighs around 5 pounds and can hold up to three times as much. When extended, this tripod can extend up to 5.7 feet. Its height along with the 360-degree rotation is useful for macro and wide-angle photography. The feet are spiked with rubber for keeping the tripod in place on different ground types.
The tripod isn't too light or too heavy and its size cannot be fitted into a backpack either. Hence if you need to carry it around for outdoor photography, it is better to carry it in the hand.
There are other useful features as well such as an instant swivel stop-and-lock system for quick repositioning and a removable hook. It also comes with a carrying bag.
Highlighted Features
Heavyweight tripod able to withstand up to 15 pounds of weight
Compatible with Nikon D3500 camera
Stands on the ground firmly without shaking
Versatile and has an excellent build quality
2. Nikon 16749 Compact Outdoor Tripod
Another great tripod for your Nikon D3500 is from Nikon itself. The 16749 tripod is an excellent made, ergonomic and packable tripod that will let you take amazing photos of anything.
A perfect companion to your camera for mostly indoor photography, as well as outdoor, the 16749 weighs only 32.8 ounces. This is less than half of our previous item. So imagine how lightweight it is!
Despite its extreme lightweight, this tripod can handle 5.5 lbs. weight which is also significantly less than our previous item when compared. Constructed with aluminum alloy, this four-section tripod extends from 15.75 inches to 49.61 inches.
ABS locks are holding the legs at your desired position. The feet are also non-skid to assure traction on slippery surfaces.
Additionally, the twin bubble levels that you find on the leg base ensure that the tripod keeps leveled on any terrain. Its central balance hook is also able to balance and hold the weight of the entire thing whenever necessary, such as during windy conditions.
Besides, its fully adjustable aluminum ball head is rotatable to 360 degrees along with a quick-release plate. To make the pinning and tilting motions smooth, it also features a comfortable grip handle.
Highlighted Features
Compact and outdoor tripod
Features a 360-degree rotating ball head with panning bar
Twin bubble levels for making leveling simple
Central balance hook
3. Manfrotto Befree Advanced Camera Tripod
If you are looking for one of the best brands in the photography accessory industry, Manfrotto comes first on the list. Their Befree Advanced tripod model also lives up to the brand's reputation quite well.
The Befree is a solid build and lightweight tripod made of aluminum and apt with full-frame photography gear. Solidity and rigidity are the two main things any professional astrophotography enthusiast looks for in a tripod. You can get both of them in this model.
Manfrotto Befree is particularly lightweight with only 5 pounds. But it can support up to 17 pounds which is huge. Not only your Canon D3500, but it can also stabilize even the heaviest of camera gear.
As the name suggests, the Befree is a great travel companion due to its lightweight and compact folded size making you travel free without worries.
With a length of 15.7 inches when closed, its size is also quite handy easy to carry around. Although it is a bit wide at 3.7 inches it makes up that extra space with efficiency and exceptional build quality.
The aluminum design-build of Befree head uses a hydraulic damping system for fluid and smooth camera movement. Providing a good balance between weight and capacity, this tripod has the most efficient design for transit.
The tripod comes with a compact carrying case where it fits quite snugly. Although there isn't much padding inside, still the case makes it easier to carry the tripod around while traveling. This bag is more of storage than an actual case.
The twist-lock system can easily lock and secure the angles and height of the carbon fiber legs. This robust head can be quickly aligned with the camera for a shot.
All in all, there isn't much to go wrong with this great tripod. Its sturdy build can handle more than anything you throw at it.
Highlighted Features
Super lightweight aluminum build
Versatile ball head
Easy and quick set up for shots
Extremely stable and durable
Supports full-frame gear
4. Amazon Basics Lightweight Tripod
The manufacturer from Amazon has done a tremendous job at coming up with such an easy-to-use and lightweight designed tripod for beginners and hikers. It is not only the simplest designed item but also one that can accommodate the greatest number of cameras.
The package comes with a tripod bad and the hard plastic plus aluminum made tripod. On the first look, you'll find it to be very tall. At 60 inches it is no joke and helps you to get all the shots you need.
Its easy operation comes in the form of a quick release plate and adjustable center. The release plate allows you to set up the camera faster and break down the whole unit very fast. In addition, the knobs also help you to screw or unscrew very easily.
And the adjustable center post and legs make taller photographers enjoy taking amazing shots in a wide variety of environments.
The free carrying case or the bad allows you securely store the tripod as well when you're not using it.
Equipped with built-in bubble levels, this 60-inch tripod allows you ultimate swiveling and tilting action on bot portrait and landscape options. You can cover many different angles while shooting without the need to move the tripod around. It also helps you maintain proper focus on the object you're shooting.
In addition to a 3-way head design, its leg extensions are also smooth and they slide out very easily. You can see movable ball joints at the bottom of the feet as well. The rubber feet also help you keep the tripod in place, eliminate slippage and avoid damaging the camera.
Despite its lightweight design of only three pounds, it can handle weights up to six and a half pounds. For any beginner, these basic features are more than enough.
Highlighted features
Very lightweight and easy to carry around
Easy to operate with quick release plate and adjustable center
A carrying case is included in the package
Beginner friendly and compatible with many devices
Adjustable legs and rubber tip feet for extra rigidity
5. UBeesize Camera Tripod
If you're looking for a lightweight, affordable but solid tripod that can prove high value, then UBeesize is your last stop. It can be your best companion for photography since it has a compact design to move around and is extremely portable as we, due to the bag.
The strength of UBeesize provides the greatest impact on the stability of your camera, even during a storm. Its durable and sturdy design comes with so many different features. They let you adjust the tripod and fix the camera for truly outstanding photos.
Combining high-quality materials like high-grade aluminum and ABS resin, it also packs a punch with superior Italian design. The superior expertise and innovation lead this tripod to support photographers in their work.
Additionally, its compact size means you can shrink it to the table-top size of only 20 inches and expand it to 67 inches! This is the biggest tripod on our list of the best ones. Due to this height, the tripod helps you navigate multiple shooting angles.
Its versatility also comes in the form of a central mechanism that adjusts to various shooting angles. Additionally, the universal 360-degrees phone holder can rotate 360 degrees.
The unique thing about this tripod is that it features a wireless Bluetooth remote so that you can take photos from a distance.
In the end, its lightweight and sturdy expression on the mobile can mean there are many more possibilities. Besides its smooth adjustment like quick-release mounting pad are also its major features.
Highlighted Features
Can be adjusted to many angles
Features a Bluetooth button to take pictures from a distance
Comes with a carrying bag for easy movement
Longest tripod on our list
Things To Look For While Buying The Tripod
When you want to take the best photographs with your D3500 with the help of a tripod, there are a few key factors to keep in mind.
Price and your budget
It is not always a good idea to pick the cheapest product you get your hands on. Most of the time cheap things cost you more in the long run. No matter how tempting it might seem to save some extra bucks, remember that it could be a one-time investment.
If you pick the right tripod, even if it is a bit pricey, you might never need to buy another one!
On the flip side, you shouldn't spend tons on that one tripod either. Between the price and your budget will give you great value for the money. If you are careful and make an educated decision, you could get your hands on some excellent items for sure.
Height
Being able to look directly into the viewfinder of your camera without bending is quite satisfying and comfortable. That's why the height of the tripod you're buying is critical.
You probably won't get a tripod that is close to your height but look for one which is closer to your eye level. Remember that while measuring the height, you need to include the center column as well when it is fully extended.
But if your camera has a flip-out LCD screen, the height thing will be less of a problem.
Load handle
This is pretty self-explanatory. You need to buy a tripod that can bear the weight of your camera well without falling and ruining it. Nikon cameras have different weights.
However, since we're talking about D3500 here, there won't be much problem with this option. Since being an entry-level DSLR, it weighs slightly less than a pound which almost all tripods can accommodate.
Tripod weight and portability
The weight of the tripod goes hand in hand with its portability. The low its weight it the more portable it is.
This will be your major concern if you're someone who loves traveling a lot. A lighter tripod will mean you'll be having less trouble carrying it around.
On the other hand, heavier tripods offer more stability which is a must if you want to capture the sharpest of photos.
Durability
As we mentioned earlier, a tripod can be your once-in-a-lifetime investment. And for that to happen you need to pick one that is extremely durable. And durability comes from quality construction, design, and materials.
Final words
For a photographer, a tripod isn't a luxury but a necessary instrument for capturing sharp images. That is why you have to be wise when picking your tripod. Because when you buy the best tripod for Nikon D3500 it can be your lifelong investment.