One of the most important photographic accessories for a camera is certainly the camera. Without it there won't be much support for the camera and the shakiness might result in blurred photos. Besides, when you're doing wildlife photography and birding, the camera will require additional support due to the added heavy lens.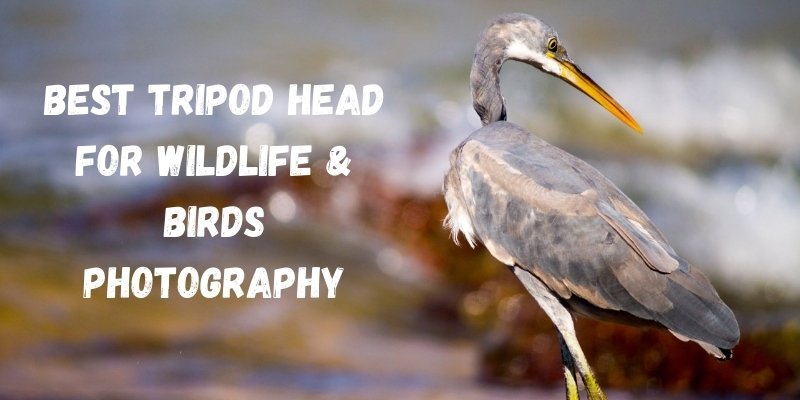 Getting the best tripod head for wildlife & birds photography that matches both your needs and budget is a tough task. But think of this as a once-in-a-lifetime investment for your photographic passion.
While there are a wide variety of tripods available on the market, we'll look through the most common types for wildlife and bird photography to make your decision easy.
1. Vanguard Alta BH-300
Known for their outstanding tripods, Vanguard's Alta BH-300 is an excellent photographer's option. It is a multi-action ball head with precision control. There is a separate locking knob, panning knob, and friction knob present in this tripod head to help you adjust your working style as per your needs.
Besides, its build quality is robust as well with aluminum alloy construction making it durable and strong. Nonetheless, it is extremely lightweight and easy-to-pack compact as well.
Weighing at only 1.4 pounds, this big-brand tripod supports a whopping 66 pounds of weight! Such a hefty payload doesn't mean it is not a good portable option.
It has a relatively compact quick release top plate that sports 2 bubble levels. Besides its universal ARCA compatible plate with a built-in safety pin provides the camera double security in case you accidentally release the camera.
Additional security entails a large lever lock for easy use. It also helps in precision locking to get the ball head into perfect locking through ergonomic friction.
The locking knobs of the Vanguard Alta BH-300 have chunky rubber covering for easy grip. But unfortunately, the friction adjustment dial isn't as tactile as some of the other competitors in the market.
So, you see with a total of three-level knob adjustment the fine-tuning is quite good in this tripod head.
When it comes to the smoothness of the head there are no complaints. Its decent-sized ball with an oxidized-anodized surface operates in the smoothest of ways. This smooth movement helps the ball to protect itself from scratches ensuring smooth operations for years.
In the end, since most photographers prefer ball-headed tripods over others due to portrait, scenic or studio works we've included this item. Its smooth function also works quite well for wildlife photography as well.
Highlighted features
3 independent knobs provide the finest tuning
Easy-to-grip main ball lock with chunky rubber covering
Robust and lightweight aluminum build
Smooth oxidized-anodized ball surface
Heavy 66-pound payload handling ability
2. Benro GH2 Gimbal Head
If you're considering adding a gimbal head tripod to your camera accessory collection then this is it. Benro GH2 gimbal head is one of the cheapest options on our list but it is also an absolute pleasure to use. Using it will quickly change the image quality of your shoots no matter what the situation.
Designed to use with both photo and videographers with heavy telephoto lenses, the maximum load capacity of this tripod head is 50 pounds. This ensures that the had can support the heaviest camera setup while providing excellent stability.
The pan and tilt locking knobs of GH2 are easy to use even while wearing gloves. You can get enough adjustments on the vertical arm for mounting big lenses.
This gimbal head will offer you a full 360-degree uninterrupted rotation will full image stabilization. This results in the most stable recording position with full control over the head so that you can change the direction of the camera within a second to respond to animals or birds.
But the real taste of Benro BH2 is its smoothness of use with no bearing slack. With the price that it comes, the deal is rather good.
Another thing there is to love about this gimbal head is the accurate bubble level and ARCA-Swiss quick release plate system. Besides, it is very easy to source replacement quick-release plates for the head as well.
Due to this, you can quickly adjust the head keeping the camera balanced during use. On the head, there are clear and accurate measurement markings as well that ensure you get optimal performance with the best possible image quality.
Highlighted features
Heavyweight capability
Precise height adjustment sidebar
Accurate measurement markings for optimal performance
Smooth and stable 360-degree rotation
3. Wimberley Gimbal Head II WH-200
The Wimberley Gimbal Head II is a popular tripod head among professional wildlife photographers. The first thing that strikes you on the first look is its black design and the work of art assemble unit. It is currently the smoothest gimbal head on the market with much-needed robustness.
As for the build quality and engineering, it has been built with an exceptional standard that feels like a solid single piece. It is a specialized tripod head for telephoto lenses that allows you to easily support large lenses for tracking animals and birds.
Weighing at 3.15 Pounds the Wimberley WH-200 can handle a large camera-lens system such that when all tightened up, the camera body and the lens become nearly weightless to the photographer.
This is because Wimberley places the weight of the camera below the tripod's pivot point where gravity pulls the setup into a level position. As a result, it can handle comfortably even the heaviest of lenses. It will never feel strained even under a heavy load.
This gimbal head also comes with four adjustment knobs. There is rubbered easy-grip friction knob at the top which tightens and loosens the tilt. The pan locking knob controls panoramic rotation and the side knob controls elevation. And the final knob is on the quick-release clamp for easy use.
The Wimberley WH-200 uses a standardized Arca-Swiss lens mount. Its pan and tilt axes both turn very smoothly as we've mentioned previously. You can lock it completely with the ergonomic knobs.
Highlighted features
One of the smoothest gimbal head
The camera system is adjusted with gravity
The knobs are rubber coated for easy handling
Comes with four adjustment knobs to complete control
4. INNOREL N52 Low Profile Tripod Ball Head
Versatile and flexible ball heads will deliver you the most unique combination of perfect control and stability is the key to achieving top-notch images. Due to these factors' tripods have become the most essential part of a professional photographer.
Almost all good tripods come with removable heads so that you can remove and replace the head with one of your choices. And the INNOREL N52 ball head can become one of your best choices as it comes will all the functionalities you need at a very affordable price.
Designed with a low center of gravity with CNC machining, this tripod ball head has a ball diameter of 52 mm which is quite large for an average low profile ball head. This large size makes it extremely stable for you to take crystal clear wildlife photos.
Since the basis of all ball heads is the 360-degree swivel, this oversized ball along with the ball bearing can be loosened or tightened to a very minute level with the knob on the side. As such you can move the camera freely in all directions and lock with a single touch.
Made of ultra-high-strength aviation aluminum alloy, this metal ball head is as stable as it can get. Its 0.1 mm machining tolerance with anodic anodized formation makes it solid and stable. Besides, the security slot will protect your camera from getting loose and falling as well.
With such construction, this double grooved ball head has a load-bearing capacity of 55 lbs.
Highlighted features
Double spirit bubble level for accurate photography
Arca-Swiss quick release plate
High strength aviation aluminum construction
Large ball head for added stability
5. Manfrotto MVH502AH Video Head
This is a great tripod head for wildlife photography as it has the perfect and smooth panning. Although Manfrotto MVH502AH is an ideal video head you can use it for panoramic photography as well.
It is a midrange fluid head for serious and professional video makers. It is a flat bottom tripod head that fits standard photographic tripods with 3/8″ thread.
Constructed with big bruiser-cast aluminum fittings, its long beefy panning handle is very sturdy. In addition, its top plate uses a longer camera plate since it is wide and long.
As for the drag controls, they are constructed in the perfect position at the base of the head. So, it makes it so easy to get to. This drag-control has a numbered click-in setting which lets you turn smoothly and fine-tune any amount of drag needed.
The pan handle is extra long as well making it comfortable to use with good leverage. You can also grip it easily and steer. You can even mount the panning handle left or right side as well.
The pan gives you a full 360-degree rotation and -80 degrees to +90 degrees tilt function. Its load capacity comes at 15.43 pounds, which is low compared to most of our other choices, still, it remains very stable at high load as well. Besides, modern DSLRs have started to come down in weight for the last few years as well.
Manfrotto MVH502AH has a spring-loaded counterbalance with an 8.82-pound capacity. This offers you an additional layer of protection while mounting the camera.
Highlighted features
Has built-in counterbalance system for extra stability
Continuously adjustable pan/tilt drag movements
Flat base for multiple support combinations
The plate is sliding for the fastest camera connection
Buying Guide
Some of the fundamental parameters are needed to be considered before buying a tripod head for wildlife and bird photography.
Load Capacity
When you're birding or doing wildlife photography like the National Geography, you'll need very long focal lengths for the camera. As a result, the weight of the equipment rises dramatically.
So, considering this if your tripod or the tripod head isn't sturdy enough to hold the camera and the heavy lenses, it isn't good enough. The best wildlife tripod head is therefore that is built for telephoto lenses and is sturdy yet maneuverable enough.
Construction material
Sturdy tripods are usually made from either aluminum or carbon. Both of these make it possible for the tripod head to be light and heavy-duty at the same time. But carbon offers greater strength and lower weight than aluminum but also costs a bit more.
Ball head
Birds and wildlife photography isn't actually like shooting and waterfall since unpredictably is just around the corner. Still. Not all photography techniques involve high-performingSturdy tripod fast-moving tripod heads like a gimbal. Sometimes you need to shoot a fixed position where having a ball head tripod helps out the best.
In such scenarios where you aim the camera and keep it still and locked, you can use simpler ball heads. But make sure that the ball head is also much versatile and flexible. You never know when you need to move the camera more frequently.
Number of sections
Another important factor is the stability of the tripod with big cameras. Sometimes even small tripods can shake which might ruin your shot. Getting a tripod with 2 or 3 sections help in reducing the shakiness and increasing stability.
Flexibility
This is the most important factor when it comes to fast-moving photography like wildlife and birding. For these types, you'll need a heavy-weight tripod specially designed to handle important weights and be much fluid or agile at the same time.
These special heads are called balancers or gimbals since they exploit the balance and can move quickly without using any force. Even large telephoto lenses like 600mm F4 can be handled with these tripod heads. Here you find the best tripods for 600mm or heavy lenses.
A lot of panning and tilting I required when you're birding. If you don't buy a good tripod head it will probably wobble while panning. Besides, they tend to wear out easily. You don't want the panning and tilting to look chunky when you're shooting flying birds and & tilt performance.
.
So, don't ruin your video or photography more challenging by using cheap tripod heads. They will ruin your shot and you'll miss the action due to lackluster or nonexistent panning.
Quick-release
It is common for flying birds to change their direction quickly going outside the scope of the camera and tripod. In those scenarios, you need to quickly release the camera and swap at them. That's why the quick releases system of the tripod head should be good enough. But make sure it isn't loosening too much and risk dropping the camera.
Sturdy handle
A sturdy handle is pivotal for a smooth panning and tilting motion. When you keep your hands off the camera it decreases the vibration resulting in a crisp photo. But you need to keep your hands on the handle and when it is sturdy it becomes easy to operate.
Things to watch out for Gimbal head tripods
Vertical adjustment – if you want to achieve complete weightlessness while using a gimbal head the vertical adjustment needs to be sufficient.
Precision engineering – cheaper gimbal head can introduce slack and wobble in the joints. Precision engineering is necessary for between design with tighter tolerances.
Mounting methods – most gimbal heads come with Arca-Swiss mounting plate but those with a long plate give better adjustment.
Pick strong legs – mounting a good gimbal head on cheap tripod legs doesn't do it justice. You need study and rigid legs to be able to handle the weight of the camera, lenses, and the entire system.
FAQs
Q. How to put a camera on a tripod?
If you're a novice you need guidance to put the camera on the tripod properly. When you mount the camera on it, keep the small hole at the bottom of the camera in consideration. First, remove the camera plate from the tripod and screw the camera to that plate and tighten it. Then slide back that camera plate back.
Q. Can I stabilize my camera without a tripod?
It is preferred to stabilize the camera with a tripod but when there is none you could use some elevated flat space. The most important thing is to support your back while holding the camera with your bare hands. This will help to stabilize your hands more.
Q. What is the best time to use a tripod?
A tripod helps to take the weight of the camera off your hands when you're taking pictures. But the most important thing a tripod does is keep the camera stable and free the shot from vibrations and distortions. With a stable camera shot, you don't experience any blurriness in the photo.
The best time to use a tripod is while using the camera outdoors or when you're waiting for an event to occur, such as in a jungle or a wedding ceremony.
Q. What type of head is the best for?
It depends on what type of photography you're into. If you're performing slow-moving or stable landscape photography then pan-head or ball-head tripod heads are enough. But for wildlife and bird photography nothing beats a gimbal head.
Final Words
All the factors mentioned in our buyers' guide play an important role while choosing the best tripod for wildlife and birds photography. However, it is not always a must to use great big lenses for wildlife or bird photography. Sometimes you'll be amazed by the result of what smaller and lighter lenses bring.
Keeping that idea in mind we've included a simple tripod head with a flat base and fixed lever as well. Hope all our choices help you in picking the right item for your need. Happy birding!