When it comes to creating content, the tripod is a must-have item in our toolbox. With the advent of stabilized cameras, our hands are often not stable enough, especially for long exposures or time-lapse photography. A blurry photo is the last thing you capture.
Even though you may not have the budget for a high-end brand-name release, tripods are still a good solution. Here we come with the 12 best tripods under $100.
A tripod is one of the most basic and straightforward pieces of camera equipment available. "Tripod" is a three-legged stand that can hold a camera.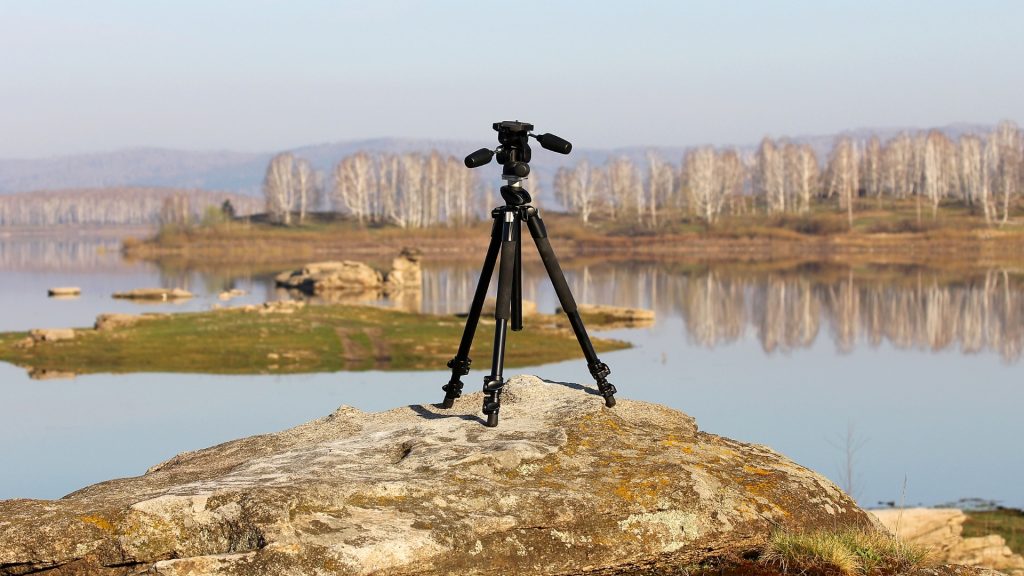 You can easily stabilize your camera with a tripod, which reduces camera shake and improves the overall sharpness of your shots. So, don't let your production look like a 10-year-vacation old's video! Instead, use a high-quality tripod for professional stabilization.
Entry-level tripods are available in a wide range of sizes, shapes, and materials. Because there are so many options in this segment, choosing the best one will be a challenge. We've put together a list of the twelve best tripods for under $100 on the market today.
Quick View of Our Top Picks:
This page may contain affiliate links. As an Amazon Associate, I earn from qualifying purchases, at no additional cost to you.
Our Pick – 12 Best Tripods Under $100 Reviews
1. Amazon Basics 60-Inch Tripod
With a total weight of only 3 pounds, this tripod can support up to 6.6 pounds. The average weight of a DSLR camera is about a pound, which is convenient.
Most standard DSLR cameras can be quickly mounted with a quick mounting plate, allowing you to get the shots you need on time. This plate is compatible with most tripods.
Small and lightweight, the AmazonBasics tripod is a great tool for videographers because it's easy to store and transport. But it's not very long. It can only be extended from 2 feet to 5 feet in length, however. Rubber feet, on the other hand, help to improve the tripod's overall balance.
The tripod's three-way head, which allows you to quickly and smoothly tilt and swivel the camera, is its best feature. In addition, the package comes with a portable bag for easy transportation.
Pros
Minimum 25 inches & maximum 60 inches
Beginner's friendly
Lightweight and small
270 degrees vertical rotation and 360 degrees horizontal rotation
Cons
Only for flat surfaces
No move in multiple directions
2. BONFOTO B690A Camera Tripod
The tripod has a minimum height of 520.7mm and a maximum height of 1358.9mm. When collapsed, it measures 14.5 inches (36.8 cm). It weighs only 2.6 pounds (1.2 kilograms), including the ball head, but it can handle payloads of up to 17.6 pounds (8 kilograms). 
Four-section legs with flipping leg locks and three locking angles are used on the tripod itself. Additionally, Bonfoto offers a ball head that has a separate pan and ball locking mechanism.
It also has 1/4′′ and 3/8′′ threads, allowing you to use different heads if desired. For low-angle macro shots, it has a two-staged center column. You can invert that 180 degrees for a unique perspective.
Additionally, it comes with a carrying case, foam grip, and a built-in level. It also has a center column hook as well as a quick-release plate.
Bonfoto's B690A tripod is a budget-friendly option for traveling with your camera. As of 2017, Bonfoto offers only one version of this tripod, which is made of aluminum.
An ultra-lightweight travel tripod, the B690A from Bonfoto is an excellent choice. A bit shorter than rivals at 53 inches. It makes up for the short stature with portability and a strong feature set for the price.
If you are looking for the best tripod for hunting and traveling, this product would be a great choice.
Pros
Flip-flock design
An ultra-lightweight travel tripod
Budget-friendly
Two-staged center column
Aluminum Tripod
Cons
Not for a long time using
3. Silk U9000 Fluid Head Tripod
There are three aluminum alloy legs on the Slik U9000 Tripod, each of which has rubber feet with metal spikes that can be rotated in and out. A tripod that digs into the turf and minimizes slippage on slippery surfaces like wet grass is a good choice for working outdoors.
For indoor use, simply twist the spikes into place & your tripod will stand on rubber feet that reduce slipping but do not damage floors. 
The maximum height of the Slik U9000 is 59 inches or approximately 5 feet. A tall person may have difficulty getting the tripod to hold the camera at eye level. This is convenient for them.
The tripod weighs 3.5 pounds, but this tripod can support 4.5 pounds. You can smoothly move the camera with the help of its 3-way fluid effect pan head.
Pros
Handle up to 2 kg
Suitable for any surfaces
Maximum height 59 inches and minimum height 22 inches
360 degrees rotation 
90 degrees tilted backward and forward
Cons
Uncomfortable for a very tall person
4. Neewer Carbon Fiber Camera Tripod
This tripod has a minimum height of 23.2 inches and the maximum height of 66.5 inches. When you are collapsing it with the extended center column, it measures 19.3 inches.
This tripod weighs 3.4 pounds but can support up to 26.5 pounds. Moreover, Three locking angles are available on the tripod's four-section legs, which have twist locks.
It's a budget-friendly 2-in-1 tripod by Neewers. There is only one carbon-fiber version of the Neewer Tripod, which was released in 2014.
In addition, Neewer has a ball head with two locks and a friction control mechanism. For low-angle shots, the center column of this tripod can be inverted. In addition, it comes with a carrying case and a center column hook, a built-in level, and a quick-release plate.
Pros
Support up to 26.5 pounds
Budget-friendly
Has a quick release plate
Friction control mechanism
Carbon fiber tripod
Cons
5. Manfrotto Compact Action Aluminum Tripod
Are there any tripods under $100 that have all the features, are easy to carry, and are suitable to travel with?
With its ergonomic "joystick" grip, this Manfrotto version is a joy to use. It allows for quick maneuverability. As a result of the joystick's unique design, I was able to shoot a number of videos and get some great pan shots. Here you find the top 5 Manfrotto tripod reviews.
Pros
Budget-friendly
Well built-in
Beginner's friendly
Durable ground mount system
Cons
6. Dolica AX620B100 Tripod
For budget photographers, Dolica's Proline Tripod is a great option. This tripod was released in 2004 and is available in two different heights, both of which are made of aluminum.
With a removable and 180o invertible center column, it's perfect to take macro shots from low angles, too. Included with it are an easy-to-remove ball head, two built-in levels, and a compass. 
In addition, you can use other 3/8′′ heads if you wish. Three padded foam grips, a center column hook, and a five-year warranty round out the list of features.
In addition, the best tripod under $50 has non-slip rubber feet, which ensure that your tripod doesn't move when you're using it. Besides, this tripod for a camera performed admirably.
Unless you plan to shoot both video and still photos, this tripod is unlikely to meet your needs, as it's nearly impossible to capture anything that isn't stationary without the ability to pan or tilt the camera.
Pros
Maximum height of 62 inches & a minimum height of 21.5 inches
Less weight
Focus on Rapid Security
Cons
Handles a limited amount of weight
7. Magnus VT-300 Video Tripod
You can use cameras such as DSLRs and small and large camcorders with this portable video tripod system. In addition, it has a maximum load capacity of 15 pounds and weighs just 5.8 pounds.
About 5.4 feet is the maximum height that this tripod can reach. This tripod can reach a maximum height of about 5.4 feet.
For a smooth and quick 360-degree tilt of your camera, the Magnus VT-300 has a fluid effect video head built-in. It comes with a quick-release camera plate that allows you to quickly and easily mount your camera to take the shots you need.
In spite of its weight, you can transport the Magnus VT-300 tripod easily to any location, even if it is loaded with additional equipment.
Aside from its flip-lock legs, this tripod's sure-grip rubber feet help to keep the camera in place. It extends to 64.3 inches, so even tall people can comfortably hold the camera at eye level with the tripod.
Pros
Support up to 15 pounds
Comfortable for indoor and outdoor
A rubber grip to keep the camera in place
Easy transportable from one location to another
Cons
Not well for a small camera
8. Zomei Q555 Lightweight Camera Tripod
Does your job require you to use the best tripod under $100 every time you shoot? Indoor use of a massive stabilizer is perfectly acceptable. 
The Q555 is Zomei's mid-range travel tripod. There is an aluminum version of this tripod, and it was released in 2018.
With Quick Flip locks and three locking angles, the tripod has four-section legs with Quick Flip locks. These legs can also be flipped 180 degrees, which reduces the folded length and increases portability.
For low-angle shots, Zomei also has a reversible center column. Also included with this tripod is a ball head that has dedicated controls for pan, tilt, and friction.
A replacement head is also available if necessary. A center column hook, a quick-release plate, a built-in level, and a carrying case round out the extra packages.
However, this isn't the case when you have to carry this heavy piece of equipment around. This new Zomei tripod is perfect for indoor and outdoor shooting, such as at sporting events. You can use this tripod with any camera model. It folds to 180 degrees when inverted.
Pros
Lightweight 
Stable
Compact and reliable design
Easy transportable
Cons
9. JOBY GorillaPod Orginal Tripod
The Joby Gorillapod stands out for its versatility, size, ease of use, and price. According to my, this is by far the best tripod available for less than a hundred dollars. Even though it isn't a typical tripod, this one stands out for its versatility.
Related Post on Best Point & Shoot Camera Under $300 for this tripod.
Depending on the type of lens you're using, maybe it's not the best DSLR tripod, but it works well with lighter cameras as well as mirrorless and point-and-shoot models.
This is probably the best travel tripod because it is so easy to use and hold. Invest a few extra dollars in a tripod that can fully support the weight of your camera.
Pros
Easy adjustable
Very durable
Solidly built tripod
Perfect for DSLR
Easily grabs into anything
Cons
10. K&F TM2324 62-Inch DSLR Tripod
Using your DSLR camera, you can take full panorama pictures with the K&F Concept 62-inch. Easy to set up, and minor adjustments can be made on the fly. Your tripod comes with a portable tripod bag that keeps it dry and dust-free.
62-inch K&F Concept made of lightweight and stable magnesium alloy material, which I find easy to carry outdoors. It also comes with a cute shoulder bag that protects you from the elements.
This tripod has a Flip leg lock that is both powerful and agile. There are four legs section. The Large ball head is 28mm. The tripod weighs in at 2.4 pounds. There is a 360-degree scale at the bottom.
So you can take photos without moving your tripod, thanks to its smooth and accurate rotations. The majority of adventurers and photographers prefer to travel with a minimal amount of gear.
So, moving around shouldn't be a problem when using the K&F Concept. My favorite feature is the built-in head, which is strong enough to hold larger and heavier cameras.
Pros
Very thick and sturdy
Easy to use and not too heavy
Pretty good tripod
Sturdy ball head
Good quality
Cons
11. Ravelli APGL4 Professional Tripod
This tripod from Ravelli, the APGL4, is easily one of the best under $100 tripods on the market today. Squeezing and releasing your finger on the vertical pistol head grip adjusts the camera's position.
Easy to use controls for panning, tilting, and angle shots. If you're shooting at an angle, the bubble levels will be a big help. To adjust the camera's height, adjust the column or the legs of the camera.
Legs support the ball and head, camera, and lens above when the tripod is vertically positioned. If you tilt your head forward and back or to the side, your hand is taking on more and more weight.
For a custom fit, the Pistol Grip comes with a tension adjustment screw. When the ball mechanism is subjected to excessive torque, it can wear out, loosen its tension, and eventually break.
As a result, long or heavy lenses are not recommended because they can cause excessive torque on the ball mechanism.
In order to achieve smooth horizontal panning and vertical tilting, the head cannot be locked in any one direction. Over 8lbs of weight goes into making the APGL4 tripod. 
There are two horizontal flip locks on each tripod leg, both of which can be opened simultaneously with one finger. Each leg flip-lock has a tension adjustment screw on the side of the leg flip-lock.
Pros
Aluminum body
Easy-adjust of legs and column
Mounting plates with a large surface area
Handle with a heavy-duty grip
Cons
Suitable only for short and light lenses
Loose screws
12. Manfrotto Compact Advanced Tripod
This lightweight tripod weighs only 3 pounds, but it can support up to 6.6 pounds of weight. It's more than enough for the majority of DSLR cameras on the market. 
In addition to being extremely stable and user-friendly, the Manfrotto Compact Advanced Tripod boasts outstanding resistance and head adjustment settings.
As a result, it is frequently ranked as the best tripod under $100 in various online sources.
You know the Manfrotto brand is a good product so that you can work with this tripod.
Pros
Support up to 6.6 Pounds
Easily quick release
Stable construction
Cons
No hook in the center
The lack of a bubble level
The Tripod's Evolution
A tripod is a three-legged stabilization device. It also functions as a stable platform to prevent changes from downward or horizontal forces. All it does is stabilize the camera.
The overall tripod's stabilization improves as the build quality improves. A tripod's build quality and long-term reliability can be difficult to assess.
Tripods were designed to be used with the large video and still cameras of the past. Videos could only previously be taken with an enormous camera that would be nearly impossible to carry and hold steady for any length of time.
Smaller video cameras and ultra-light DSLRs have made it much easier to shoot videos with minimal shaking now than it was before.
However, videographers are only human, and their arms only have so much strength. Using a tripod is a must if you're going to be shooting hours of video. As mentioned above, eliminating camera shake and unsteadiness is also a concern.
Related Article: How To Use A Spotting Scope For Shooting?
It's possible to get a good tripod to control better your video camera and shoot non-shaky video footage. Many tripods are also quite affordable. 
How To Select The Best Tripod?- Buying Guide
Build Quality And Material
Often, manufacturers will tout the tripod's best feature while describing its build quality. They'll be made of either aluminum or carbon fiber if they're priced under $100.
However, aluminum tripods are less expensive but heavier. 
As a relatively new technology on the market, carbon fiber tripod weighs less but is often more expensive. The trade-off between these materials, aside from price, is their durability. Carbon fiber, when properly maintained, can last for decades, while aluminum deteriorates in just 3-5 years.
If you're only going to use the tripod for a few months, go with aluminum or we prefer for carbon fiber tripod because it is the best tripod for long-lasting.
Tripod's Weight Capacity
When purchasing tripods, it is common to overlook the weight capacity. This one, however, is one of the most important.
The weight of the tripod itself and its maximum payload are two factors to consider in the market. The total weight it can support before it collapses is referred to as the maximum payload.
To avoid buying a tripod that can't support heavier equipment, pay attention to this area. The weight of the tripod as a kit is also important, especially if you plan to backpack and travel with it on your shoulders.
Consider the weight of your camera and the heaviest lens setup when making this decision. If you're looking for tripods, make sure they can support the weight. Look for lightweight tripods that can still carry the weight of a DSLR camera.
Tripod's Maximum & Minimum Height
It's important to consider the tripod's maximum height when it comes to ease of use. As soon as you stand up, a five-foot tripod will cause your back to hurt.
In order to reduce the amount of bending required, look for one that can be extended by 72″. Alternatively, if you're 5'5″ or shorter, you'll want a chair that extends to 60-62″.
Most applications do not make use of low-angle shots. However, they are an absolute must in macro and food photography. Look for tripods with an inverted center column for low-angle use. Consider the maximum height of the tripod.
Also, get a tripod with the necessary working range. Consider its minimum height if you intend to shoot macro or low-angle photography.
Tripod's Head
In most cases, the kit includes a ball head. In addition to the gimbal and fluid heads, there are also pan-tilting heads. In addition, the included standard ball head is the easiest and most straightforward style to get started.
As with many things in life, this is a matter of taste. Check out options with detachable heads and either 9.3mm or 6.35mm screw holes so you can swap out the head if you want to change it.
Tripod's Portability
Everyone loves a compact and lightweight tripod, no matter what the intended use. The folded size is important if you travel a lot with the tripod. Whether it fits comfortably in your backpack will be determined by the size of the bag itself. 
In the same way, make sure you check the weight. Choose one that is as light as possible without sacrificing functionality, if at all possible Weighing it down by just one or two pounds is going to make a huge difference, especially if you're carrying it all day.
Tripod's Legs
The tripod's legs must be sturdy. All types and sizes of tripods are available. Some tripods have a greater number of leg sections than others. The more leg sections a tripod has, the more portable it is because it is easier to move around.
However, it also reduces the stability of the system. As a result, tripods with more than three sections will affect and bow under increased weight. Leg locks are also available in a variety of styles, most commonly twist or flip locks, though flip locks are more reliable than twist or flip.
Take into account the portability you require. You should use four or five sections for maximum portability, but they will not be as stable as a three-section configuration.
Because flip locks are more convenient than twist locks, consider how quickly you want to set up or disassemble the tripod.
Tripod's Feet
In order to travel and shoot outdoors, your tripod feet must be in good condition. For indoor use, most manufacturers include rubber feet. However, they are not suitable for use on uneven surfaces outdoors. For this reason, if you're planning to travel, look for a tripod that features spiked feet.
Final Verdict
There is no way to overstate how important it is to invest in a high-quality camera tripod for your projects. Identify the tripod's weight and height requirements, as well as any other important features. That could make photography easier before you go shopping.
Throughout this review, I've outlined the advantages and disadvantages of each of the top-rated models. Hopefully, this article will assist you in making a decision.
Because it's lightweight, compact, and versatile. I highly recommend the Manfrotto Compact Action Tripod with Five Sections. It has an intuitive joystick head and is easy to use, making it the best tripod under $100. When properly maintained, it can last for more than ten years.