Disposable cameras are mostly cheap single-use cameras that follow a rigid formula of photo taking. These simple cameras provide you with almost no manual control of shooting settings. Basically, if you happen to lack any photographic experience, these are the best tools to start with.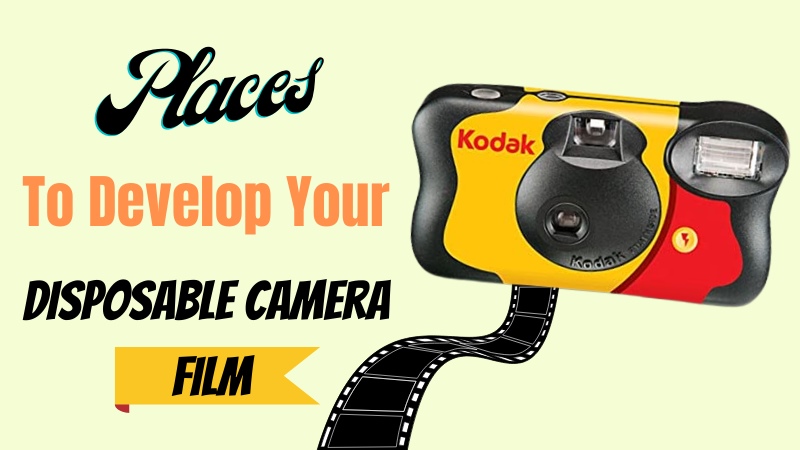 Besides, a disposable camera isn't only for those beginning to grow interested in photography, they are also great for students and teens at their parties, sports festivals, and many more.
There are moments when you don't want to get wrapped up in the technical issues of photo shooting and just capture the moment as it is. This is where disposable cameras come in. These cameras have fixed shutter speed, aperture and focus.
Disposable cameras are super cheap, easily available, take amazing photos, and also let you live in the moment without wasting too much time taking care of them.
Where To Get Disposable Camera Films Developed Nearby
The first place to look for is Walmart since it is everywhere. It is known to all that Walmart provides digital photo services. You might also wonder if they develop disposable camera photos?
The answer is, yes. They do develop disposable camera film indeed but it is done offsite with third-party providers. You can drop your disposable camera at the drop box at the Walmart photo center.
Although Walmart provides the cheapest service here, the turnaround can be the longest due to the third-party provider. The price for developing a disposable camera isn't uniform in all places, however, you can expect to pay around $7.96 for 12 4×6″ exposures. Usually, you don't get the negatives back.
Besides, America's second-biggest pharmacy store chain CVS also provides film development services. Compared to Walmart, they are quite fast in the turnout and deepening on the store its pricing could range between $9.96 to $18 to develop one roll of film.
So, you see, out of these two Walmart is cheaper while Walgreens is faster in disposable film development. Besides, Costco and CVS.
Here is a list of places and their price for developing disposable camera film:
| | | | | |
| --- | --- | --- | --- | --- |
| Place | Number of Exposures | Price | Delivery Time | Negatives Returned? |
| Walmart | 12 | $7.96 | 7 Days | No |
| Walgreens | 24 | $14.99 | 3-5 Days | No |
| CVS | 1 | $0.36 | 7-10 Days | No |
| The Darkroom | 27 | $15 | 3-7 Days | Yes |
Getting Film Developed Online
Although Walmart and Walgreens are quite available, we suggest not to do it there due to pricing and a very long turnaround period. Instead, many professional film development labs are cheaper and provide you with a turnaround very fast!
Usually, online photo labs are referred to as Mail-In. If you aren't lucky enough to live nearby an independent photo lab, it is worth looking into online ones by mail.
Online photographic sites like The Dark Room, Process One, The Photo Lab, Shutter Junkies, Mpix, North Coast Photo, OldSchoolPhotoLab, Dwayne's Photo, Richard Photo Lab, etc. are some of the more popular ones to develop disposable camera film.
Developing Disposable Camera Photos
However, one thing to keep in mind in today's time while using disposable cameras is developing the photos. It is an intimidating aspect since the accessibility and availability of resources and places of processing films are decreasing day by day.
Professional labs are becoming rarer and rarer in most parts of the world where you used to find photo developers in every nook and crannies of the big and small cities and towns. That's why one of the remaining options to take is to develop the photos yourself.
Come to think of it, developing color film isn't so hard a thing, provided you have the right tools and understand the process. Developing films from the disposable camera isn't so different from the film in other cameras. The only difference lies in getting the film out of the camera without exposing it to light.
Related Article: How To Use A Disposable Camera [Kodak & Fujifilm]
Getting To Color Film Developer
Times have changed too much! The majority of the photo labs from the days of analog photography have closed their doors for good thanks to the era of digital scan printing.
While Kodak and Fujifilm have long-held market dominance, you could still find some drugstore that still develops film. Not to mention Walmart, Walgreens, and CVS which you can find in every city and town. They still provide photo-developing services.
However, ask any expert and they'll tell you, to get much better results you ought to visit a professional lab. Because it all comes down to operating and processing the film properly. Not only do you need better processing for developing the film, but having someone that understands photography is also essential since the lighting, color, and contrast can affect your photos.
Apart from visiting Walmart or Walgreens, you will also be able to develop the film online. You just mail in the camera and they send the developed photos to you back.
What To Look For
While searching for a developer for your film nearby, you should keep some important considerations in mind. Developing films catering to your specific needs isn't something any developer can do.
So, the most important thing you should keep a lookout for is the print quality of photos and their resolution. Another important thing is the price of developing those photos and printing them for you. Modern photo labs also offer to email those photos to you instead of printing them.
And the final thing is if they'll return the negative back afterward. It is because this might not be a one-time thing and you might need to develop those pictures again.
Disposable Camera Photos Bring Nostalgia
Yes, in the present day although digital photography is way more popular, old-fashioned photos are creeping up now and then on numerous Instagram pages and YouTube channels.
You can look up entire channels and pages dedicated to photos taken with a disposable camera that gives you that late-twentieth-century vibe. Not to mention those pictures do look great though.
So, don't let your disposable cameras sit around and create some awesome memories to remember by. And they're not complete without developing them in hard copies. Bring back photo albums again and relive your life's precious moments.