A lot of us would like to liven up our outdoor areas. Excellent outdoor lighting is one of the things that can be done in order to accomplish this. A DIY solar light project is a great alternative to lighting up an entire outdoor area. Making a solar light from scratch will help you save money if you have a limited budget.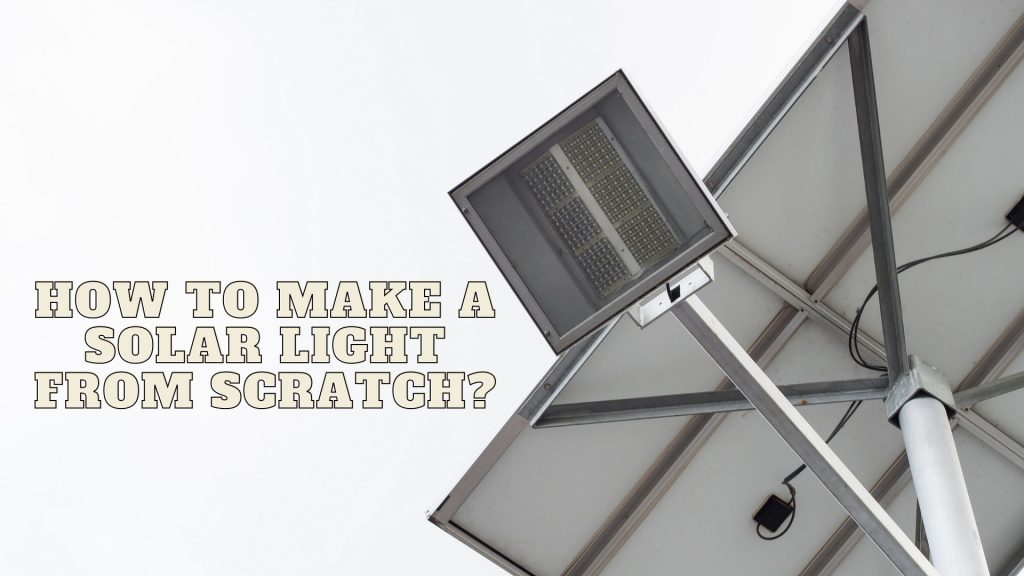 How to make your own solar light is covered in this post. The result will be a stunning, eco-friendly outdoor lighting system. That will enhance your outdoor spaces on both regular and special occasions.
Fortunately, solar lights for your garden, walkways, and other outdoor areas don't have to be expensive. Plus, you don't need any electrical or technical knowledge to install solar lights yourself in your outdoor areas.
Why Is A Solar Light Important Today?
A list of solar energy's pros and cons would be much longer than the list of cons, which would have only one entry. Since no fuel is required to generate large amounts of energy, solar panels have low operating costs.
But many people believe solar panels are still too expensive for the average consumer, especially if they live in a region of the world where there is a limited amount of exposure to sunlight. Solar energy is clearly cost-effective in the long run.
Materials You Need To Make A Solar Light From Scratch
Solar Panel Of 2 Volts
Drill
Soldering Machine Or Wire Nut
Rechargeable AAA NiMH Batteries
Battery Holder
LED Lights
PCB (Printed Circuit Board) With A Switch Or Dawn Regulator
Superglue Or Hot Glue Gun
Jar
If these products have stored in your house, there is no need to buy them. So, you don't have to waste money on these materials.
8 Easy Steps To Make A Solar Light From Scratch
Step-1: Prepare Your Wires
Creating a solar-powered light from scratch is most dependent on wiring. If you make a mistake when working with wires, your solar lights will not work. Before connecting the wires, make sure they are properly trimmed and cleaned. This will allow you to properly secure the cable.
Determining the best method of cutting is also important when it comes to joining distinct edges. Think about the cable's length on both sides. A short circuit caused by a cable that is not needed is more likely to occur.
Step-2: Connect The Light To The PCB
Electrical devices have a circuit board as their central component. An electronic circuit board connects the light to the battery and cable in solar-powered lights. As a result, you must correctly connect the light to the circuit board.
Using the cable that you've already installed, the light fixture will obtain power from the board. Verify the voltage before you finish everything to ensure a proper connection. The hubs and ports that connect the devices must also be inspected for safety.
Step-3: Connect The Circuit Board To The Battery Holder
Directly from the solar panels, it is impossible to run a light. As a result, it would be beneficial to connect the circuit to a battery. It is the charge controller that transfers energy from the solar panel to the battery, and the circuit board that carries this energy to the light.
You should be aware of the output and input voltage levels. In addition, you must take into account the cable's length and thickness. The type of connection will determine this. As a result, this process is relatively simple, and it can be completed in just a few minutes. The task is similar to that of connecting electrical lights to light holders on a wall or ceiling.
Step-4: Drill A Hole Through The Lid
Take the lid off the jar and set the circuit board aside. It's best to avoid placing the lid on a surface that could cause it to crack. In order for the panel to remain stable and for the black and red wires to fit perfectly into the lid, the hole should be in the middle of the lid.
Step-5: Connect The Solar Panel To The Circuit Board
The solar panel will absorb sunlight and store it in the battery. The solar circuit board, on the other hand, is responsible for obtaining power from the solar panels. Be sure to double-check all connections before exposing the solar panel to direct sunlight. It's vital to keep circuit boards and solar panels secure and up-to-date because they work together to power the light.
Step-6: Put All Components Together With Glue
The following step is to correctly install all of the collected components. Adhere or glue all the components together and then put them together. This can be accomplished by using plastic-friendly waterproof glue. Glue is not necessary if your design will be attached with screws. Screws and glue, on the other hand, create a stronger bonding. Heat or superglue the solar panel side and press the wires next to it firmly to ensure that they are securely glued in place. Close the jar lid, and you've got yourself a solar-powered light.
Using a soldering iron, you can attach a wire to a solar panel that does not have one built-in to it. Solder the positive wire to the positive terminal with a soldering iron. Another option is to connect a ground wire to the ground connector.
Step-7: Install The Switch And Choose Perfect Location
With a switch between the battery and the solar-powered light, you'll be able to control the light to your heart's desire. This will also help to reduce the amount of electricity that is consumed. Observe that lights that are powered by the sun require solar switches that work well with AC and DC power sources.
High-voltage switches, on the other hand, are incompatible with solar lights and solar panels. When installing the solar-powered light switch, make sure it's in a convenient location. The switch can also have two power modes; one for low light and the other for high. This is a good way to meet your light needs.
All of the pieces are now in place for a solar-powered light. Choose the perfect location for the light to be installed. Keeping the light in the desired location, attach screws and frame with the proper measurements. Circuit boards that do not come with switches will require that you purchase one and use a soldering iron to attach that switch to the circuit board you purchased. One and a half inches should be left on the striped edge of the red wire after it has been cut on both sides of it. Attach the exposed wire with care to the terminals of the switch.
Final Step-8: Test Your Solar Light
Examine the energy production rate of your solar panels. In the absence of sufficient energy, it is impossible to operate the solar-powered light and expect it to provide outstanding brightness. A low voltage system will produce less light than a solar panel with the same wattage.
When the solar panels are producing enough energy, the battery will provide precise light output. Check the performance of your battery. This requires a comparison of the battery's discharging and charging performances. If all goes well, you should be able to generate enough energy to power your solar lights. Lumens are a way to measure the brightness of the lights.
Are Solar Lights Worthwhile To Create And maintain?
Solar lighting has no wires or cords, which makes it a safer alternative to traditional lighting. Simply place the solar lights in a location where they will receive ample sunlight. Solar lights are a low voltage technology. Solar lighting is revolutionizing the lives of millions of people around the world. For low-income families, it significantly reduces energy costs, and it provides alternative energy in areas with plenty of sunlight. There is a special article on what are the drawbacks of solar tube lighting?
These simple ideas and steps will allow you to incorporate this energy-saving and fun trend into your own home. With easy DIY installation, solar lighting is a home improvement option you can't imagine ignoring.
Online shopping for solar lighting products is convenient, but building your own solar lights can be more rewarding. Some of the materials needed for your DIY project are likely to be stored in your garage or basement, allowing you to save even more money. DIY projects can also be a great way to discover your hidden talents and artistic abilities.
Final Thoughts
In most cases, the materials you require are readily available at home or through online retailers. Even beginners can make their own solar lamps. We hope that you could learn something from this guide. Best of luck with your good project.