If you own an action camera that you barely use, it might be a good time to think of a better use for it. Many people nowadays are placing their action cams on their dashboards turning them into dashcams.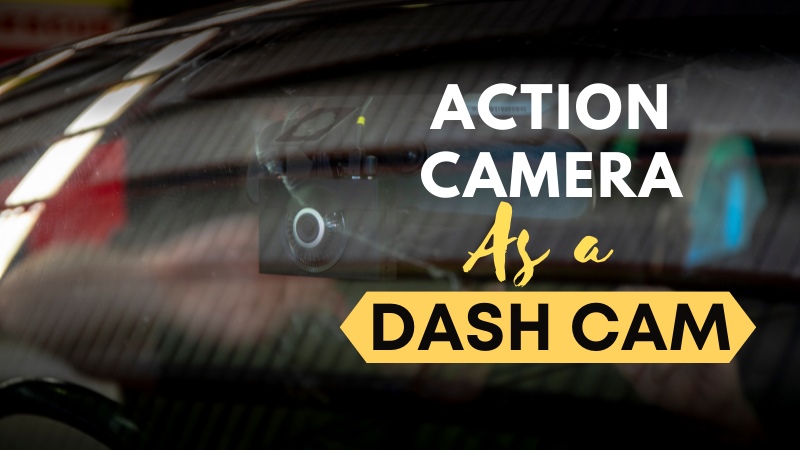 This is rather an ingenious idea since dashcams are quite costly to buy and install. On the other hand, action-cams like GoPro are a very cheap alternative. If you're intrigued already about this, then read along with the article where we explain how can an action camera be used as a dash cam.
What is a Dashcam?
A Dashcam is basically a dashboard camera that is mounted on your vehicle's dashboard. These cameras face forward behind the windshield capturing video corresponding to the driver's view. Since it captures videos just like the driver's view it acts as a "silent witness" in event of accidents.
All videos of the dashcams are continuously stored in the cloud or memory card to view the recordings later on. In the event of an accident, information like speeding, heavy braking, harsh cornering or aggressive acceleration, etc. can be seen with the help of it.
Dashcams, although expensive, are more useful than you think. They have proven to save money for vehicle owners in the long run by getting them out of hit and runs, accidents, and more. Besides, it also gives you peace of mind knowing your vehicle has a silent witness to protect it. This is priceless.
What is an Action Camera?
Also known as an "action cam", an action camera is a digital camera designed to capture videos only when you want it to. Modern action cameras are tiny in size and usually have waterproof surfaces. Even with such a tiny body, they can produce amazingly high-quality wide-angled videos in any environment.
Action cameras nowadays have become an integral part of YouTube vloggers and most outdoor extreme sports. These cameras can be held with just one hand easily or attached to helmets, surfboards, and handlebars to capture your perfective of the action.
Compact, rugged, and mountable digital action cameras are designed to capture videos while immersed in the action. Once you turn it on, you don't have to interact with the camera and just shoot. The camera jumps right into the action and captures a beautiful wide-angle video in a way traditional cameras or smartphones can't.
Action Camera As A Dash Cam
An action camera is a versatile tool that can be used for a variety of purposes, including as a Dash Cam. While a dash cam typically records video from a single fixed angle, an action camera can be mounted in a variety of positions to provide a more complete view of what is happening on the road.
In multiple ways, action cams are similar to dashcams. For instance, they can often record identical footage. However, the video quality of action cameras far outweighs that of dashcams. The resolution and image stabilization mode of action cameras will provide you with high-quality recordings at all times.
Thanks to the de-facto wide-angle lens, the action camera can cover a very wide view in front of your car. Dashcams don't have such a wide-angled view.
Besides, action cameras are also easy to install in a vehicle since you can mount them on anything. You can find car mounts with suction or clip-on for action cameras in the market. This helps you attach the camera to the front windshield or rearview of your vehicle.
Some action cameras with dashcam mode are also available such as GoPro Hero 7 and 8, SJ4000, etc. Dashcam modes are also known as Car Mode.
The dashcam mode is a loop recording mode that lets you keep only the last five or so minutes of footage on your SD card. This means you can keep on shooting for an unlimited amount of time without worrying about not having enough memory storage!
Besides, dash cams with parking mode are also designed to go into hibernation when you park your vehicle. This is done through a movement alert in the camera. The action cam with this mode on will stop recording when the vehicle's engine is switched off. This saves a lot of unnecessary recording and energy.
If you're worried about the battery charge of your action camera, you can use a micro-USB port and connect the cam to your standard card charger during driving. This keeps the action camera charged all the time.
Action cameras with GPS will also help you record any vehicle's speed and location. So, you see, with such an action cam you can record everything that happens when you're driving on the road, just like a dashcam.
So, if someone asks, can an action camera be used as a dashcam? You know that it can. If you already own an action camera and don't use it often, it is possible to use it as a dashcam.
Differences Between Dash Cam Vs Action Camera
There are some major differences regarding the functionality, design, and usefulness between a dashcam and an action cam. Let's look at some of the major ones.
1. Power
Dashcams automatically switch on whenever you start your vehicle and start shooting. You don't have to manually turn on the dashcam to shoot what's happening in front of the vehicle.
On the other hand, action cameras need you to manually start to shoot. You always have to remember it to switch on and this can be burdensome if you use it as a dashcam for your vehicle, since not always remember to turn it on.
2. Auto-looping
Dashcams shoot loops automatically when the memory card becomes full. However, action cams do not have an auto-looping function. Therefore, when the memory card becomes full, the shooting of the video ends.
3. Storage
As for dashcams, the memory storage isn't that of concern due to the auto-looping technology. With this, the footage with no incidents is overwritten automatically. This ensures that the device is always recording.
On the other hand, since there is no auto-looping system in action cams, the memory is a huge deal. Once the memory ends, the video ends as well. So, either you use a memory card to more size or manually delete old videos to make up space for new ones.
4. Impact Detection
Many things can happen when you're not with your vehicle. For example, someone might get too close to your car or a thief might try to break in and enter. As long as you have a dashcam installed, everything becomes recorded automatically.
In other words, dash cams can isolate and store footage during the point of impact due to their motion detector and G-sensor. This means you don't have to worry about missing important videos in such crucial moments.
With the help of this dash cam, you can easily monitor the surroundings even when the vehicle is switched off. Because the dashcam still receives a constant source of power.
On the other hand, action cams don't come with G-sensors or motion detectors. As a result, the point of impact isn't recorded individually. The action cam will not isolate that specific footage for viewing purposes. Neither it can detect any hit-and-run incidents while your vehicle is switched off or parked.
5. Power Source or Battery
Conventional action cams are powered through rechargeable batteries. This gives them a limited operating time. Once the charge depletes, you gotta recharge it again to continue recording.
On the other hand. Dash cams are plugged into the vehicle's power outlet and so it doesn't need to be recharged now and then. It gives the dashcam a constant source of power, even when the vehicle is switched off or in parking mode.
6. Overheating
This is a common problem for action cams. While shooting high-quality videos for a very long time, action cams tend to heat up. Sometimes, due to old firmware, faulty battery, or slow memory card, the action cam might even overheat to the point of not being able to operate anymore.
On the other hand, dashcams have almost no record of being overheated while operating. Besides, high-quality dashcams nowadays are designed to withstand extreme temperature fluctuations.
7. Durability
Another important aspect of difference is the different durability ratio between dashcams and action cameras. Most modern dashcams utilize a supercapacitor design which lets them withstand very hard conditions inside the car's interior. Due to this, the dashcam can keep on providing steady and dependable performance.
On the other hand, action cams aren't that durable. Although modern action cams come with water resistance capability and shock resistance to some extent, still they need to be handled carefully.
8. Out of sight, out of mind
A good dashcam is a device that once installed in your vehicle you don't need to think about it anymore. Most dashcams are high autonomous, safe, and discreet. You don't need to remember to turn it on every time you wish to commute.
On the other hand, action cams need to be remounted again and again if you wish to use them as a dashcam. Besides, you also need to turn it on before starting to commute and keep minding about its charge depletion or memory reduction. They also require the manual deletion of unnecessary old videos.
How to Use GoPro as Dash Cam
GoPro action-cams are quite well suited for use as dashcams. There are some setups you need to take care of before using a GoPro as your vehicle's dashcam.
Step 1: Suction Cup
Holding the GoPro tightly to the dashboard is of utmost necessity if you wish you use the action cam as a dashcam. For that, you need accessories like a suction cup that lets you attach the camera to the car's dashboard.
Modern-day suction cups for cameras come with industrial-level suction capacity and presents great stability to the camera. It also features adjustable arms for ultra-compact mounting.
Look for a suction cup that provides the camera with 180-degree maneuverability.
Step 2: MicroSD Card
We also recommend you get a good branded MicroSD card with enough storage capacity for the GoPro to keep on recording high-quality video for at least 4-5 hours.
Step 3: Mini USB to USB Cable
Since you don't want your action camera to run out of charge in the middle of the road while filming the videos, you need some source of constant power for the camera. The help of a USB cable that can be attached to the car can be a useful solution.
Step 4: 12V Accessory Adapter
Another necessary thing to have is a 12V car charger. This one is not needed, however, if you already have a USB outlet in the car.
Step 5: GoPro Setup
There are some camera setups you need to maintain if you need it to work as a proper dashcam. First, put the video resolution to 1080p or 720p if you want the footage for accident proof only. For that, you don't need super high resolution. More resolution takes up more space in the memory card which means less time for shooting.
Now set the GoPro on a loop interval of approximately 40 minutes. This time is long enough to capture an incident. Shorter than this might not get it all and longer might not be necessary.
You might ask, what is looping? It is an option in your action camera, specifically the GoPro that enables it to record continuously by overwriting the beginning of the clip with new footage.
This setting is also known as an action camera with dashcam mode. It lets you capture the most recent activity without filling the memory card. With such a setup, you're always sure to have the last set number of minutes filmed.
Once the action is captured, make sure to stop the looping. Otherwise, it will get overwritten while the camera keeps on recording getting into a new loop.
Best Action Camera For Dash Cam
After reading all these you might be wondering which action camera would work best as your dashcam. Well, we expected that much. That's why we're suggesting a few of the best action camera models which would swell the dashcam experience.
1. GoPro Hero 8
The one action camera that revolutionized sports action is the GoPro. Its Hero 8 version doesn't only surpass its predecessors but might also be the standard go-to camera for vloggers.
The biggest advantage of using GoPro Hero 8 is the complete waterproof technology this camera brings. You don't even need a case for a GoPro dashcam. Besides, the video quality is great due to the improved audio quality of its audio and the wind-optimized mic.
2. GoPro Hero 7
Another great GoPro item is the Hero 7, which is now the entry-level model in GoPro's new lineup. Still, it offers you excellent value since it is the model that brought software leaps like HyperSmooth stabilization to the market.
It is an excellent choice to be used as a dashcam since it costs way less than other models and provides excellent video and sound quality with stabilization.
3. Yi 4K+
If you're not comfortable enough with a GoPro, a good alternative would be a Yi action camera. These action cameras are one of the best in the market now and have almost the same features as a GoPro.
Yi 4K+ shoots amazing 4K videos with 60fps. It has loop recording where short video sequences are recorded and overwritten once the microSD card is best for dashcams. Its wide-angle distortion correction by auto low-light option improves exposure indoors and at night.
4. ThiEYE E7
It is an astonishing gadget that also provides you with low-budget action. With great video quality of up 4K resolution, the ThiEYE E7 is the best low-budget action camera cum dashcam you can buy on the market.
It provides you with hands-free control via simple voice commands. So, even while driving you can control it without moving your hands off of the wheels. There is also smartphone app synchronization and Wi-Fi connectivity featured in it.
Besides, ThiEYE also features electronic image stabilization (EIS) and the built-in anti-vibration function. This means no matter how much your vehicle vibrates or shakes, the video will be stable.
5. Gitup Git2P
Our last product Gitup Git2P shoots lower quality videos compared to other ones we've previously mentioned. Then again, you don't need over 1080p resolution when it is a dashcam, right? You can easily fix it on your dashboard and use it as a cheap dashcam.
Final Words
If you search on the internet, there will be multiple sites asking you not to use an action camera as a dashcam and most of the reasons aren't worth the attention.
We've already discussed how you can turn your GoPro into a great dashcam. If you follow our guidelines, those objections won't matter at all.
Finally, hope we've answered most if not all of your queries regarding transforming an action cam into a dashcam in this article.