Who doesn't love a good GoPro video shooting? This small device is a wonder in the video shooting industry and earned instant fame worldwide.
People usually shoot smaller videos with this device with their hands or drones, since in addition to being small, they're incredibly light as well.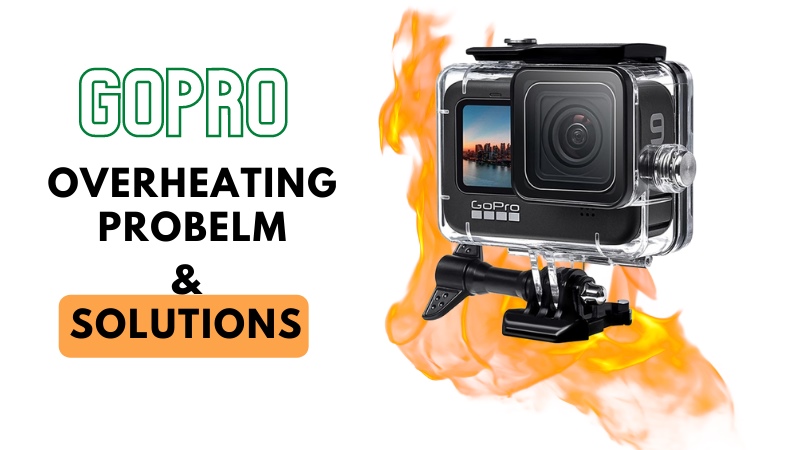 However, one of the problems GoPro users face nowadays is overheating. This isn't unique to GoPros only. Those who are always using electronic devices encounter overheating issues from time to time. This isn't something unusual.
So, the question remains, how to keep GoPro from overheating? Read along with this article and we'll discuss everything in detail.
Is it Normal for a GoPro to Get Hot?
We all know that the newer GoPro models are loaded with great capabilities related to video shooting. These powerful cameras double the performance and quality of previous versions.
However, some issues are coming up with GoPro Hero 10 overheating from time to time. This is quite normal since they are used for very high-quality videos.
You might notice while recording high-end videos with your GoPro that it is heating up. This is because the internal processor is working very hard to transfer a large amount of data. As such, the memory card could get hot, and even the camera.
Fortunately, there are safety mechanisms in the newer GoPro version that help to keep the camera safe in times of overheating. One of those mechanisms is the auto shut-down when it gets too hot.
However, it could seem a little bit frustrating having your camera shut off while you're still shooting.
Read More: How Long Can A GoPro Record
Reasons for GoPro Overheating
Although pretty hi-tech, the newer models of GoPro Hero 9 and Hero 10 are sometimes known to heat up while shooting. Especially, shooting high-end videos tends to require a lot of processing power and large amounts of data, and the memory card heats quickly.
Besides, the metal rim around the lens port drawing heat out can become very hot as well, since it acts as a heat sink. We shall discuss overheating fix in this article, but before that, the reasons behind them overheating need some space as well.
Reason #1 – Lengthy Videos
It is an amazing capability of a GoPro to keep on shooting videos for hours on end. However, it soon becomes a thing to worry about when it starts to heat up or get damaged due to that.
There isn't any strict guideline as to how long you shouldn't be shooting, each item starts to heat up at different times.
Some owners treat their GoPro like professional video cameras and keep on shooting for hours which isn't what it was made for. GoPro wasn't invented to shoot a three-hour football tournament or a 4-hour time-lapse. It was designed to split videos into segments and shoot small minutes long videos only.
When you shoot for too long, beyond what is suggested, the central processing unit of the device, after consuming too much power and processing too much data, heats up very fast. This in turn heats the memory drive and the battery as well.
Reason #2 – External Temperature
Another big contributor to the heating of your GoPro is high external temperature. If the weather is hot outside, and you're shooting under the scorching sunlight, there is a high possibility of all your devices heating up.
The high heat outside worsens the already hot insides of the gear. Internal heat cannot dissipate due to the high heat outside, causing more heating.
Reason #3 – Slow Memory Card
Although there is no direct correlation between heating and it, while shooting high-quality videos for a long time, if the memory cannot be saved at the same pace, it can heat up considerably. It is because the slow memory cannot keep up with the fast-paced workload of the processor.
Reason #4 – Poor Ventilation
Another obvious culprit is the poor ventilation of the heat. As we discussed earlier in the external temperature part, the hot GoPro needs a lower external temperature to dissipate the heat outside.
Besides, you need to give the GoPro some airflow once in a while to prevent it from getting too hot. If it doesn't get that, the internal heat adds up making the device too hot to handle.
Reason #5 – Old Firmware
One of the definite reasons for heating GoPro or any other device for the matter is outdated firmware. Old firmware is usually not optimized to take on the task of high-resolution video recording.
Besides, there are also complaints of GoPro Hero 10 overheating while charging, which is the reason for old firmware. Fortunately, Hero 10 was announced to have their new firmware update to resolve this issue.
An updated firmware gives your GoPro processor some breathing room and makes the operation smoother. This keeps the gadget cooler.
Reason #6 – Bad Battery
Another important cause of GoPro overheating is a bad battery. Some of the users complaining of overheating when changing their batteries got a surprising result.
What To Do When GoPro Overheats
When you notice your GoPro overheating and showing the "Too Hot" warning, there are some things you should do to cool it down as fast as possible. Otherwise, the gadget might suffer damage due to excessive heat.
Step 1 – Turn it Off
The first thing to do when you notice the camera becoming too hot within a very short time is to stop shooting the video and turn it off as soon as possible. Turning the gadget off immediately will suspend all the work inside and prevent it from heating more.
Step 2 – Pull Out the Battery and Memory Card
The next thing to do is to pull the battery and memory card out. As we've already mentioned, sometimes due to overheating the memory card gets heated too much as well.
And sometimes the main reason for the camera to overheat might be the battery as well. Even if the battery isn't the problem, pulling it out will give the gadget more chance to cool off faster.
Step 3 – Let it sit
Now, wait. Let the GoPro sit at normal temperature to cool down. How long it will take to bring down the heat might depend on a few conditions like the temperature of the camera, weather conditions, external temperature, wind flow, etc.
Do not throw the camera into an ice bath which might potentially crack the plastic or glass due to jarring extremes in temperature change. Rather, letting the camera sit and cool down naturally is a better way to do it, although it might take some time.
How To Prevent GoPro from Overheating
There are ways you can prevent your favorite GoPro from overheating and ruining the shooting moment. The following tips will help you keep the camera cool at all times.
A. Record at Intervals
We've already stated that GoPro was designed to shoot short videos and continuing your video session for too long will inevitably overheat the gadget. So our recommendation would be to record with your GoPro at intervals and keep the videos shorter.
B. Mind the Weather
This is important and mostly overlooked by users. The external temperature can cause any running gadget to overheat. So, if you want to shoot videos, try doing it when the heat of the sun isn't too much.
C. Get a Good Memory Card
Slow memory cards heat the camera since they can't keep up with the fast pace of the firmware and high-quality video. Try changing the memory card to a good brand. Many people have responded that it worked.
D. Change the Battery
Change the old battery for a new charged one. This will give you a better backup while filming and there will be fewer chances of it heating the GoPro.
E. Update Firmware
Old firmware tends to slow things down and make the device overheated since it is not optimized to prevent that. So, try to update the firmware which will give a better result, and make sure that the latest version has been installed with all the "bug fixes". This also works as GoPro Hero 9 overheating fix.
F. Proper Airflow
Since one of the common reasons for overheated GoPro is the lack of airflow around the camera body, if you can control this external environment, the camera will heat up less. It is always a good method to provide good airflow to the device.
Move the camera often or if you have to shoot from a single point, use a fan to keep it cool.
G. Low Video Quality
Finally, if you can manage, lower the video quality a bit. Because, by reducing the capture load, the camera works less to load it to the memory card and keeps cool.
Frequently Asked Questions (FAQs)
Is it OK to leave GoPro charging overnight?
Since a GoPro battery delivers 1.5 to 2 hours of service on a single charge, you need to charge it often. Sometimes, you might think what if I could charge the GoPro overnight and save some daytime?
Well, first you need to know how long it takes to charge a GoPro. If you're charging it through your laptop USB, it might take up to four hours. On the other hand, a proper GoPro charger might take about two hours to fully charge the battery.
Keeping this time in mind, would it be thoughtful of you to keep the GoPro charging for the whole night? We don't think so.
Overcharging batteries are known to be damaging and lead to overheating. So the best thing to do is to unplug the charges as soon as the GoPro tells you it is fully charged.
Why is my GoPro Hero 10 overheating while charging?
One of the reasons for overheating could be a faulty charging system. A faulty adaptor, ruptured cable, or a low-quality cable could heat your GoPro while charging. Besides, if the battery is damaged, it could also lead to overheating.
Sometimes, people leave the GoPro overnight to charge. This overcharging could damage the battery bit by bit which in turn leads to overheating.
My GoPro overheating and not turning on, what to do?
When your GoPro has overheated and shut off automatically, it might not turn on. Don't panic. There are easy solutions to this.
First remove all the accessories that are interfaced with the camera like microphones, external batteries, etc.
Remove the battery, wait for 5 seconds and then reinsert it. Press the Mode button to see a response by LED light, beep, etc. If there is no response, reset the camera by pressing the Mode button for about 10 seconds.
If the above methods don't work, probably the battery was damaged and you need to replace it with a new battery.
Final Words
Finally, we've concluded about our GoPro overheating issues. There are many reasons for such devices overheating and there are also troubleshooting methods for that.
We've covered all the important reasons and solutions regarding how to keep GoPro from overheating. Hopefully, you'll find your solution among the things we've discussed.
Happy shooting!