Hunting is an exciting job that allows hunters to get up close and personal with wild animals. Life is full of moments like this, but they are rare. Because of this, you place a high value on capturing the moment.
It's possible that you'll want to record those moments because it will allow you to enjoy and share them with others. You'll require a good video camera specially made for this purpose.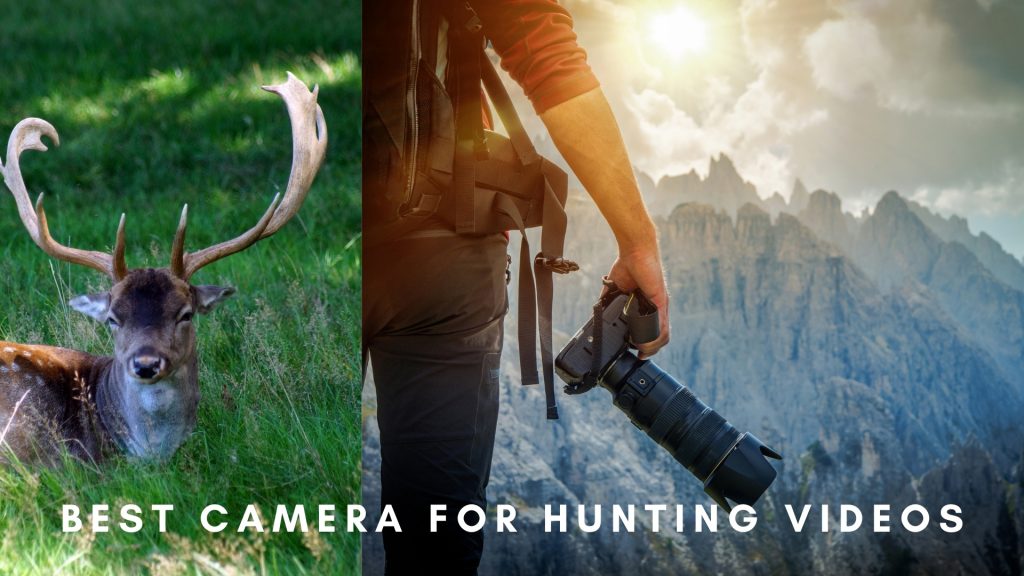 Here in this article, we present you with the 14 best hunting video cameras under $500 that'll make your hunting capturing easier.
If you're having trouble picking one excellent camera for your needs then stay with us till the end. We'll tell you exactly what you need to consider for making an informed decision you won't regret.
Quick View Of the Best Hunting Video Camera Between $100-$500
Best Camera For Filming Hunts Under $500 – Reviews
It is high time that you pay to study the reviews of the best camera for hunting videos. Since not all cameras are capable of filming long-range hunts, you'll need a good bit of monetary investment to choose a worthy camera.
1. AKASO EK7000 HD Action Camera
What if your video camera budget is small? AKASO's EK7000 is one of the best video cameras for hunting that doesn't require a large investment.
With a look that's a lot like a GoPro version, the EK7000 has almost the same features as well. From the design to the packaging, everything looks like a GoPro knockoff. However, it also comes with a few compromises.
Designed to face natural elements, this model is waterproof up to 30m making it a great action camera.
You can record 4K videos with this camera as well and the video quality is quite decent too, compared to the price. However, if you've been using high-priced GoPro for a long time then you might see some lackings in the quality.
EK7000, however, doesn't come with a camera stabilization which other high-end makers have been pushing hard.
You can take 12MP photos with it with only one field of view which is a standard wide mode. In addition, there is also the timelapse mode which needs to be edited in a video format on the computer. Kind of like the old-school method.
When it comes to battery life, it's not bad at all. If you're going to carry it around with you, it can be a bit noisy due to its case. Besides, it tends to overheat when used for a long time.
Pros
4K video capture.
Long battery life.
Wi-fi connection.
Timelapse capture.
Cons
Overheats if used for a long time.
2. GoPro HERO6 Black 4K Camera
Going back to the GoPro HERO 6 Black, it might feel a little backdated. A few things, however, make the GoPro Hero 6 a top-notch hunting camera. This version of the GoPro is capable of shooting in 4K 60 and 1080p 240, which is full HD. The video quality alone makes it a competitor for the best video for filming hunts, according to some.
It has excellent video stabilization, a sturdy construction, and a touchscreen that's easy to use. With excellent video stabilization and a user-friendly touchscreen, this is a great camera. However, it does not provide night vision, making it ineffective when working under poor lighting conditions. We have a review article on best hunting tripod.
Pros:
Touchscreen that is simple to use.
Compact Camera.
Available video stabilization.
Video of exceptional quality.
Cons:
It does not perform well in dim light conditions.
3. LINNSE Black 4K Video Camera Camcorder
When it comes to budget-friendly travel, you're in luck! This is the cheapest camera on our list, LINNSE Video Camera Camcorder. This device is extremely portable and capable of recording in 1080p. It can shoot excellent videos from a short distance, making it the best video camera for hunting on a budget, according to many people.
It will also appeal to those who hunt in low-light conditions on a regular basis. Thus, you don't have to wait until dawn to go hunting, as the camera captures high-quality images in low light and records high-definition videos at night. An external microphone is also included, so you won't have to purchase one.
Pros:
Remote control is available.
It includes an external microphone.
Capable of recording in full HD videos.
Various recording modes.
Low-light performance is excellent.
Cons:
The zoom capability isn't good.
4. Panasonic HC-V180K Camcorder
Years ago, finding the best hunting video camera under $500 that was even worth using was nearly impossible. Today, however, a wide variety of brands offer hunters a wide range of affordable options that are both impressive and effective. 
HC-V180K from Panasonic is an excellent choice for hunters because it's easy to use. Additional features include a superbly stable imaging system and low-light functionality.
Additionally, the Intelligent Auto Mode makes it easy to grab the camcorder and start filming without having to fiddle with the setting menus or changing the settings. 
The incredible optical zoom of 50x and the intelligent zoom of 90x are also very important to hunters. Digital and optical zooms are combined with sharpening and image upscaling in the intelligent zoom to produce a zoom that is as close to optical quality as possible.
Pros:
Optical zoom of 50x and intelligent zoom of 90x.
Image stabilization via optical way.
Very low cost.
Simple to use interface.
Auto Mode with intelligence.
Cons:
There is no warranty on this camera.
5. DJI OSMO Action Cam
Going outside with a GoPro isn't the only way to get amazing footage. Compared to GoPro cameras, the DJI OSMO Action Cam is a fantastic alternative. So even underwater, it can capture video. Video recording in 4K resolution is also possible with this device. Both the front and back screens make it very versatile.
Is there anything that makes it unique? Changes in lighting are handled better by this camera than by GoPro cameras. Unfortunately, this camera can get very hot very quickly.
Pros:
The light to dark transition is smooth.
Recordings are in 4K resolution.
Design that is both compact and efficient.
The capability of recording underwater.
Cons:
Quickly overheat problem.
6. LiDCAM LC-WF Camouflage Camera
Outdoor activities, such as hunting, generally require that your hands be free. LiDCAM's LC-WF Digital Camouflage Action Camera is the best camera for hunting video. However, instead of lighting up your path in front of you, this device records it.
Additionally, it's lightweight and portable, so it won't hinder your mobility or cause you to become tired.
It has a great sensor that allows for autofocus and clear images. You can even use your smartphone to control the camera thanks to its built-in Wi-Fi. It has a 32GB SD card slot that can hold multiple cards, which is nice.
Waterproof but not submersible, it's perfect for rainy weather conditions. The is the perfect camera for those who prefer to take pictures with their hands-free.
Pros:
Wi-fi feature.
Stable video production.
Reduced wind noise.
Lightweight and easy to transport.
Cons:
Problem with Wi-fi connectivity.
7. ShotKam 12-Gauge Digital Action Camera
You can easily mount ShotKam 12-Gauge Camera on most rifles and shotguns, which is amazing. Military-grade aluminum is used to construct this versatile and durable camera. Perfect for duck hunting, it is completely waterproof. 
Your smartphone or tablet can be synced with it via Wi-Fi. There are varieties of modes and formats you can use with this camera, the clearest of which is 1080p at 100 frames per second.
This camera's videos will leave you speechless because they are designed to replicate a human field of vision for a more natural look. Memory-wise, it has 64 GB of storage available. Due to the fact that there is no external memory slot, you must empty the memory every 2000 videos.
Pros:
Most rifles and shotguns are compatible with this camera.
Waterproof camera.
Material that is durable and sturdy.
Wi-Fi capabilities built-in.
Has a more natural-looking effect.
Cons:
8. Panasonic HC-V380K Camera Camcorder
Despite its small size, the Panasonic HC-V380K Full HD Camcorder is capable of recording 1080p videos. If your binoculars aren't up to the task, then this is the best hunting video camera under $500. It's small and lightweight, making it easy to carry around or store in a bag.
There are many similarities between this camera and the HC-V180K on this list when it comes to video quality. Many hunters will value it more because it comes with more bells and whistles than the previous model did.
This camera has a larger screen and a built-in Wi-Fi connection that allows you to sync the camera with your phone using the Panasonic mobile app. The start-up time is another improvement you'll notice. In hunting, the instant recording capability of this camera can make all the difference.
Pros:
It can shoot in 1080p.
Incredibly effective image stabilization.
Wi-fi feature.
Zoom level at 90X.
Start-up time is short.
Cons:
Bad at recording in low-light conditions.
9. GoPro HERO9 Black Camera
Its highly intuitive and robust design makes it a favorite among GoPro enthusiasts. In terms of hunting, this is one of the best video cameras if you want to capture high-quality shots in the most discreet way possible Set it up for a first-person perspective or tie it to a tree while observing animals, for instance.
With a 5K video resolution, you'll get sharp details. It can also take photos with a resolution of 20 megapixels. The front and rear displays are reminiscent of the DJI action cameras, which are also available for purchase separately.
You'll also appreciate the device's Bluetooth capability, which allows you to retrieve files. If shaky GoPro videos bother you, HyperSmooth 3.0 provides superior stabilization.
Durable and waterproof like any other GoPro camera. Unfortunately, the battery life is one of the biggest drawbacks of this device. One of the main characteristics of the best video cameras for hunting is that they can last for several hours.
Because of its high video resolution, the GoPro Hero 9 Black's battery life is only good for 2 hours in 4K.
Pros:
5K video capture.
Waterproof camera.
Rugged design.
Extraordinary stability.
Cons:
10. SONY-HDRCX405 Black Handycam Camcorder
When it comes to hunting videos, the Sony HDRCX405 Camcorder is a great choice for beginners. Battery life is around 2 hours on a full charge, while a fully depleted battery takes around 3 hours to recharge.
Additionally, it comes equipped with an extremely wide-angle lens of 29.8mm for capturing a wider field of view. So you'll be able to capture targets' movements more easily without having to pan the camera around.
You can easily slip it into a pocket with its small size and lightweight design. It has a 2.7-inch LCD screen and an easy-to-understand interface. In addition, the interface makes it easy to capture video without getting lost in the multitude of buttons.
If your target is far away, you can zoom in up to 30x with this camera. An intelligent mode sensor reads the frame and selects a video mode on its own. It has a pretty handy feature.
Pros:
29.8mm wide-angle lens for capturing a larger frame.
Mode sensor with intelligent functionality.
This device is both compact and lightweight.
An interface is minimal.
Simple to use.
30x magnification.
Cons:
No external microphone input.
11. Canon EOS Rebel T6 Black Digital Camera
Without a Canon camera, our list would not be complete. There is a Canon EOS Rebel T6 Digital SLR Camera on this list, which is currently the best video camera for hunting filming available today.
For the best video quality, this camera has an 18MP APS-C CMOS sensor and a DIGIC 4+ image processor that work together. An autofocus system with phase detection and nine focusing points is also available. As a result, blurry videos will no longer be an issue.
Like the best camera for recording hunting videos, this model has built-in Wi-Fi, making it easy to pair with your smartphone or tablet. Its ability to produce clear, high-quality videos in low-light conditions is one of its best features. Even though it's not the cheapest option available, it's well worth the money.
If you are looking for the best Tripod Head for Wildlife & Birds Photography this article will help you to choose the right one.
Pros:
18MP camera and DIGIC 4+ image processor.
Phase-detection autofocus system with 9 points for improved focusing accuracy.
Good at low-light conditions.
Wi-fi connection.
Cons:
12. SPYPOINT LINK-MICRO-LTE Trail Camera
The SPYPOINT LINK-MICRO LTE Cellular Trail Camera has a trigger speed of 0.5 seconds and is a high-speed trail camera. Consider having a camera that automatically takes a photo or video of moving objects in front of it.
A detection range of 80 feet allows it to detect animals from a distance. Moving trees and grass, on the other hand, have a tendency to activate the trigger, resulting in a large number of wasted shots with no animal. Here's how to hide trail cameras from humans.
Pros:
It has a wide-angle lens.
The detection range is great.
Long-lasting Design.
Cons:
The resolution is only 480p.
13. CREATIVE XP Cellular HD Trail Camera
In addition to being an excellent hunting camera, it also serves as an excellent home security camera. At any time of the day or night, it is a great tool. This camera is equipped with night vision and is available in high definition. If you want to observe animals in the wild, 1080p provides the clarity you need.
It is also durable and able to withstand the changing weather conditions found in the outdoor environment. An energy-saving solar panel completes the package. If you compare it to the other best video cameras for hunting, it is a bit more expensive. Also, the trail camera must receive a signal in order to function properly.
Pros:
Inexpensive
Has solar panel
Waterproof design
Cons:
14. GardePro E6 Trail Game Camera
As a home security camera, the GardenPro E6 Trail Camera is ideal for scouting wildlife before going on a hunt. It is a popular choice among hunters because of the high-quality videos and photos it produces. Any movement in front of the lens triggers this motion-activated camera.
Video resolution is 1296P, and the lens is 110 degrees wide. It also has a no-glow night vision, so it won't startle animals at nighttime. Battery drain is a common complaint among users, especially when Wi-fi Viewing is activated.
Pros:
Video resolution is 1296P
110 degrees wide-angle lens
Very fast trigger
Waterproof camera
Cons:
The battery drain is a common
We have published an article on best Trail Camera under $100 last week.
How To Choose The Best Hunting Video Cameras?
On the market, there are a large number of video cameras with a variety of functions. Cameras can be confusing to someone who has no experience with them. If you're looking for the best camera for hunting, here are a few things to keep in mind before making a purchase decision.
Video Quality
As a rule, a camera that records video in 1080p resolution is sufficient to capture clear footage of a hunt. In order to achieve a more natural or fluid shot, it is recommended that you use the frame rate. Faster frames per second (FPS) allows you to record in slow motion. There are also other factors that can affect the video quality such as the camera sensor, the lens type, and zooming capabilities.
Low Light Capture
The ability to record video in low light conditions is an important feature that a hunting camera must possess. If your camera does not have this feature, you may miss out on some important hunting moments. BSI sensors are ideal for low-light photography, so before you buy one, make sure it has one.
Storage
A large memory capacity may be necessary depending on the video's format and quality. If not, make sure you have a large-capacity SD card to store all of your high-resolution videos if you don't already.
Zoom
For hunters to keep an eye on their prey's movements, optical zoom is essential. The better you can observe, the higher the zoom. For this reason, you'll want a camera with at least a 20X optical zoom.
Battery Life
Having the camera suddenly shut down because there is no battery charge left is the most annoying thing. For outdoor activities, battery life must be longer and more reliable, so be sure to prioritize this.
Size And Weight
When hunting, a compact and lightweight video camera are preferable to a bulky one. You certainly don't want to add to your luggage.
Durability
In order to withstand outdoor use, the best camera for hunting videos should be built to last. If at all possible, choose one that is water-resistant. As a general rule, cameras designed specifically for bunting perform better in adverse weather conditions.
Frequently Asked Questions (FAQ)
Q1. What Is The Best Type Of Hunting Camera For A Newbie?
A camera that has advanced features is not recommended for those who are not familiar with how to use a hunting camera. You can use all types of video cameras if you know how to use a DSLR, on the other hand. Start out with a camcorder or action camera that is mid-priced, compact, and of average quality if you are a beginner.
Q2. What Is The Minimum Video Quality That A Hunting Camera Should Have?
This is a question that depends on the viewer's viewpoint. The video quality will be better the higher the resolution. To watch your hunting videos on your TV or PC, the video quality and resolution must be sufficient. To get 4K video, you're going to need a camera, but those aren't cheap at all. Hunting cameras should, however, have a video resolution of at least 1080p.
Q3. How Important Is Battery Life?
Wireless connectivity, live video streaming, etc. all affect the camera's battery life. It is unlikely that you'll get more than an hour's worth of battery life out of a camera with advanced features. Batteries must be carried at all times in this case.
Q4. Is It Important To Consider The Build Quality And Weight?
The answer is yes. Hunting cameras must have a high level of durability, as well as be lightweight. The fact that hunting is a challenging activity means that you will have to deal with a variety of challenging conditions. In other words, anything you carry should be capable of withstanding outdoor conditions. A hunter also has to carry a lot of heavy items. Therefore, the camera must be small and light.
Q5. Is It Possible To Film Hunts With A GoPro?
GoPro cameras are often asked if they make good hunting video cameras, and the answer is yes. Is it able to capture everything that happens in the wild with sufficient accuracy? GoPro cameras do have their advantages, but only to a certain extent. Especially those who enjoy extreme sports have used it at different times. Because of this, it is well suited for hunting.
Final Words
Most hunters use a camera to document their hunts and share their experiences with others. Some people use these cameras not to hunt, but rather to observe wildlife, such as deer and wolves. Video cameras come in a variety of shapes and sizes and can be used in a variety of ways. Before you choose any of the cameras we've mentioned, make sure you know exactly how you want to operate in the wild.