When you want to take the sharpest of photos with your camera, the one accessory that comes to mind first is the tripod. A great tripod can transform your shooting experience as well as your photograph quality.
It is an invaluable asset no matter you're working with a DSLR or your smartphone. But choosing a good one is an overwhelming task since there are numerous models from numerous brands.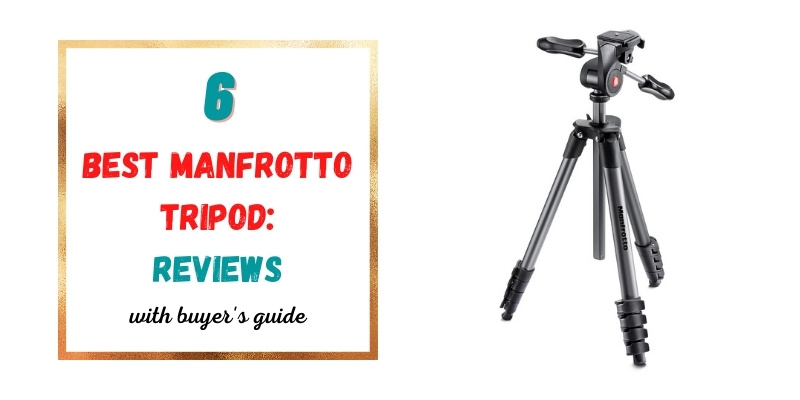 In our experience, Manfrotto builds some of the best tripods in the market. So, in this article, we've picked the best Manfrotto Tripod with some necessary buying tips.
1. Manfrotto Compact 3-Way Head Tripod
When you don't want to destroy your bank account but at the same time need an awesome tripod for your photography, then one of the best choices is to go for Manfrotto's compact aluminum tripod.
With its enhanced portability and stability, even while being a novice you can shoot photos like a pro. Despite being too affordable it works like a premium product. Weighing only 3.1 lb. it can hold twice its own weight for up to 6.6 lb.
Its three legs of five-sectioned tubes ensure maximum stability. They can also reach a superior height of 65 inches or 165 cm from its compact length of 15.5 inches.
Extremely easy to set up, this tripod allows you to get down to shooting as swiftly as possible by making it ready in an instant.
Manfrotto's three-way tilt heady also features handles that fold on top of each other saving ample space for you. Besides, the three-way head also has two ergonomic levers of which one controls pan and vertical tilt movement and the other controls leveling.
You'll notice the head has been designed small to minimize dimensions. This also maximizes the portability of the head. And when the head isn't one you cannot fold the lever either.
With these levers, you can easily regulate each movement and get a perfectly framed image all the time.
Manfrotto's 3-way head also features a black finish which is pretty cool. The head is also equally intuitive. It features a quick-release plate that allows you a fuss-free attachment.
The tripod also comes with a carrying bag for safe storage. You can also keep cameras inside it for security.
Highlighter Features
Expands up to 65 inches or 165 cm
Reinforced aluminum with great rigidity
Due to its foldable design, it can be easily calculated
Great value for money
2. Manfrotto MVH502A Fluid Video Tripod
The Manfrotto MVH502A tripod has a fluid head system that any professional photographer will surely adore. Specially designed for HDSLR photography and interchangeable lens camera, this tripod is one of the most ideal items for both photographers and videographers.
The whole system combines a 75mm half ball fluid head with a 546B tripod. The head has an 8.8 pound pre-set counterbalance. But it can also support up to 15.4 pounds! This tripod also has a telescopic mid-level spreader so that you can spread its leg angles accurately.
Its ideal video head is suitable for panoramic photography as it provides you with a full, smooth 360-degree pan rotation. The interface on this tripod head also gives you a -80 degree to +90 degree tilt function as well.
Besides the interface is also straightforward enough to use and allows you to pick up its usage very quickly and smoothly. As mentioned earlier, it is smooth enough to pan and tilt the head to any angle required for your photography session.
The MVH502A tripod head also features two easy-link connectors. With these, you can connect an external monitor or any other necessary equipment on the head directly.
The sliding on the head is the smoothest you can find as well. It lets you easily mount and release the camera from the tripod anytime and within a jiffy.
The handgrip is also quite comfortable to use for an extended period without letting any cramps in your hand.
The tripod feet are spiked with rubber overshoes. These provide a solid grounding on all types of floors both smooth and uneven. You also get a padded carrying bag with a tripod.
Manfrotto MVH502A is also a weatherproof tripod. So you can use it outside during any weather condition you like without worrying about rust setting on it. Overall, it provides you with a great performance and functionalities you can find on the market.
Highlighter Features
Able to support more than 15 pounds of camera!
Features a 360-degree pan rotation for panoramic photography
Smooth and quick sliding for easy mount and release
Straightforward interface with easy link connectors for an extra monitor
Entirely weatherproof and robust built
3. Manfrotto Befree Advanced Tripod
When you're a perfect photographer you'll need three things for the perfect shooting experience; a lightweight tripod, a quick setup and a rigidity to be relied upon. The Manfrotto Befree Advanced Tripod has all of that and more.
This is one of the lightest aluminum tripods we've tried and it has great rigidity as well. It is not particularly the longest on our list, but with a maximum height of 59 inches you can get along with it pretty fine without too much compromise.
Manfrotto Advanced is a compact package that comes with a shoulder bag that is very useful during most of your travels. It has a great build quality with everything very nicely finished with a premium feeling about it.
The ball head has been constructed that you can move it both clockwise and counterclockwise horizontally by unscrewing a small knob. You can even rotate the ball head by unscrewing a larger plastic knob as well. This is the friction control that controls the ball's movement.
With a maximum weight of 3.28 labs, this tripod can is one of the lightest rigid tripods there is which is also able to take a payload of up to 19.8 lbs! It is the perfect blend of lightweight and high-quality components.
Read More: How to Remove Ball Head From Manfrotto Tripod
There are four legs with an unusual configuration. You can fold the legs through 180º to meet the ball head-on takedown. But all of them are stable and of great quality.
You need to fold the legs upwards, instead of down, over the top of the ball head. And when arriving at the destination, just flip the legs down from around the center column and release the locks.
All in all, the Manfrotto Befree Advanced is a great traveling tripod with perfect design, ergonomic use, and extremely lightweight.
Highlighter features
Lightweight aluminum build
Invertible centre column
Supports full-frame gear
Comes with a shoulder bag
4. Manfrotto 290 Xtra Aluminum 3-Section Tripod
The 290 series from Manfrotto was carefully designed for passionate photographers to help them take serious steps in their works. Each of the items in the series has the right balance, practicality, performance, and versatility.
The 290 Xtra Aluminum model is a high-quality build tripod with is foldable and rigid at the same time that supports all your photo and video-taking devices. Designed following premium Italian engineering, this 3 section tripod has four angles spread on legs. The last angle even gives you're a proper floor level position.
Its robust aluminum body offers a sturdy construction that lasts longer even under heavy or typical wear and tear. Each of the leg angle positions has adjustable aluminum leg lock as well. You can also bend other legs upwards as well till they're flat. This comes in handy for close to the groundwork.
The construction of this tripod makes it extremely stable and durable. It comes with an easy locking C button which assures stability. Although not particularly light as our previous models, it isn't too heavy either. At around 2 kg, it can feel quite sturdy when standing, even at full height.
Speaking of the height, the overall height of the tripod is pretty impressive. Even a 6-foot tall person might have to stand tiptoe for the max height.
Each of the legs has a tight-fitting rubber foot that cannot be detached readily. But you can remove them upon necessity.
As for the Micro Fluid Video Head, it is a tried and tested workhorse with has earned its reputation for simplicity in design and use. It comes with a quick-release plate that includes an anti-rotation pin also.
It also features a detachable panhandle with an adjustable angle. There is also a spring-level locking system and a secondary locking lever to prevent accidental disengagement.
This 128RC video head has a load capacity of up to 4 kg which is quite a food for accommodating a telescope.
The tripod also comes with an easy-to-carry shoulder bag making transportation simpler.
Highlighter features
Sturdy aluminum construction
Easy usage and carrying with a shoulder bag
Upward bending legs for groundwork
Extremely usable microfluid video head
Detachable panhandle
5. Manfrotto 055 Aluminum 3-Section Tripod
The 055 is a choice for many professionals and the series itself has many features that make it a versatile companion on many adventures. For any lightweight and functional tripod, nothing else can beat Manfrotto 055.
The major feature of this tripod is the unprecedented stiffness and stability that it provides. This is the result of its high-locking capacity with the Quick Power Locks feature.
In addition, its high payload of 19.8 pounds is the highest we've got on our list. With this you don't have to worry about your device anymore. The 055 will have an easy time handling your camera without any effort.
The overall design ergonomics doesn't compromise either. Interestingly, its one-finger operation system lets you do most of the tasks of a tripod using a single finger only which is really interesting. It also makes the setting easy and comfortable.
Another unique feature of this tripod is the absolutely massive usable range and height it gives you. With a maximum usable height of 170 cm, it gives you enough range for getting your camera angled for the required footage you need.
You can even position the tripod in any way you want with a zero-degree column and four angles for legs. The rotating bubble in the upper disc also allows you to be efficient in all planes.
Manfrotto 055 Aluminum is overall a solid tripod with the best performance available. The level of image stabilization it will provide is simply outstanding.
Highlighted features
Extremely stable and rigid
Very high payload
Any angle adjustment with Q center column
Fast action flip locks
6. Manfrotto PIXI Mini Tripod
If you're a beginner or an enthusiastic photographer, you cannot by appreciate the simplicity and versatility of this mini tripod. Just like its name, PIXI is also small, so much so that you can carry it around in your pocket.
But no matter how small it is, it is still strong enough to hold a DSLR and suitable for professional backpacking travelers and photographers.
Weighing only 0.23 kg, the PIXI is designed in an elegant way consisting of stainless steel and plastic. This premium finished tripod also includes a ¼-inch screw atop a rubber circle and a metal swivel ball.
Its two legs angle positions boast a larger footprint allowing you to use it on all surface types. The legs are necessarily strong for a higher payload. So you can use a wide array of cameras on it. Believe it or not, it can carry up to 2.5 kg of payload.
With stability and precision angle, PIXI can provide you with high-quality pictures. In addition, you can tilt the camera at 90 degrees as well for shooting portrait mode.
Manfrotto PIXI is a nice little tripod for all-level photographers. It can improve grown-level photography as well.
Highlighted Features
Helps produce precise photos
Works with all kinds of cameras
Tough yet lightweight design
Provides maximum framing freedom
Buying guide for the best Manfrotto tripod
You'll need to consider several factors before buying a good Manfrotto tripod.
Size
The sizes of tripods are greatly and almost fully dependent on the type of it. For example, there are pocket tripods, travel tripods that fit in backpacks,s and finally big sized studio tripods providing heavy support for professional cameras.
The sizes you'll need to pick will also depend on how you're planning to use them. When you're a traveler, you must consider that you should never buy a tripod that you can't carry easily. Larger ones probably work best for studio works in a professional setting.
Height
It is advisable to buy a tripod that is close to your eye level. Because it is necessary to make looking into the viewfinder comfortable and easier. When the tripod is too short, it becomes awkward to crouch every time you want to take a photograph.
Another thing to consider is the length of the tripod when you fold it. Is it small enough for you to carry it without hassle?
Weight
The weight rating of the tripod and the weight of the tripod as well are the two most important things you must look out for before buying.
Weight rating means how much weight can the tripod support. Unfortunately, many photography enthusiasts mistakenly buy a tripod that is not designed for their heavy camera. This leads to accidents that can end up destroying both their precious camera as well as the tripod.
The other thing is to think about the weight of the tripod itself. When you're a travelling fellow weight becomes so much important than using it in a studio.
The tripod weight greatly depends on the material it is built weight. Carbon fiber weighs the lightest and it is also the strongest material for the purpose.
Stability
This is crucial if you want to take high-quality videos and photos with a camera. To take clear photos, a camera must be free from unintended shakes and movements. A stable tripod can be achieved with rigid material construction.
However, this doesn't guarantee stability as many tripods despite being studied and heavy lacks stability.
So to check the stability of a tripod you need to fully open it and fix your camera on it. It should be stable enough to withstand wind and heavy cameras.
Tripod legs
There are two types of tripod legs; tubular legs and non-tubular legs. The tubular ones are mostly made of carbon fiber while the other ones are made of basal, steel, or aluminum.
The height of the tripod mostly depends on the number of sections in them. The more sections there are in a leg the higher it can go. However, as the tripod gets higher the stability decreases.
As for the feet of the tripod, they are usually made of rubber which is great for making it non-slippery. But if you're planning to use it outdoors then metal spiked feet works best.
Tripod head
This is responsible for holding the camera securely on the tripod and moving it according to your needs. There are mainly five tripod head types; 2-way heads, 3-way heads, Ball Heads, Fluid video heads, and Geared heads.
Sometimes the tripod head doesn't come with the tripod system and in those cases, is you'll have to buy that separately.
While purchasing a good tripod head make sure to consider that it is sturdy enough to hold the camera.
Final Words
There you go! Our top pics for the best Manfrotto tripod. We hope we've included the one you've been looking for. Happy shooting!