600 mm lens cameras are the best at capturing the most impressive photos both indoors and outdoors. But it can become frustrating when your perfect shot gets ruined because of shaky hands.
All professional photographers have faced this problem and the only way to solve this is by using a tripod.
Cameras with big lenses require high load capacity tripods which are also very strong. That is why picking the best tripod for 600mm lens is a must thing to have in your camera gear checklist.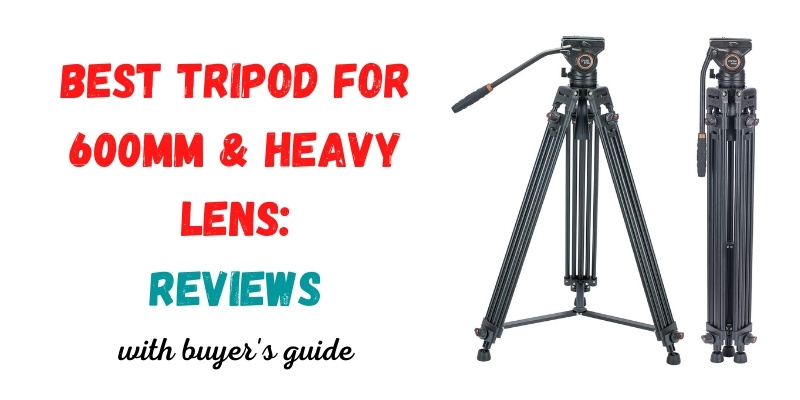 To make sure you don't miss any opportunity to get the perfect shot we've created a list of six top-notch tripods in this article. Have a look!
1. GEEKOTO AT24Pro Dreamer 77" Tripod
Our first item is from one of the most user-loved brands GEEKOTO. This tripod is known for its extreme convenience and numerous features. Constructed with high-quality and durable aluminum alloy, this tripod will deliver a performance you'll remember always.
Resistant to damage under harsh conditions, the AT24Pro is held in high regard for its natural withstand ability against dents and dings and lightweight.
Speaking of weight, this GEEKOTO tripod weighs only 1.53 kilograms or 3.371 lbs. which is low for its size. However, this aluminum build tripod can withstand a much heavier weight of up to 8 kilograms or 17.637 lbs. This means lenses such as 600 mm are posing no problem with this tripod.
The height is the biggest feature of AT24Pro as fully extended it can reach up to 77 inches. But when closed it has a length of almost 19 inches. This size makes it easy to place inside a trolly or outside the travel backpack without much problem.
You can adjust its legs to different ground levels and they have three alternative leg angles to support a wider range of stances; such as 20°, 50°, and 80°. You won't have any problem placing this tripod on any rugged ground.
Another interesting function is that this tripod can also serve as an 81-inch monopod. You just need to disassemble the central axis and see the magic. Adjusting the tripod doesn't take much time either. Its flip locks legs with a quick-release feature that lets you adjust the tripod in a matter of seconds.
Its ball head rotates to 360 degrees for all kinds of photo capturing and can also be inverted to shoot closer to the ground. It allows you to capture photos at a low angle without having to lay down.
Highlighted Features
Provides a very good height
Can be converted into a monopod
Quick and easy adjustments
360-degree rotate ball head with inverted column
Sturdy aluminum alloy-built legs
2. Cayer BV30L Video Tripod System
Few of you might have heard the name Cayer among tripod brands. But their BV30L model could stand toe to toe with some of the best items on the market today.
This aluminum-built tripod has been built to be affordable and durable at the same time. Its features let you shoot amazing videos anytime you need. Mostly, its robust built makes it feel like a top-tier item but still at a reasonable price. So, if you're looking for a great tripod under 200, this can become your lifesaver.
Now, the professional video tripod Cayer BV30L can stretch up to 72.7 inches from 33.3 inches at the lowest. This length is more than enough for some great shots. Its integrated bubble level provides a wide range of shooting horizons as well.
Weighing only 8.8 lbs. this video tripod can handle up to 13.2 lbs. In addition, its fluid has a fixed counterbalance allowing you some of the finest moving shots in your career without much effort. Besides, the 360-degree moving ability and tilt of +90"/-70" helps out a lot too.
But the best thing about this video tripod system is its 8 years long warranty. Besides, you get a good quality carrying bag as well for more convenience.
Highlighter features
360-degree panning tilt angle
There is fixed fluid drag in them
Bubble level head for quick leveling
Middle spreader prevents instability on uneven surfaces
3. VICTIV Professional Compact Tripod
A quality tripod for amateur photographers and professionals is the VICTIV Pro Compact Tripod.
Made with a durable aluminum alloy which gives it a very light overall weight. Having a weight of 3.97 pounds only, it can handle up to 34 pounds. You can put a heavy object on it which may increase the overall stability as well.
The smallest that the tripod can go to is 16.5-inch and its working height is the traditional 80-inches. Its folded length can help you to carry it in your backpack all the time.
The two-section center column has a weight hook under that can be used to increase weight and maintain stability. VICTIV also adopts a knob-style leg lock that's greater locking force can tightly lock any position the tripod is in. As such, there is no risk of the tripod sliding and ruining your camera.
Speaking of legs, they're designed and constructed with strong and sturdy aluminum tubes having smooth water and dust-resistant surface. There is a portable angle adjustment button at the least which adjusts the opening or closing angle of the leg.
The additional quick release plate makes securing your camera on the tripod and taking it off much faster.
You can also detach the independent legs turning the tripod into a monopod for shooting versatility.
The most important feature of this tripod is the 36mm metal ball head which is very sturdy. This enhances the stability of the entire system and rotates 360-degrees. By adjusting the knob, you can rotate the ball head for any angle shooting.
It lets you capture shots and panoramas like never before. As a result, you have increased movement range for your camera.
Highlighted features
Has a precise and solid ball head for flexible shooting
Able to handle a very high amount of weight
Folded length is very small for easy carriage
Weight hook under the center column for increased stability
Rubber legs for avoiding slippage
4. ZOMEI 58" Compact Camera Tripod
When you're looking for the best lightweight and cheap tripod on the market, then you're in luck. This ZOMEI 58" compact lightweight tripod is one of the lightest out there at an incredibly low price.
Its compact size makes it a great travel buddy. Besides, even with this affordability, you won't be sacrificing much when it comes to durability and quality. Constructed with ABS plastic and aluminum alloy, this tripod will be a great choice for your traveling needs.
Almost 58-inch when it is extended, this ZOMEI camera tripod is a good fit for shorter people. Because the height is not very much, it won't provide you a comfortable eye-level shooting if you're tall.
This tripod weighs a little over 3 pounds and can carry up to 11 pounds of weight. Its aluminum alloy legs are self-adjusting, light, and tough at the same time. When the legs are fully extended the performance is very stable for the tripod
There is a hook underneath to hang weight on to lower the center of gravity which makes the tripod more stable and study. This is great for shooting in windy weather or on uneven terrain.
There is a downside to this tripod as well which is the aluminum body isn't weather resistant. So, in too hot or cold weather they might get hot and cold as well.
Highlighted features
Best tripod for beginner photographers
Very lightweight a portable
Self-adjusting legs
Hook underneath for extra stability
5. COMAN KX3636 74-inch Video Tripod
For all hiking lovers, COMAN KX3636 is a great tripod for taking great quality photos. You could take memorable pictures with this tripod to make the days memorable in your life.
With a minimum operating height of 33.2 inches, the COMAN can operate at a maximum height of up to 70.8 inches. Its high-quality aluminum-made body makes the tripod strong sturdy.
COMAN itself weighs only 5.5 lbs. while its maximum load capacity is 13.2 lbs. which is quite good for handling a 600mm lens camera well. This heavy-duty aluminum tripod is the perfect match for cameras with a long lens. This tripod is also lightweight to fit nicely in your bag pack.
The center column of COMAN is removable which lets you shoot from very low angles. You can also remove one of the legs to use it as a monopod if you wish.
You can also tilt the tripod both vertically and horizontally and pan it around 360 degrees to capture panorama and photos with different angles without moving the tripod a bit.
There is also a bowl under the tripod head with a built-in level for adjusting the position of the camera. its quick flip lock legs also help you to retract or open the legs quickly.
Highlighted features
Sturdy build and rigid design
Lightweight and easily carriable
Removable center column for taking low angle photos
One can be removed for use as a monopod
Mid spreader for added stability on uneven ground
Rubber padding under the foot to keep from sliding
6. Manfrotto MVH502AH Video Head
The Manfrotto MVH502AH is the ideal video head suitable for panoramic photography as well. its performance and functionality are excellent and so is the price.
On the top, the camera plate is very wide, long, and smooth. The drag controls are also placed in the perfect position at the base of the head. Although these drag controls don't have numbered click-in settings, they turn quite smoothly for fine-tuning.
You can quickly mount or unmount the camera very easily with the sliding. The panhandle of this Manfrotto video head is also straightforward enough for smooth tilt and a perfect angle for your photography or videography session.
The handgrip is also comfortable to touch and grip and doesn't cause cramps in your hand even after a long time of holding.
You'll notice a number of easy link connectors that allow you to connect some other popular accessories as well.
The attaching of your 600mm camera on this Manfrotto tripod is very easy as well. This MVH502AH tripod can fit a vast number of cameras and tripods along with third-party tripods as well.
All in all, the Manfrotto video head offers you the best performance on the market with smooth 360-degree pan rotation. It is lightweight with only 8.82 pounds but can handle up to 15.43 lbs. Here is a list of the best Manfrotto Tripods.
Highlighter features
Excellent design and built quality
Smooth drag controls
Quick mounting and unmounting of camera
Easy link connectors for added accessories
Can be mounted on third party tripods as well
Buying Guide – How To Choose The Best Tripod for Heavy Lens
In order to ensure that you get the best tripod for your needs, there are a few factors you need to look into before buying. To help you choose the best tripod for a 600mm lens camera have a look at the buying guide below.
Purpose
You need to get together why you'd need to use the tripod for a 600 mm lens camera. If it is needed for professional purposes there will be a lot of traveling needs. Besides, for sports and wildlife photography as well you need sturdy tripods. In addition, compact design, quick adjustment, and weight are also important factors. We have recently published a review article on top tripod heads for wildlife photography, you can check that out.
Weight Capacity & Stability
For a big lens camera, the tripod needs to be able to handle a lot of weight. Heavyweight DSLR cameras weigh a lot more than usual cameras and if the tripod cannot support that weight the camera could shake, or fall. Besides, with an unstable tripod, the shots won't be of good quality either.
Large lenses can weigh between 6 to 12 pounds and along with the camera, the weight can go up to 10 to 18 pounds. A stable tripod able to handle this weight is a must.
In addition to the weight capacity, the legs of the tripod need to be sturdy as well. stainless steel or carbon fiber-made legs are usually more stable.
Portability
With weight comes the portability of the tripod as well. when you love traveling and taking photos in different locations, having a portable tripod means easy shots at those birds.
The portability of a tripod also entails that it is foldable and comes with a carrying bag for better movement.
If you're traveling, having a lightweight tripod is a good option but heavy tripods are known to be much more stable.
Working Height
This is another important feature to look out for for a comfortable shooting experience. It is recommended that you pick a tripod that has its working height close to yours. As a result, you don't have to bend over every time you take a shot. This alone can be pretty exhaustive if you're waiting to shoot some kind of action.
There is also minimum working height for a tripod which helps in ground-level shooting. If you remove the center column you can lower the camera to the ground by extending the leg angles very close to the ground.
Rotating Head & Inverted Column
The tripod you buy must have a rotating head for panorama photos. You need to capture everything around you depending on the shot you take. If there is no rotating head you might lose an opportunity and waste time moving the tripod from one direction to the next.
At the same time, an inverted column becomes necessary for changing the angles as well.
Center Column & Monopod Conversion
Another important thing is the center column that enhances the stability of the tripod. Besides having a center column also mean you can convert the tripod into a monopod, which again opens up many new possibilities in photography.
Legs and Feet Design
The stability and durability of a tripod depend on the design and material used in its legs. Typically, you can find carbon fiber and aluminum being used in them. Sometimes you can find steel as well.
Aluminum is a good material for heavy-duty tripods but can support the extra weight without making the tripod bulky.
On the other hand, carbon fiber usually stands at the end of the price spectrum and costs much more than aluminum. These tripods are much lighter, durable, and more stable. But they are heavy.
The feet design also contributes to the stability as it makes sure that they can balance the weight properly. Having rubber padding feet helps keep the tripod in position on uneven or slippery surfaces.
Quick-Release Plate
This is an extremely useful feature to have in the best tripod. This system works by attaching a small and removable plate to the lens or the camera. It secures the device tightly on the tripod head.
Final Words
The perfect opportunity for a photographer may knock at the door anytime. So, they must be ready with all they have for that. The best tripod for a 600mm lens should meet all your required stability standards. I hope this article has helped inform you of all you need to know about it.