Even with your Sony 7II, A7III, A7RIII it is sometimes hard to get the perfect shot. Keeping the camera steady as much as possible can sometimes become tiring only by holding with bare hands.
That's why you need additional accessories like a tripod for your camera to stabilize your shots. Getting the best tripod for Sony 7II, A7III & A7RIII can be the smartest decision in your photography career.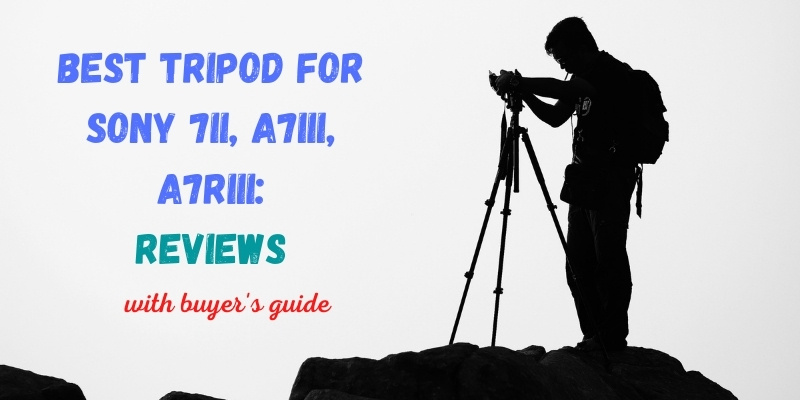 But since there are so many options on the market with different features, finding the perfect tripod that matches and complements your camera can be tough.
So, to make matters easier for you, we've gone over some of our top choices for tripods for you to have a look at. Hopefully, this will help you make a better decision.
1. Manfrotto Befree Advanced Tripod
For a travel-friendly tripod with reliable construction, the Manfrotto Befree Advanced is a great option to take. Made of high-quality aluminum with legs that can extend to different angles, this tripod features an attractive design. its aluminum casing with black coloring makes it very shiny.
But the performance is where it shines the most. Able to readily take up any rough challenge, Manfrotto Befree is equipped with an Arca-Swiss head which shows its quality.
Security is a great thing for Manfrotto as it features a QPL lever lock system making the tripod more travel-friendly. QPL locks are the sturdiest locking mechanism and are easy and secure in all places.
It also features a twist-lock system that doesn't let you worry about extra time wasted during an important shoot.
The tripod is very versatile in terms of accommodating various camera types. It can adjust any type of camera you put on it with much stability. This best traveling tripod can hold up to 11 pounds itself being only three and a half pounds in weight.
It also has an easily adjustable height from 15.75 inches lowest to 59.45 inches highest. The lever lock at the end of one of the legs keeps the tripod steady even when it is extended to its fullest.
From thick forest to dusty desert plain, this tripod can handle anything. And besides, this tripod also comes with a carry bag making it easy to carry and handle.
Highlighted Features
Very compact size to put into a travel bag
Ergonomic construction with attractive design
Multiple angle selector for the legs
Lever lock and QPL lock featured
2. Vanguard Alta Pro 2+ 263AB 100 Aluminum Tripod
The second tripod on our list is from Vanguard. It is a great tripod for those who prefer durability and flexibility over anything else in a tripod. Made of solid high-quality aluminum, this lightweight tripod is highly durable. Due to its good construction material, it can withstand any terrain and doesn't break easily.
Alta Pro 2+ is also a professional-looking accessory for your Sony A7iii and A7riii. Everything from its design and construction oozes class and elegance. It is highly flexible as well.
For starters, it comes with an adjustable ball head that allows you to adjust the camera at any angle you want. This canopy of the tripod is made of premium die-cast magnesium with an anti-shock ring in it making it significantly more stable with much more loading capacity.
Speaking of capacity, it can handle a weight of 15.4 pounds which is more than enough for any model of Sony camera you fix on it.
As for the height, it stands straight up to 68 inches in maximum and can be folded to 28.1 inches minimum. This Vanguard tripod is also equipped with rubber feet for non-slip capability.
The central column is hexagon-shaped so that it folds to 180-degrees giving so many shooting angles both horizontally and vertically.
Highlighted Features
Instant swivel stop-n-lock system
Inbuilt anti-shock ring
Great for landscape photography
It can handle a huge number of cameras.
3. TYCKA Rangers 56" Compact Travel Tripod
This compact lightweight travel tripod is made of premium quality aluminum material. It is extremely lightweight and also durable and therefore can be used to keep your camera safe and stable.
This precision-engineered tripod has legs constructed from high-density aluminum alloy. As such it has a high load capacity of 26 pounds. It doesn't matter what camera you fix on it; it can handle them all.
This affordable tripod also captures an incredible image on the go. It has a four-segment pole and reaches a height of 56-inches from a minimum of 14-inches. This means you can carry it around in your travel bag pack easily.
Besides, the four-segment poles also come with flip locks so that you can alter this height anytime and fast.
It has a central column as well which can swivel in all directions so that you can rotate the camera at any angle horizontally and vertically.
Besides, then attached to the ball adapter, one removal leg with foam grip can be converted into a monopod to meet all your shooting requirements.
Speaking of the ball head, it features 360-degrees enabling you to use the camera at any angle. If you're looking to create something extraordinary, know that the central axis can be inverted to let you shoot unusual angles as well.
The legs are non-slippery for having a foam pad. In addition, there is a lock mechanism on the tripod so you can lock the camera for extra stability. This tripod is the perfect choice if you're looking for an overall high-quality thing at an affordable price.
Highlighted Features
High-quality leg construction can handle 26 pounds of load
Double lever locking system makes the joints easy to operate
The tripod also comes with a bag for easy traveling
The ball head allows the camera to shoot 360-degrees
4. Sirui AM-254 Carbon Fiber Tripod
Truly you can't find a fault with this tripod from Sirui. Made to combat corrosion and remain sturdy for many years, Sirui AM-254 is made from carbon fiber. Because of this, it is very lightweight and also very durable.
Weighing just 2.26 lbs. this tripod can support a maximum weight of 26.5 lbs. It has a maximum height of 47.2-inches.
Sirui AM-254 tripod has three sections; carbon fiber legs, ball head, and anti-sleep rubber leg locks. Besides, the three-angle leg adjustments are also preset for low and macro shots.
The rubber leg locks are twist system and therefore solid. Besides the legs are also water and dustproof. The rubber leg locks secure the tripod from slipping and also help on softer grounds.
The 360-degree panorama platform it has lets you move the camera smoothly. Its rugged metal knobs come in handy for a low-temperature environment as well.
Its center column is environments flexible allowing you ground-level shots. It also lets you increase the total height of the tripod easily.
Highlighted Features
Corrosion-resistant and dust-proof
Can support the weight of 26.5 lbs.
Anti-slip rubber legs
Rugged metal knobs for a low-temperature environment
5. ZOMEi Z818 Tall Camera Tripod
One of the most versatile tripods on our list is the Zomei Z818. It is very popular for both indoor and outdoor uses for photographers and videographers alike. Z818 is also a great tripod for traveling.
The tripod head is made from excellent material with the great build quality. It is simple and yet effective design makes it easy to get maximum functionality out. based on popular ball head design, it lets your capture full 360-degree view panning rotation.
If you need to use a monopod, you can detach one of its legs and turn it into one. This is great for wildlife photography action since the monopod is incredibly lightweight.
Besides, you can reattach the center post upside down and become much more creative.
The quick-release plate offers you to mount or unmount the camera quickly and easily allowing you to move between tripod to freehand photography in a second. The twist locks are also a lot easier to adjust.
Apart from the ball design which gives you great flexibility for panoramic photos, the tripod can support up to 33 lbs. worth of weight giving you the freedom to your endeavor. You can find the best panoramic trip head here.
The high-quality magnesium and aluminum build makes this accessory robust and tough. There is also a counterweight hook at the base for increased stability in windy conditions as well.
Highlighted Features
Very flexible for panoramic photography
Can be used as a monopod detaching one of the legs
The center post can be reattached upside down
Quick-release plates and twist-lock feature for extra ease
6. K&F Concept SA254T1 Camera Tripod
Made of sturdy aluminum alloy the K&F Concept SA254T1 is a lightweight tripod that can withstand a weight of 22 lbs.
This unique tripod has a transverse center column that you can move up or down with 90-degree increments. But it can be rotated 360-degrees horizontally to capture the subject no matter where it is positioned.
The tripod also features a fluid ball head for quick and easy adjustments of the camera angle. The movement of this ball head is pretty smooth and also much secure. Loosening up this ball head lets you move the camera in any direction you want.
K&F Concept also comes with an easy release plate making the switch between back and forth super quick. And once it is locked it makes sure that keeps it that way.
You can also move the center column that allows you to use it for lay-flat photography. Besides, it also comes in handy for other photography types as well.
You can spread the tripod legs easily from 27 cm to 94cm and position each leg independently for use on uneven terrain. You can also invert the legs for ultra-low-level shooting.
If you happen to need even more compact support then the legs can also be converted to monopods.
Highlighted Features
Extremely lightweight and good maximum height
The transverse center column can be moved horizontally and vertically
Easy release plate with quick locks for extra security
Movable center column for lay-flat photography
Buyer's Guide for the Best Tripod for Sony
When you buy a good tripod for your Sony camera there are certain critical details you should keep in mind to make it easy for you to find the right one. If you consider the following points we're explaining, you can cut your research time by half.
Check the Ball Head
When it comes to ball heads there are two types in the market. Many photographers prefer fixed ball heads while some prefer flexibility. And ball head for the tripod comes in both types.
It all depends on whether you want stability or some form of flexibility while shooting photos. We'll suggest you look for one that has a bit of both for your A7iii and A7riii camera.
Supported Devices
Buying a tripod for Sony 7II, A7III, A7RIII doesn't mean it will support these devices only. You might need to use this tripod for other devices as well. So, the last thing you need is an accessory that is only limited to certain specific models.
It is better to choose wisely in the beginning so that you don't have to buy another tripod down the road.
Maximum Height
The camera tripod is bought for mainly two reasons, stability, and height. Tripod's ability to change its height according to the necessity of the photographer is one of its major selling points.
When you're an outdoor photographer, a minimum of 40 inches in height is a must. However, if the maximum height is more then that is much better as you wouldn't need to bend to take a photo. However, keep in mind that the stability of the tripod decreases with more height.
Stability
This is another most important consideration to make since it is the only thing that will allow you to take clear photos with few destructions. A sturdy tripod offers stability through its legs, which should be made of good materials.
Besides, the weight of the tripod also plays an important factor in its stability. Heavy tripods are always sturdier and more stable. However, it is the photographer who will have to carry that weight around that's why finding the right balance between both is necessary.
Build Materials
Different build materials provide different types of stability and durability. For example, if the tripod is made of carbon fiber it has a solid build with minimum weight. And if it is made of aluminum, they become a bit heavier. However, aluminum-built tripods cost much less than carbon fiber.
But the best tripod type is made of aluminum alloy which lasts the longest and can withstand any weather condition. Besides, they are strong enough to hold any type of heavyweight camera.
Portability
When you're a professional photographer or simply a hobbyist who likes to move around a lot you know how necessary is the portability of materials is. It is not at all a stagnant profession and you need to switch between shooting spots very often.
When the tripod is too heavy it becomes less portable. That's why look for a portable and sturdy tripod for yourself.
Maximum weight support
No matter what the weight of the tripod is, different tripods can handle the different weights. Tripod stands capable of supporting heavy cameras are well built and are sturdier.
Since the majority of the Sony A7iii and A7riii weigh between 1.4 to 2.5 pounds it is better to choose a tripod that supports a minimum of 8 pounds at least.
Anti-slip capabilities
When shooting on a slippery surface keeping the tripod steady is a tough job. This problem becomes a common phenomenon in winter when the surface becomes wet with ice. That's why picking a tripod with rubber feet or something anti-slippery coating attached to it is the way to go.
Lock style
There are mainly two types of lock styles for tripods; flip-lock and twist locks. Flip locks are easy to use and a better choice for beginners. But they wear out faster.
On the other hand, twist locks are what professionals like. They don't wear quickly and remain the same over a longer course of time.
Final Words
The tripod is one of the most important accessories for a photographer as it holds the camera in place to help you take crystal clear photos even under compromising situations.
Therefore, you need to make sure you've bought the right tripod for your camera. we hope our review for the best tripod for Sony 7II, A7III, A7RIII models has provided you with enough info to pick the perfect one for your camera.