Let's imagine this scenery: the sun has just set and there is a blue glow that sits on the horizon amidst a sea of mountains and hills. Isn't it the best backdrop for the perfect landscape photography?
If you want to capture this photo there is one thing that you'd need other than the camera itself, a tripod. Because landscape photography and tripod go hand in hand.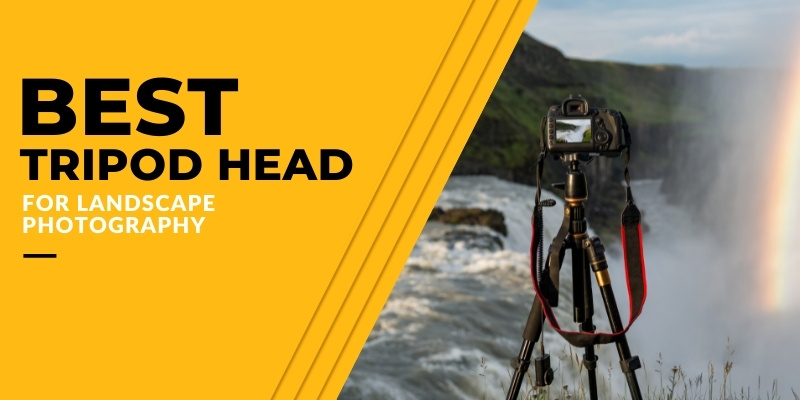 The most important part of a tripod is its head and the best tripod head for landscape photography dictates the choices you make while shooting.
But the tricky part is narrowing down the best one from literally hundreds of products. This guide will help you sort through those various types in a jiffy and find the one thing that fits your needs.
Importance of Using a Tripod for Landscape Photography
Whenever you see a gear list for photography, you'll never miss a tripod. This Does a question, is it essential for photography?
What about landscape?
Well, the truth is for landscape photography a tripod may be the most important equipment you'll need with the camera. It doesn't matter whether you have a great camera with a huge lens, without a tripod you can get the most out of either of them.
The major reasons why you need a tripod for landscape photography are as follows:
For Stability
Taking photos means compromise, which is truer for landscaping. It is always very hard or close to important to get the exact lens and exposure that you need and want. A tripod makes this compromise less of an issue by providing a stable platform for the camera.
Take Sharp Images
Image quality is the most important thing any photographer focuses on and so they invest most in the lens and camera. But what if changing the setting does a better job than changing the lens?
The most important reason people use a tripod is so there is no camera movement during exposure. This results in sharp images. One of the problems that novice photographers face is blurry images. It doesn't matter whether the camera has more megapixels, a blurry 24 MP photo is worse than a sharp 12 MB one.
Slower Shutter Speeds
When it is too dark outside people change the ISO to adjust to the darkness. But a tripod can come in handy in this situation as rather than bumping up the ISO one can use the tripod to lengthen the exposure instead.
In other words, longer shutter speeds can make the photo look better without changing the ISO setting every time you take a photo. This is because a slow shutter speed will give light more time to hit the camera sensor. It also opens the aperture wider to let more light enter.
Sometimes longer shutter speed doesn't only mean gathering more light. Running objects like moving bodies of water or clouds are blurred beautifully through long exposure.
Create Multiple Exposures
When the camera can't handle the different exposures in a scene, you can try taking multiple shots where each focuses on the middle, light, and dark parts of the image. Finally, you can combine all those different shots to make one whole with a balanced exposure.
A tripod is essential to take such photos as you want to avoid even the smallest movements which might ruin the merging.
Create Smooth Panoramas
A tripod helps in shooting great panorama photos. It keeps the shots steady and makes them easier to stitch together without any glitch. There is a special panoramic head available for such photos as well.
To Use Longer Lenses Comfortably
If you're planning to use longer and wide lenses know that they are more prone to shake while shooting. Having a tripod keeps the shots as they're supposed to.
To Use a Remote Trigger
When you travel for photography all yourself what to do when you need to take your picture? A tripod holds the camera steady in a place and you can frame yourself inside the photo without anyone else's assistance.
You can also put the camera on interval shooting mounting it on the tripod and run it into place.
Best 5 Tripod Heads for Landscape Photography: Reviews
1. Pergear TH3 Pro DSLR Camera Tripod
At first glance, the Pergear TH3 Pro ball head doesn't look particularly special, but there's more than meets the eye. At its heart is a fairly large ball for good stability. It is also smooth for versatile angle moving. Plus, its grease-free polymer housing enables exceptionally smooth movement, even with a lot of friction applied.
However, on test use, we've found some dust forming around the ball which can be cleaned easily with just a blow. So, there's nothing to worry about it.
This Pergear ball head weighs only 0.61 lbs. However, it has a load capacity of stunning 8 kilograms. There are three knobs on this ball head for vertical, horizontal, and side adjustment.
There is both vertical and horizontal bubble level present to enhance perception position as well. There are index markings so that you can control the movement more precisely as well.
Besides the fine-tuning damping on this head also helps protect the device from any sudden fall or plunge as well. Its 360-degree swivel lets your camera set at any angle you want. With the U-shaped groove design, you can move from one position to the next within a second.
There is also a 1/4″ quick release plate that is very easy to set up in seconds also. The 3/8″ screw mount at the bottom lets any type of tripod connect to it.
Moreover, the TH3 Pro's aluminum alloy construction with CNC precision finishing makes it an overall stable and sturdy ball head, not to mention its anodized surface.
Highlighted Features
Very light but the high load capacity
Both vertical and horizontal bubble levels present
Index marketing below for accurate adjustment
U-shaped groove design for a fast position change
Sturdy and stable aluminum alloy construction
2. Manfrotto XPRO 200PL Ball Head
Manfrotto, an Italian company, never ceases to amaze us with their beautiful products. Therefore, we must acknowledge that the XPRO 200PL ball is quite stunning in its look. Just touching it you can feel the nice aesthetic finish with a rounded profile providing an immediate firm feel.
At the first glance, it looks almost identical to the 054 models but much lighter with a new locking system. This is the most interesting part. The first thing that you'll notice holding it is how light the head is! It weighs only 500 grams which is nothing compared to our most tripod heads.
This XPRO ball head features a magnesium alloy-made body with a hollow sphere with a very high payload. It has a payload capacity of 10 kg which is twenty times its weight.
In addition, this magnesium ball head also features a quick-release plate with two large lever locks. There is also a panning base. This cam lock features a safety catch to prevent the quick release plate from disconnecting in an accident.
The quick-release plate also accepts Arca Swiss compatibility where the camera can be snapped from the above. You can quickly secure the place by twisting the locking knob. But the downside is that the plate, although being huge, doesn't feature any rubberized grip.
On a positive note, this 3/8" attach is compatible with 99.99% of all tripods you can find. Finally, there are polymer rings that improve the ball head's accuracy by substituting unpleasant and messy grease, which is also complemented by leveling bubbles.
Read More: Top 5 Tripod Heads for Wildlife and Birds Photography Reviews
Highlighted features
Triple locking mechanisms that guarantee precision
Polymer rings for smoothest camera movement
Extremely lightweight with sturdy magnesium made body
Leveling bubbles provide accurate shooting and framing
Compatible with almost all tripod legs available
3. Benro GD3WH 3-Way Geared Head
If you need absolute precision in your photography there is nothing better than having a hear head tripod. Be it landscaping, architecture, or just macro photography, everything is appreciated most by the hear head's ability to minutely fine-tune any composition you want to attain. It brings all frames to perfection.
Now, the Benro GD3WH 3-Way is a magnesium alloy-made gear head that will feel like a premium product. But guess what! It has a practically identical weight to Manfrotto's XPRO geared head.
Benro 3-Way Geared Head weighs 1.9 pounds and can withstand a payload of 6 kg. it offers +90/-30 degrees head movement both up and down and for landscape tilt.
When you first unpack, it immediately feels very light and you find on the top an Arca-style quick release plate. This plate has a handy outer ring that you can raise to tighten the camera. The rounded locking knob secures the camera tightly with this geared head.
There are also three sprit levels are three different positions so that the camera stays level.
On the top, you have a side tilt knob, in the middle a pan rotation knob and around the corner below are the front and back tilt knob. All of these three knobs are gear-driven and the controls allow you to quickly set the camera position. Each of them is solid and secure in their positions.
Therefore, no casual brushing or bumping against the knobs will change the camera position or composition. This guarantees absolute precision positioning for a perfectly framed shot.
These separate precision movements in three directions are what every professional photographer loves for any kind of landscape photography. This helps them bring in the ultimate and stable shot.
Highlighted features
Three-way independent movement
Small incremental changes are precise
Very light yet high payload capacity
Three sprit levels for a perfect level at every shot
4. Manfrotto 410 Junior Geared Tripod Head
Every photographer has indispensable kits and a good quality stable tripod is one of them. This is the most essential for landscape works.
The Manfrotto 410 geared head is one of the most affordable and lightest options if you're looking to enjoy the experience of the joy of precision photography. This model is a three-way geared tripod head with a precision adjustment that can be exploited in studio, Astro, macro, and architectural photographic styles.
If you try it once you'll have to adapt it for general use to have control over the haphazard nature of conventional ball head.
With the Manfrotto 410 Junior Geared Tripod Head you can fine-tune your camera's position in three axes; pan, tilt and side tilt. You can do this without unlocking any position that has already been set.
A clutch system is present that makes big movements possible. When the adjustment knob is locked it allows small movements on any of the axes. In this way, a full turn gets over 7 degrees. With just a few minor twists to the knobs and you can make the adjustments with ease.
410 Junior Geared also has a superb build quality where the camera is attached via 410PL quick release plate.
The panoramic rotation can be turned up to 360 degrees. When it comes to lateral tilt it offers you -90 to +30 degrees. Front tilt, on the other hand, allows 90-degrees downward.
All in all, it is a classic geared tripod that can be a part of your photography kit which once if you get used to will be very hard to replace.
Highlighted features
The micrometric knobs allow you precise and easy adjustments
Quick-release plate for safe use
Inbuilt leveling bubble accuracy improvement
Integrated incremental geared movements
Snap-lock controls result in fast movements
5. Annsm GB100A Tripod Gimbal Head
Our last item is the hugely impressive gimbal head from ANNSM. Its GB100A model is constructed from heavy-duty aluminum alloy and has a strong and durable feel to it. You can count on this Annsm gimbal head for being good-looking as well as effective.
This gimbal head has been designed for quick capturing of landscape photos and nature. It has been specially made for running and flying things like animals and birds.
With a weight of 1.45 kilograms, this heavy-duty aluminum-built head can withstand up to 18 kgs or 40 pounds of loading.
There are calibration scales on both the panning base and the tilt arm for recording the positioning of the camera lens. It allows 360-degree rotation for both the panning base and the tilt arm for different shooting angles.
With its Arca-Swiss plate that has a quick-release system, it is compatible with almost all camera types. The control knobs are also very easy to operate. You can very easily balance and detach the equipment whenever you need it.
There are 4 knob screws on this gimbal head making it easy to tighten or loosen the movement also. You can do this without any problem even while wearing gloves.
Besides, the tripod head also works very well with all telephoto lenses. You can cover not only landscape pictures but also sporting events, wildlife, and birding.
Highlighted features
Made of strong and durable heavy-duty aluminum alloy
Specially made for capturing running and flying objects
Can withstand high loading of about 40-pounds or 18 kgs
There are calibration scales on the base and tilt arm
Arca-Swiss quick release plate makes it compatible with most cameras
What kind of tripod head is best for landscape photography?
For landscape photography, your tripod head must have two important features; multi-angle flexibility and at the same time stability. And the tripod heads that are best known for these features are ball-heads and pan-tilt.
Ball Heads
With the ball-headed tripod head, you can swivel the camera in multiple directions. The adjustment is quick with an unlocking lever. Although these aren't very known for their accuracy or precision, you won't be needing these too much if you stick to landscaping only.
Pan-tilt Heads
As for the pan-tilt-headed tripod heads, they allow more precise movements and adjustments to your camera. They allow adjusting the camera in multiple angles but the adjustment is slower than ball-headed ones. If your landscaping needs a bit more precision, this is the one to go for.
Final Words
Finally, the best tripod for landscape photography is the one that you find yourself using most of the tie. Landscapers mostly prefer pant-tilt-headed tripods and ball-headed more than other types.
For a photographer using a long lens using a gimbal head isn't advisable. But since you cannot do without a tripod, pick one from our top choices and you won't regret it.